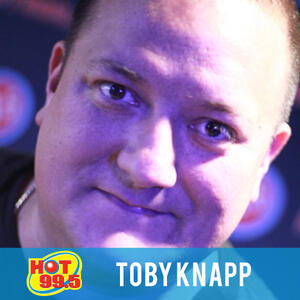 FOOTBALL JESUS: 2013 NFL Week ONE!

Welcome to the new home of the FOOTBALL JESUS PODCAST... now a full on broadcast here on my iHeartRadio Talk channel! It's week one, so you have no idea how ANYONE will do... and we have no idea who will BLOW... so FBJ and I run it all down. Remember, this is for your entertainment purposes only. If you bet your mortgage and lose your ass, you can't sue us.
PARADISE FEARS: All Substance & STYLE!

What a great chat with PARADISE FEARS, one of our IHEARTRADIO RISING STAR finalists who are on their way to becoming one of the most substantial bands in music today... why? Substance. They've got some substance behind that style... and it's all good.

MADDEN BROS: On music, love & life!

The full, unadulterated conversation with Joel, Benji and American radio presenter TOBY KNAPP which covered it all... from the Big Game halftime show, to how the record business works, to relationships and more... get ready... this chat was epic.

MADDEN BROS: Secret to relationships!

Joel and Benji have been blessed to have had some of the most amazing people as romantic partners, and now, the bros dish on the reason why... it's insightful stuff.

MADDEN BROS: Pay to play Halftime Show?

Caught up with the MADDEN BROS today and - as usual - had an epic chat with two dudes who have had some of the most amazing success in music... from GOOD CHARLOTTE days to now... and I asked 'em about the news that the NFL wants bands and artists to PAY TO PLAY the HALFTIME SHOW of the SUPERBOWL... What they had to say, as business-people in the industry... might surprise you!

TNT'S LEGENDS: Chatting with Ali Larter!

A chat with ALI LARTER, the amazing actress whom you know from HEROES, VARSITY BLUES and who now will make even more waves with her role on LEGENDS, on TNT. We chat about entertaining, life, throwing great parties, being married, being a parent and why this role allows her to escape life a bit...

TNT'S LEGENDS: Wilcox + Chesnut

Chatting with David Wilcox, Producer + Show Runner for TNT's LEGENDS and world-famous actor Morris Chesnut, who is one of the stars of TNT's new conspiracy-thriller which debuts tonight! Wilcox is from the DC area, and feels the show will resonate with our friends in the Clandestine service community in the DMV, while Chesnut is legendary for another role we chat about...

TNT's LEGENDS: Sean Bean + Howard Gordon

Chatting with THE SEAN BEAN and Executive Producer HOWARD GORDON (24, Homeland) about TNT's new adrenaline-charged psychological crime thriller LEGENDS! It's on TONIGHT at 9p East Coast on TNT... BOOM!

MKTO: Real talk... about depression

We broke it down... and had some real talk with the guys from MTKO about depression and the post-Robin Williams world we live in... and how we can help those suffering in a degree of silence.

SAM SMITH: Love, Life, Paparazzi + more!

This is the CHAT with Sam Smith... and we talk about all of it, his meteoric rise to success, hanging with Ed Sheeran, STAY WITH ME and it's meaning, interviews with gossip tabloids and more. If you're a fan, I think you'll love our chat...

THE MADDEN BROTHERS: Joel+Benji pt. 2

More about the new song, WE ARE DONE, and, we hear about a DM via TWITTER one of the Brothers got from RGIII, QB for the Washington NFL team!

THE MADDEN BROTHERS: Joel + Benji pt. 1

Joel and Benji Madden... the brothers of Good Charlotte are making some music with a new sound... as the MADDEN BROTHERS! Today we catch up with the brothers from Charles County, Maryland and talk O's, RGIII, and of course, their new music! This is part one of two!

IDOL 2014: TERRY O'QUINN

Alias. The West Wing. Lost. This guy has JJ ABRAMS on SPEED-DIAL and is starring in the new FOX show GANG RELATED... Terry, from Virginia, shares with Houston and I some stories about LOST, JJ, working in Hollywood, and of course talks about his new show, which debuts on FOX in the coming days.

IDOL 2014: Michael Orland

Michael Orland, Idol's Vocal Coach, has a unique role and insight into the show which not many others have. He works with virtually all of them, helps to score arrangements which you see on the show and is one of the 'behind the scenes' lynchpins of the show. We catch up, talk the state of the show... and Adam Lambert, including why pop radio was resistant to embrace Adam as a solo artist at first...

SYCYCD: Chatting with Mary Murphy

We chat with the great MARY MURPHY, the icon and diva from SO YOU THINK YOU CAN DANCE, one of the most successful reality shows on FOX... it's always good to get her take on things, the state of being 'famous' and more. Today, she talks about a past contestant who has fallen into a bad way who is in her heart... and thoughts.

AMERICAN IDOL: 2014 Top TWO Presser...

Idol's top TWO finalists meet the press to talk about the finale, final performances, stress and more...

JASON MRAZ: The movement and his music!

Jason Mraz is one of those artists who believes... and he uses his platform to make the world a better place... and now, with his new CD, he's set to do just that. We chat about his last CD, the heartache he went through and his new music and new single LOVE SOMEONE which he's performing with at IDOL live this week...

IDOL 2014: Majesty Rose

Majesty is just so excited about having this opportunity... we chat about things... and what the future will bring for her now that she's got this amazing opportunity!

IDOL 2014: Ben Briley

One of Idol's Country superstars from this season, Ben is focused on bringing something substantial to the world of COUNTRY music as a singer, songwriter and superstar!

IDOL 2014: Cast of FOX's RIOT...

From the mind of executive producer STEVE CARRELL, we're chatting with MERYL HATHAWAY, a graduate of Bethesda's WALTER JOHNSON High School and a vet from FUNNY OR DIE and COLLEGE HUMOR AND ROB GLEESON who starred in iCarly and more... who are part of the new FOX show RIOT which premieres TUESDAY at 8p/7c on FOX May 27th!

IDOL 2014: MALAYA WATSON

She's got so much heart and she's ready to bring her music to the world... Malaya was just so amazing to chat with...

BLAKE LEWIS: IDOL alum releases new CD!

EDM superstar - and Microsoft commercial composer BLAKE LEWIS, who is also an IDOL alum, dropped his new CD PORTRAIT OF A CHAMELEON today and swung by to talk about his new CD and more with us...

IDOL 2014: EMILY PIRIZ

She made the top 13, just missed the tour, but has big dreams anyway... but we talked with EMILY PIRIZ about her relationship with her boyfriend, a member of the UNITED STATES MARINES! She shares about hardships, distance, and how hard life can be when on two coasts, doing crazy jobs and living the life they live!

IDOL 2014: Sam Woolf

Chatting with Idol XIII's SAM WOOLF from IDOL's top 10 this season about what's next, the tour... and his music...

IDOL 2014: New group II 4 U

The movement of EDM meets pop goes to a new level with II 4 U, the new band which blends pop, EDM and more... they've got their new song, REACH 4 THE STARS and a massive new global tour launching in Crimea, Russia with stops in Ukraine. They share with us about working with William Hung, JC CHAZEZ and JOEY FATONE and more on their debut album...

IDOL 2014: CJ Harris

We love CJ... when we met him, with Dexter, on the Idol Top 13 Red Carpet, we knew there was something special about him... and now, he's going to take the country world by storm. Tomorrow, he performs with Darius Rucker of Hootie, and the conversation turns to Darius' performance with Darryl Hall last week... and how CJ's pairing with Darius is "bout to blow it away..."

IDOL 2014: Dexter Roberts

IDOL 2014: ALEX PRESTON

IDOL finalist and JASON MRAZ BFF Alex Preston and Toby chat about songwriting, inspiration and more. Tomorrow, he's performing a NEW SONG with Mr. A to tha' Z which we've not heard yet, and he's got an open invitation to the MRAZ avocado farm for more writing and future jam sessions!

IDOL 2014: TK + Houston talk TSA

From LA for the American Idol finale, Toby and Houston talk about their adventures with the TSA at DULLES in DC. Toby, who is TSA "PRECHECK" sails through the security while Houston is caught in a massive line of people flying to the Middle East. They also talk about how Toby would intentionally try to get the TSA to "get Jerry..." from time to time.. .

INGRID MICHAELSON: On Breakups and more!

Today's test drive gave us the chance to chat it up with INGRID MICHAELSON, the muse - and I mean muse in the true, artistic sense of the word - behind the song GIRLS CHASE BOYS - and we get into her head and learn about what makes her write songs which seem to be exactly what our soul would say. She's the heartbeat of modern music... and this is our conversation.

FIVE SECONDS OF SUMMER: In studio today!

The chat with the biggest band on the planet... FIVE SECONDS OF SUMMER... happened today with American radio presenter TOBY KNAPP! Here's the entire chat... for the fans!

BOSTON MARATHON: Coast 93-3 9AM Update

Again, talking with Jen Brien from NewsRadio 920, live from the Boston Marathon. She shares with us a striking moment - an encounter with a family from Arizona who lost a child running last year at the race, and what it is which motivates them as they run now, one year later.

BOSTON MARATHON: Coast Update 8am

For COAST 93-3 in Providence, we talked with Jen Brien from iHeartRadio's NewsRadio 920 in Providence who was live this morning at the finish line of this year's Boston Marathon for what is clearly an emotional day... and an emotional race.

TEST DRIVE: Cher Lloyd's Sirens

We love Cher Lloyd here at the station, and so, when we caught up with her today to chat about her new song SIRENS, which were taking out on the TEST DRIVE today, it was like catching up with an old friend... She shared what went into the song, the 'in-the-studio' moment she knew she wanted the song and more! Plus, she teases the new video for the song which should be a SHOCKER!!!

MY CRAZY GIRLFRIEND/Crazy Stupid Love

Today, we took MY CRAZY GIRLFRIEND out for a spin with Toby' Test Drive on Hot at 6:05... and we caught up with the band who explained who the crazy girlfriend was - or is - or still was... and then, they explained the song CRAZY STUPID LOVE to us...

MAGIC! Get to know 'em + single RUDE!

Today we chat with Nasazri Atweh, the lead singer of the Canadian band MAGIC! We talk about the single, RUDE, and what they stand for and hope to bring to the world of music as they start this new adventure!

HAIM: On their single FOREVER

We caught up with HAIM - and chatted with ESTE - as they were making their way to the airport to return to the US from Australia where we chatted about ALL of their music... including their US pop single FOREVER which is impacting now!

THE CHAT: Hayley Williams of Paramore

Paramore are on FIRE right now... their new song, AIN'T IT FUN is becoming a bona-fide HIT and I wanted to catch up with Hayley to talk about where the band has been, where they are now and where they're going as they continue to evolve as a musical force!

TEST DRIVE: NIKO & VINS "Am I Wrong"

Today, we're taking the new song from NIKO & VINS for a test drive... and in this chat we get to know VINS of NIKO & VINS... about their name change as a band, and most importantly, what they wish to accomplish in the world of music today!

MTV'S REAL WORLD: Want on the show?

Today, we catch up with MTV REAL WORLD casting directors who are coming to DC's TOWN TAVERN looking for people to star in the next season of the iconic reality show! Auditions in D.C. for MTV's The Real World are happening Saturday 4/5 at THE TOWN TAVERN at 2323 EIGHTEENTH ST. NW from 10am - 5pm. They look for outgoing personalities who aren't afraid to be themselves and want to share their story on TV. Applicants are asked to bring a photo ID and a picture of themselves (that casting directors will keep for themselves). They also look for individuals to be between ages 20 to 24 but must be 21 by June 2014!

AJR: Brothers doing it their OWN way!

It's not easy to break into the music business... and for AJR, three brothers from NYC, they got their start playing parks around the City... but that was then, and now, that hard work has landed 'em a massive distribution deal with Warner Brothers Records... and a song recorded in their living room is set to take over radio stations around the world!

IGGY AZALEA: What makes her FANCY!

Today, we chat with IGGY AZALEA while she's on the set of a photo shoot! She took the time to chat with us about her new song, FANCY, and about her grandmother, back in Australia, who at times sees her in scantily clad type video situations! Get to know her now... she's on ISLAND DEF JAM!

THE FIRST LADIES OF FOOTBALL stop by!

Ladies and gentlemen, the FIRST LADIES OF FOOTBALL, the WASHINGTON REDSKINS cheerleaders stopped by the show to chat about upcoming workshops for potential Cheerleaders and a dance, cheer and fitness camp for the lil' cherubs during the coming summer months! Krista and Teddy share what's up, what's happening and how you can be involved!

5 SECONDS OF SUMMER: The FULL chat!

Things which make them insecure. A new song on the new EP called DISCONNECTED. Someone's bald spot. It's the full, 15 minute chat with FIVE SECONDS OF SUMMER... their first conversation with radio in the US...

5 SECONDS OF SUMMER: Toby chat's em up!

In their first chat with US radio, American radio presenter TOBY KNAPP breaks the ice with the guys in FIVE SECONDS OF SUMMER, who are set to tour the world again with ONE DIRECTION and who have their own sold out club tour set to step off in weeks! Here we catch up with the guys in the band who truly do... have next!

RIXTON: The UK's NEXT big thing is here!

Discovered by Scooter Braun with the soul of Maroon 5 and the production talents of BENNY BLANCO... this band of mates from the UK are poised to take over US POP RADIO stations... and the world! We chat with 'em about everything... from fans, to fame, to life!

RIXTON: A HISTORIC day for the band!

Truly historic! The UK-based RIXTON, who are in the US to break into the US POP MUSIC world, were discovered by SCOOTER BRAUN, the brains behind the Justin Bieber phenomenon. Now, the lads, touring the US and meeting radio stations, had a truly life-changing event happen today in South Florida where we caught up with 'em for a chat...

BECKY G: The FUTURE of POP is here!

This girl... is amazing. Becky G is just starting to make some noise in the world, but her story is amazing. She's loved music and performing since she was very young... her family lost their home and she had to move into her Grandparent's unfinished garage... and that's when she said to her parents, "let me try to live this dream..." and the rest... is history. She's got what it takes to be a humanitarian force like JLO... and she's just getting started.

PHARRELL WILLIAMS: The GIRL conversation

Talking with Pharrell Williams, the muse behind the biggest song in the world right now, HAPPY, from his CD GIRL which drops next week. We chat about his past successes, his recent producing renaissance, about Miley, Robin Thicke and Justin Timberlake, on Kanye West's brilliance and more. It's the full conversation which really did yield some amazing stuff for fans...

PHARRELL WILLIAMS: Why is everyone mad??

Pharrell Williams on his mission... to tell the world that it's okay to feel GOOD... and he asks why everyone is so "mad..." It's really brilliant stuff...

PHARRELL WILLIAMS: Music and feelings...

Step into the mind of the master... the man who helped DAFT PUNK and ROBIN THICKE to find success, as well as the man with the #1 song in the country right now... as he shares what it is that he think music needs and what the world needs from those making music right now...

PHARRELL WILLIAMS: Robin Thicke's drama

Pharrell, who worked with Robin Thicke on BLURRED LINES, gives some encouragement to the now-embattled R&B singer as he faces the drama surrounding what seem to be the end of his marriage to his longtime partner, saying "We make mistakes so we can learn..." Hear what he had to say to Robin Thicke here...

PHARRELL WILLIAMS: On Kanye West...

The man with the #1 song in the country says that Kanye West is truly "next level" and is in the midst of becoming... and while he's often misunderstood, what fans see in West's live shows is like that of a metamorphosis... and that we should "give him a second" because he's a "really, really brilliant man..."

PHARRELL WILLIAMS: Miley is "Amazing..."

The guy with the #1 song in music says that people shouldn't rush to judgement on Miley Cyrus, saying that the world hasn't seen all that the country-turned-pop superstar can do.

DC WEATHER: Doug Kammerer's forecast...

Even more from NBC Chief Meteorologist Doug Kammerer as the DMV area waits for this winter storm to come in. We talk snow totals, areas which should expect biggest impact, and when this storm should blow through the area so the dig-out can begin...

DC WEATHER: Doug Kammerer's forecast...

NBC's Chief Meteorologist Doug Kammerer breaks this coming storm down, with what's coming, when it's coming, who's gonna get it worse and when it's gonna be gone...

KID INK: Going inside the buzz...

People are talking about Kid Ink. It's because his beats... his music... his hard work and his mix tapes have earned praise from all over the musical spectrum. In this chat, we get to know this new star in the world of music, we talk about moments and stars who still blow him away, the truths learned in the business and more. It's great conversation with a guy who is about to DOMINATE his lane in this music game!

IDOL CHATTER: It's Didi Benami!

We catch up with American Idol finalist Didi Benami, who is crowdsourcing funds for a new album and who made a musical cameo on Idol as the 13th Season launched! Here's the whole chat, including some behind-the-scenes stuff which you don't always hear about with Idol, the broadcasts we've been a part of and more!

ECHOSMITH: Meet WB's Next Big Thing!

Over at Warner Brothers Records, they've got a lot to be excited about from this band who have a remarkable chemistry and bond!

FOOTBALL JESUS: The BIG GAME BROADCAST!

Bringing to a close the BEST SEASON YET in the history of the FOOTBALL JESUS broadcast/podcasts... we pick the brain of FBJ... and for those who know, there is no doubt which side of the SEATTLE vs. DENVER battle FOOTBALL JESUS will choose... The NFL wants a story... and they've got one incredible one set up no matter how the game goes this Sunday! Get ready... it's ON!

FOOTBALL JESUS: Championship Weekend!

And then there were FOUR... the Seahawks, the 49'ers, Denver and New England... epic storylines... epic teams... and an epic CHAMPIONSHIP WEEKEND! A WEST COAST WAR is about to erupt while a battle of Quarterbacks who both want a date with destiny gives NFL fans the chance to see history in the making! Here's what advice the FBJ has to give as I prepare to make my picks in the pool this weekend...

AMERICAN IDOL: Premiere night two!

With Houston, and this time, Elizabethany, we recap the second night of American Idol's Season 13 premiere, and the clear winner of the two nights... entertainer HARRY CONNICK, JR! We talk about the changes, some of the performances and the judges, the changing role of Ryan Seacrest and more!

A GREAT BIG WORLD: shall we chat? Let's!

They're literally in the center of the storm as the most popular band on the planet right now. Their journey - which began as a kickstarter campaign - is amazing. We chat about all of it... and it's clear, this is a band with a lot of talent, and heart, who are here to give the world something amazing.

JONATHAN CHEBAN: Kim's BFF stops to chat

You know him from Keeping up with the Kardashians and Millionare Matchmaker... but JONATHAN CHEBAN is more than someone "famous for being famous or around the famous." We talk about his "moment" and what trappings come with fame, and reality TV... and he takes a moment to address Wendy Williams, a radio presenter who always throws Kim, and him, shade! He's in town for a party tonight at the HUXLEY...

AMERICAN IDOL: Season 13 Premiere Part 1

With Houston, who has been my Idol finale companion for the last couple of seasons, we chat about the return of the venerable singing-reality show, now in it's 13th season. We take on some haters, who hate, we trash some 'ratings' spin from the trade press and we talk about the changes made to the show's format which give it a more 'familiar' and 'comfortable' feel... focused on singing and things which matter.

omg these playoffs!!!

FOOTBALL JESUS: NFL Playoffs Week Two!

Two days of amazing NFL Football on hand... as the Saints head to Seattle to play in the HOUSE OF PAIN... while Charlotte hosts San Fran... and then, in Foxborough, the Patriots welcome Indy and Denver hosts the Chargers... this weekend will be INTENSE! Here's what the FBJ is thinking as we pick for the pool... and more!

FOOTBALL JESUS: Wild Card Weekend!

It's WILD CARD WEEKEND in the NFL... which teams have the heart, the stamina, the passion and the fire to make it to the championships in the NFL this weekend? And will the BITTER COLD in GREEN BAY frost over the 49'ers post season hopes? What will happen with Philly and New Orleans? It's on this weekend... Saturday and Sunday... and here's what FBJ is thinking as we get into the post season pick 'em action!

FOOTBALL JESUS: The LAST WEEK in the NFL

... for the regular season and there's a LOT on the line for some... and nothing for others... Let's get into it!

FOOTBALL JESUS: NFL Week 16!

Big games... bigger post season implications... and some who are just playing for pride... welcome to the NFL week 16 with Football Jesus as we talk football, the pool and more!

LADY GAGA: From this one chat we had...

Lady Gaga and I had this chat about things... and stuff... this is the raw file of that chat... giving you an inside as to what it sounds like when we chat it up with superstars and such...

THROWBACK: Kyla explains Big Time Rush!

THROWBACK! I found some old audio and I have to play this for you... it's my daughter, KYLA, then SIX, explaining why she fell in love with BIG TIME RUSH... It's MUST HEAR stuff!

FOOTBALL JESUS: NFL Week 16 is here!

Thoughts, observations, wisdom and guidance... this is the FOOTBALL JESUS podcast for the week, where we get up into what we'll see in the NFL this Sunday!

Victoria's Secret show: self esteem?

Victoria's Secret: covering stuff up?

Victoria's Secret and Paris thoughts...

Victoria's Secret fashion show thoughts!

FOOTBALL JESUS: NFL SUNDAY (12/8)

HUGE games... with big post season implications... Seahawks... Philly... Chiefs taking on the Redskins in the Native American bowl in Landover, Maryland... so many games to discuss after that limp Thursday night game which cost Gary Kubiak his job... Let's get into it!

FOOTBALL JESUS: Thursday Night (12/5)

Welcome to the STINKFEST... two teams... two horrible records... one night of... well, ridiculous football. Hold your nose if betting this one... here's what the FBJ has to say!

FOOTBALL JESUS: Thanksgiving 2013!

Gobble Gobble, indeed! Big games this THANKSGIVING, and a massive FREE PICK for Monday Night... here's what we're chatting about in the NFL going into this HOLIDAY WEEKEND!

Holidays, traditions and moments...

FOOTBALL JESUS: NFL Week 12 (11/24)

Awww yeah... another Sunday in the NFL... here's what's up... with the FOOTBALL JESUS PODCAST!

FOOTBALL JESUS: NFL Week 11 BROADCAST!

Let's go!

FOOTBALL JESUS: NFL Week 11!

It's THURSDAY NIGHT in AMERICA... and the WEEKEND in the NFL starts NOW... the HOME of DAN HEILLIE... the NFL NETWORK! Tonight, the COLTS take on the TITANS. So... what will happen tonight? Here's what the FOOTBALL JESUS sayeths unto thee!

FOOTBALL JESUS: What's up SUNDAY (11/10)

Happy Veterans Day Weekend! Lots of action in the NFL this week... key matchups... and what could be another really boring Monday Night Game in Florida... considering the teams playing this week... Here's what the FOOTBALL JESUS thinks about the week in the NFL!

FOOTBALL JESUS: REDSKINS vs. VIKINGS!

For THURSDAY 11/7... the SKINS are on the road... taking on Adrian Petersen and the Minnesota Vikings... what will happen tonight... as the week in the NFL gets underway?

RANT: I have no idea who to vote for...

Shoutout to Arya Farzin & Adam Lambert!

Breaking the crazy cycle....

A couple of life lessons I've learned...

FOOTBALL JESUS: The Week in the NFL!

Happy Halloween! It's Thursday night in America... and here's this week's FOOTBALL JESUS podcast... where we talk about tonight's game... and the weekend ahead in the NFL!

FOOTBALL JESUS: NFL Weekend (10/26)

The weekend before Halloween... sorry for not getting this up yesterday, but between the USO Gala (shoutout to our troops + families) and appearance today, it was a bit busy... ... anyway... here's what we discussed for the day ahead... in the NFL... with a FREE PICK inside and more!

FOOTBALL JESUS: Thursday Night Football

For 10/24... the Bucs... play host to the Carolina Panthers and Cam Newton... it's a home situation for the winless Bucs... who need a win to salvage the season... and so we discuss... and make sure you're back here tomorrow for the rest of the week to come in the NFL!

FOOTBALL JESUS: NFL this week PART TWO!

After correctly predicting the conquest of Seattle over the Phoenix Cardinals... here's what we discuss for the rest of the week in the NFL! Good luck to all and to your favorite teams... and may God heal the Houston Texans!

FOOTBALL JESUS: Thursday Night Edition!

It's THURSDAY NIGHT... and when there's football on the NFL NETWORK... that means it's time for the FOOTBALL JESUS PODCAST... Tonight, Seattle travels to the desert, where the Cards have tamed the explosive Seattle offense before... Here's what we're thinking... and tune in tomorrow for the rest of the action as we get into the weekend!

FOOTBALL JESUS: The NFL... this week!

After travel forced us to miss our chat last week, we catch up with FOOTBALL JESUS to talk about the FOOTBALL POOL for this week! With SURVIVOR no longer an option thanks to the JETS actually SHOWING UP against Atlanta, we stick to the picks...

CHEATERS: Ansley's friend's psycho ex!

Oh wow! Ansley, who works here with me, has this friend who cheated on her man... and owned up to it... but what happened to the now-ex-boyfriend... and how he went BAT$HI& CRAZY is... outrageous! Crime! Home invasion! Getting people FIRED from work... and OMG guess what he did to her parents! WOW!!!!

so I got spotted at an adult toy store!

RANT: world, here's our democratic ass!

RANTING: The LOOMING government shutdown

Okay... the HOUSE GOP are up to their old tricks again... but this time, they're bullying people - namely government employees and the American people - by threatening to shut down the Government. Why? They don't like the Affordable Health Care act... which is law, and has been law of the land for several years now. So what does the former party of Lincoln plan to do? Well, if they get away with this gambit, remember... just remember... who it is that did this to you and to the country... and remember when you vote.

THE FOOTBALL JESUS BROADCAST: NFL Week 4

Will the REDSKINS emerge with a win... or will they be RG-0+3+1 = 4? What of Seattle? And the Texans? What of the Philly SKID? Someone seems to have siphoned the gas out of the once-high-octane Eagles offense??? We discuss the week, with free picks including one for Survivor!

FOOTBALL JESUS: NFL Week THREE!

Here we go... WEEK THREE discussed, starting with Thursday night as Andy Reid returns to the City of not-so-brotherly-love to visit the team he left last season... and more!

FOOTBALL JESUS: NFL Week Two!

Sorry for the delay today… busy day at the office… but here we go with the FBJ: Week 2 Podcast!

Live from my shower. Yup. That's right.

Hi, I'm broadcasting from my shower. That's right. My shower. It's literally a show from my shower.

Honking at things behind you...

After spending most of football Sunday off the grid... I meditate on what I've learned today...

Raw: this.... Chantix withdrawal!

FOOTBALL JESUS: 2013 NFL Week ONE!

Welcome to the new home of the FOOTBALL JESUS PODCAST... now a full on broadcast here on my iHeartRadio Talk channel! It's week one, so you have no idea how ANYONE will do... and we have no idea who will BLOW... so FBJ and I run it all down. Remember, this is for your entertainment purposes only. If you bet your mortgage and lose your ass, you can't sue us.

(ama!) Houston asks me anything!

Inspired by an old bit from the old AM show back in Lancaster (hi, Holly Love!) Houston, our Online Content Lead + my traveling co-hort and whatnot + someone who just puts up with my BS at the office, asks me anything... and he gets extremely personal... and since I have to be honest... well, here comes some in-depth me for you to experience.

ADAM LAMBERT: Glamily update (9/3)

Whenever I need a quick fix on all things ADAM LAMBERT - and i dare say pop culture as a whole, I turn to Bellina and her partner in crime, Alice, who are the force behind AURA, a Fan-Tribute magazine for the one-time Idol finalist and global entertainer. We talk about their favorite icon, their magazine and more...

RAW: Remembering Josh from 930Club in DC

What a weekend.... Today, I was bummed to hear that Josh Burdette, who was known as 'that guy' at 930 club in DC passed... In what seems to be a recurring theme now this Summer, once again, I'm reminded of what lessons Kidd Kraddick taught... which are underscored once again today... as I broadcast... while remembering... I didn't know Josh well... but I knew him well enough and he knew me... because, well, he knew everyone. He was an institution in music in DC and Baltimore because... well... he just was.

Raw: maybe I should take my own advice.

CORY BOOKER: Why does THIS even matter??

... whether or not the Mayor of Newark, New Jersey... may or may not be GAY? What does it matter? Houston joins me as we discuss the man called America's Mayor, the man who jumps into burning buildings to save constituents, who Tweets with normal people about trash pickups and snow removal issues... and a man who could be President of the US one day... after he wins this NJ Senate Seat!

ASK ME ANYTHING: Radio and the industry

In a bit inspired from back when I did mornings in Lancaster... welcome to Ask Me Anything... where I let the interns, staff, whomever ask me anything. Literally... anything. Lycious, our intern from THE HOWARD UNIVERSITY had some intelligent, very pointed questions about radio, the industry and more... and so, he asked, and I shared. Enjoy!

JOSH GROBAN: From Lamar to Mandela...

Bitches, beefs in the rap world, blunts, Bentleys, feeding those living below the poverty line, Nelson Mandela and Kenrick Lamar... this was the most epic conversation with one JOSH GROBAN the international superstar and man with one of the most iconic voices in music! His commitment to making humanity a better place... is unparalleled...

BONNIE MCKEE: Talking American Girl...

From the TV shows that raised her, to her writing KATY PERRY'S ROAR (with others) and more... We get to know the muse behind AMERICAN GIRL... Bonnie McKee... and she has a few words about Adam Lambert, too!

Holy Grail: the wisdom of the Jay Z!

Random thoughts on summer ending + Kyla

politics: Cory Booker + the future!

Kyla wants a Facebook account...

Kyla... wants a Facebook account, which unleashes the talk about creepers, freaks and more. She also rats out friends who have one, and then, she talks about driving. Golf carts and cars. Here we go. Welcome to a great parenting conversation.

RAW: Let's discuss the iFriend story...

1 AM. Saturday morning. Watched some pre-season football, Kyla is sound asleep... and I figured we could get raw, real and discuss the iFriend you've seen me tweet about, and heard me reference, albeit very, um, vaguely. Why? Because some things are on my mind tonight and it's my channel. So why not?

Lets talk about the iFriend story...