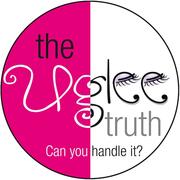 Uglee Truth 41: Dub Griswold, UGsgiving and Walmart at Midnight

Did you have a great Thanksgiving? The UGs did... but a turkey (and wine) coma wasn't about to keep them from recording an all new episode. This week the sisters discuss Producer Dub's sudden enthusiasm for the holiday season and recap their Thanksgiving together. Also, if you didn't think Jamie and Paula would have an opinion on Black Friday at Walmart... well you just don't know them at all.

Uglee Truth 40: Vagina Neck, Golden Girls and Black Friday

The Ugs are "over the hill" and funny as ever in episode 40 of The Uglee Truth. It all starts with a look back at a clip from last week's episode that Producer Dub originally left on the cutting room floor. Then Paula has to deal with customer service, Jamie saves some golden girls and preparations are under way to sleep-in on Black Friday. Enjoy the show and have a Happy Thanksgiving.

Uglee Truth 39: Diva Moments, Melt Downs and Sticky Situations

The Ugs go to hysterical levels this week as Jamie runs out gas and has a feet-related run-in with a security guard. Meanwhile, the kids and pets "pile on" Paula leading to a flashback discussion of all the sticky situations the Uglees have found themselves in over the years - most of which have been gross. Listen and love The Uglee Truth!

Uglee Truth 38: Door-to-Door, Plate Licking and Ugly Kids

This week the Uglee Sisters show sympathy for others. Seriously... it happens. Rarely, but it does. Whether it's a depressed salesman at the door, a robotic winery host or incredibly ugly children, Jamie and Paula share some recent "tender" moments. The Ugs also recall a few of their embarassing activities... at least the ones they got caught doing. We hope you enjoy Episode 38.

Uglee Truth 36: Baby Names, Breast Stories & the Human Petting Zoo

This week Jamie and Paula review a list of the latest trends in kid names (one of which is "North"). Then the Ugs chat about the "girls" in a variety of contexts because, let's face it, you can never talk about boobs too much. Then the sisters wrap it up with Uglee tales of Halloween parties past... of the slutty, adults-only variety of course. So download and enjoy episode 36 "DD".

Uglee Truth 35: Bugs, Beer & Brides

Oh do the Ugs have tales for you this week. Jamie invites you into her story corner with a bug incident and a new app that she'll never use. Meanwhile, Paula tries to remember her adventures during the annual OktoBEERfest party. Plus wedding plans are in full swing but with a cultural twist. Thanks for listening - don't forget to share!

Uglee Truth 34: Boogers, TV Endings and Comedians

This week Jamie and Paula cover all the Ug-feelings... repulsed, sad, angry, funny and - of course - hostile. All portrayed through the wonderful storytelling stylings that can only come from a true Uglee. We hope you enjoy this episode of The Uglee Truth.

Uglee Truth 33: Puke Tactics, a Geography Quiz & Sexy Chefs

Your favorite ladies of laughter are back with a new episode featuring special tips on how to throw up when you really need to, penis spray and a review of the Uglees' top 5 sexy celebrity chefs. Plus, the long-awaited answer to the question, who is smarter at geography... Jamie or Paula?

Uglee Truth 32: Women and Sports, Trampolines & Pageant Judging

Paula powers through a cold and Jamie "judges" everyone in this 32nd episode of The Uglee Truth. Download and enjoy the latest Ug tales of garage sale customers, female sportscasters, moronic pedestrians, trampoline dangers and, last but not least, Miss America pageant contestants.

Uglee Truth 31: The Bullet, Garage Sales & Rump Shakers

This week's episode of The Uglee Truth marks the Grand Opening of the UGLEE MALL. It's the perfect place to buy the world's greatest vibrator... the Bullet! Also, Jamie prepares for a birthday party and a house full of teenage girls, Paula's OCD is on display while getting ready for her garage sale and, last but not least, the Ugs research booty jiggling.

Uglee Truth 30: Room Sharing, Litter Boxes & Producer Dub's Mantrip Adventures

This week Jamie and Paula, for the first time in Uglee Truth history, have a special guest on the show. Producer Dub joins the sisters for some Q&A and storytelling about the most recent of his annual camping trips (aka the "Mantrip"). Let's see how long he lasts before he runs back to the hills. Also: Jamie heads back to the armpit of California , Paula tries on clothes and both Ugs are havine feline issues.

Uglee Truth 29: Eye Freckles, Poison Oak and Bridal Shower Behavior

After a "MANdated", weeklong hiatus, the Uglee Sisters are back in action. In this episode Jamie tells of her epic appointment at the eye doctor and Paula tells tales of her battle with poison oak and 'roid rage children. Plus, the Ugs embark on a social gathering that they are just not well suited for. It's all in this week's hilarious edition of The Uglee Truth. Download now and enjoy, we hope you'll find it worth the wait.

Uglee Truth 28: Foghorn Farts, Back To School & Men Can't Plan

This week your favorite sisters have new tales of smelly encounters and Paula's night at WWE. Plus, it's a special week for the Uglees because they get to send their rugrats back to school... which brings up some memories of their own first days of school followed by a funny discussion of why men simply can't be allowed to plan anything. Enjoy the show!

Uglee Truth 27: Stinky Stories, Celebrity Sightings & Online Dating Donts

It's story time during this week's episode of the Uglee Truth. We begin with a couple of very smelly incidents. One takes place at Disneyland, the other in Jamie's backyard. You can probably guess the latter but remember, Paula was housesitting! The Uglee Sisters also recount some of their brushes with greatness and Paula has become an online dating expert on what to watch out for.

Uglee "EE"xtra: Producer Dubs 25 Faves

While Jamie and Paula are recording the next episode of the Uglee Truth, Producer Dub decided to put together some highlights from the first 25 shows. There's one funny clip from each episode so download and reminisce. And, if you're a new listener, this is a great way to catch up on the Uglee Truth. We hope you enjoy these blasts from the past.

Uglee Truth 26: Bathroom Etiquette, Guilty Pleasures & Housesitting Horrors

Did you ever wonder what women think goes on in a men's bathroom? The Uglee Sisters never did... but that didn't stop them from talking about it anyway, all while trying not to gross themselves out. Jamie and Paula also share many of their guilty pleasures revealing eveything from old TV shows to naked food consumption and much more. As usual, the Uglee Truth hits you with the funny from start to finish so download Episode 26 now and thanks for listening.

Uglee Truth 25: Pet Hoarding, Brazilian Planning & Sexting

It's a great milestone for the Uglee Sisters as Jamie and Paula reach Episode 25. To celebrate, they do what they do best... talk about SEX - specifically the virtual varieties. We know - shocking right? Plus some animal adventures, a serious discussion about hair removal and much more... including a little message for our friends at the Mark & Lowell Show. Listen, laugh and spread the Uglee Truth.

Uglee Truth 24: The Beauty Episode - Grooming, Eyebrow Nightmares and "Facials".

Jamie and Paula wanted to dedicate an episode to a single lesson learned long ago from the queen of the Uglees, their mom... "it takes pain to be beautiful". They dish the Uglee Truth with stories about everything from the stress of getting ready to go out to makeover nightmares to the facials of all kinds.  It's all in the name of being, and staying, beautiful. (Note: Don't worry, there is plenty of sex talk too).

Uglee Truth 23: From Talent Shows to Pole Dancing (Uglee Performances Through the Years)

This week the Uglee Sisters share their UFC regrets and get mentally prepared for Chuck E. Cheese. Then your favorite Ugs take a funny stroll down memory lane to remember some of their epic "entertainment" moments. From Paula's talent show rivalry and Jamie's cheerleading days to their mutual pole dancing nightmares.