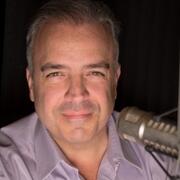 TheWeekend_041914_Hr3

Pags discusses Clemson upholding the Constitution and has an encore presentation of his latest parody, "She's Running For Senate."

TheWeekend_041914_Hr2

Pags give the latest on the Nevada ranch showdown and interviews Becket Adams from The Blaze.

TheWeekend_041914_Hr1

Pags discusses NBC's latest ratings after making the moronic decision to push Leno out ... again, shares the "bully list," and an EL Paso elementary school hands out an absurd homework assignment.

TheWeekend_041214_Hr3

Pags gives the latest on the Bundy Ranch showdown in Nevada and takes your calls.

TheWeekend_041214_Hr2

Eric Holder, Hank Aaron and Obama have all played the race card and Pags has had enough.

TheWeekend_041214_Hr1

Joe discusses the ineptitude of Kathleen Sebelius.

TheWeekend_040514_Hr3

Pags puts Mozilla in the hot seat for firing their CEO Brandon Eich.

TheWeekend_040514_Hr2

Joe continues to take calls on arming soldiers with guns on military installations. Bob Costas is a moron.

TheWeekend_040514_Hr1

Soldiers on military installations should have been armed after the first Fort Hood shooting. Pags takes your calls.

TheWeekend_032914_Hr3

Pags will never applaud Kobe Bryant on the court being a Spurs fan, but off the court, Joe is a fan.

TheWeekend_032914_Hr2

Pags discusses students coming together to ruin the reputations of teachers, a pair of female teachers getting it on in the classroom, and a NJ teen is suspended from school for flying a Confederate flag on his truck.

TheWeekend_032914_Hr1

A Colorado girl shaves her head to support a friend who has cancer and she had to fight to stay in school because a shaved head is against the school's dress code. Pags asks for a little common sense and takes calls.

TheWeekend_032214_Hr3

Pags wraps the show with gay stories in the news, Chick-fil-A, Pelosi doesn't want Obamacare to be called Obamacare, and American Idol is losing fans.

TheWeekend_032214_Hr2

Pags continues the conversation on guns with your calls. Georgia passes a gun law that we should all get behind!

TheWeekend_032214_Hr1

Putin continues to embarrass Obama while he plays golf, and Pags argues the case for guns in schools for responsible holders.

TheWeekend_031514_Hr3

A kid gets in trouble at school for wearing the NRA symbol on his t-shirt and this is absurd. Pags interviews former Senator, Jim DeMint.

TheWeekend_031514_Hr2

Pags shares his thoughts about a surprising message from Mark Zuckerberg and has a conversation with the owner of the controversial food truck called, "The Cock-Station."

TheWeekend_031514_Hr1

Pags gives the very latest on the hijacked Malaysia airplane and Crimea

TheWeekend_030814_Hr3

Pags is a fan of the Detroit Police Chief and trusting pilots with guns.

TheWeekend_030814_Hr2

Pags takes calls on the spoiled 18 year old brat suing her parents and gets the latest on Russia, Ukraine, and Putin from Lt. Col. Jeffrey Addicott.

TheWeekend_030814_Hr1

Pags defends CrossFit in their fight against a transgendered man who wants to compete as a woman.

TheWeekend_030114_Hr3

Pfc. Tariqka Sheffey decided to break a sacred military tradition and brags about it with a selfie on Instagram. Joe asks callers what her punishment should be.

TheWeekend_030114_Hr2

Navy Seal Danny Dietz was a hero and portrayed in the movie "Lone Survivor." Joe has the honor to speak to Danny's father.

TheWeekend_030114_Hr1

Who cares who you sleep with!? You can't turn on the news today without a homosexual reference. Pags discusses.

TheWeekend_022214_Hr3

Pags defends a soldier's family's fight against their HOA and shares his take on spanking children.

TheWeekend_022214_Hr2

Callers react to Ted Nugent's apology and Pags talks to Mark Burnett about his new movie, "Son of God."

TheWeekend_022214_Hr1

Pags discusses the lack of excitement at the Olympics and Ted Nugent apologizes on The Weekend!

TheWeekend_021514_Hr3

This hour Joe talks about the Sochi Olympics, plays his parody, and talks about yoga pants in school.

TheWeekend_021514_Hr2

This hour Joe talks about the bullying issue between Richie Incognito and Johnathan Martin, and plays his most recent parody about Sochi.

TheWeekend_021514_Hr1

This hour on The Weekend Joe talks about Corvettes and Michael Sam's decision to come out.

TheWeekend_020814_Hr3

This hour on The Weekend Joe talks about families on food stamps that also get free school lunches for their children and again points out that in a land of opportunity there is no excuse not to make money and attempt to provide for yourself.

TheWeekend_020814_Hr2

This hour Joe talks about how Black History month should be abolished and we should learn to represent all races in our national history, and the loss of nationalism in this country we often show during a democratic presidency.

TheWeekend_020814_Hr1

This hour on The Weekend Joe talks about how terrible the Super Bowl turned out to be, the pushing out of Jay Leno despite being number 1, and the legitimacy of voter ID laws.

TheWeekend_020114_Hr3

This hour on The Weekend Joe talks about the NFL and the incongruity between their lawsuit regarding concussions and a recent poll in which 85% of players said they would play in the championship game with a concussion.

TheWeekend_020114_Hr2

This hour on The Weekend Joe talks about the issues with bureaucracy in public schools, a private school in Utah that threw children's lunches away, and how we as tax payers are subsidizing some children instead of being supported by their parents.

TheWeekend_020114_Hr1

This hour on The Weekend Joe talks about President Obama's State of the Union address, how he tries to take credit for everything that has gone right and shift blame for what has gone wrong; we also get the latest Pags parody as Joe takes on Macklemore's "Same Love" after the Grammy's performance.

TheWeekend_012514_Hr3

This hour on The Weekend Joe talks about Richard Sherman's post game press conference, and the resulting fallout. Joe also touches on Dinesh D'Souza's arrest and bail being set at a half million dollars for illegal campaign contributions.

TheWeekend_012514_Hr2

This hour on The Weekend Joe talks about how race relations in this country have been trending downwards thanks in large part to the statements of Eric Holder and Barack Obama.

TheWeekend_012514_Hr1

This hour on The Weekend Joe talks about immigration. He points out the amount of federal crimes an illegal immigrant would have to break just to earn a living in the country. Joe also points out why the democratic party wants to push for amnesty so they can use these minority groups to win elections.

TheWeekend_011814_Hr3

This hour on The Weekend Joe talks about how profiling can be useful if done correctly, Madonna calling her white son the N-word on instagram, and over political correctness creeping into comedy.

TheWeekend_011814_Hr2

This hour on The Weekend Joe talks about how the Olympics have been ruined by the IOC trying to limit nationalism and over emphasis on homosexuality, also the TSA's violation of our rights in their intrusive searches and screening process.

TheWeekend_011814_Hr1

This hour on The Weekend Joe talks about how smoking is even worse for you than you probably thought, the gay agenda that has inserted itself in the upcoming winter Olympics.

TheWeekend_011114_Hr3

This hour Joe talks the "good wife guide" and lets callers weigh in on just how feasible this lifestyle is.

TheWeekend_011114_Hr3

This hour Joe talks about an the "Good Wife Guide" and how women lived by a very different standard in the 50's

TheWeekend_011114_Hr2

This hour Joe talks about the so called promise zones, unveils his new parody "Freezing", and a new internet trend called the bikini bridge.

TheWeekend_011114_Hr1

This hour Joe talks about Chris Christie's fat ass... traffic jam and how it does not deserve such large coverage being a local story, and the skewing of unemployment numbers.

TheWeekend_010414_Hr3

This hour Joe talks more about the nature of gender roles, the emasculation of men, and the general lack of common sense we regularly encounter these days.

TheWeekend_010414_Hr2

This hour Joe talks about women in combat. Joe bring up how a change that no longer require women to be able to do 3 pull ups is not allowing women to be properly prepared for the front lines.

TheWeekend_010414_Hr1

This hour Joe poses the question, "what is the story of 2013" and talks about Edward Snowden's status as a possible traitor or whistle blower.

TheWeekend_122813_Hr3

Wayne Allen Root fills in for Joe Pags today on the show, this hour Wayne discusses the character it takes to challenge Obama face to face with his guest Dr. Ben Carson and Ben even reveals a superior healthcare plan for America.

TheWeekend_122813_Hr2

Wayne Allen Root fills in for Joe Pags and this hour he talks about the death of the middle class with guest Anne Coulter, and why gold has stagnated this year with guest Craig Smith.

TheWeekend_122813_Hr1

Wayne Allen Root fills in for Joe Pags and this hour he talks about how the film Braveheart is proof history repeats itself as we face many of the same problems today with an out of control government.

TheWeekend_122113_Hr3

This hour Joe talks about a school who removed the religious lyrics from "Silent Night" and Justin Bieber's retirement or not.

TheWeekend_122113_Hr2

This hour Joe talks more about the fall out from Phil Robertson's comments and takes calls from you.

TheWeekend_122113_Hr1

This hour Joe talks about Phil Roberston, the controversy between Duck Dynasty and A&E, and all the opinions and fallout from what has happened so far.

TheWeekend_121413_Hr3

This hour Joe talks about a High School student who was suspended for the year for hugging his teacher, and Kanye West gets called out for comparing his job to law enforcement.

TheWeekend_121413_Hr2

This hour Joe talks about Obama's selfie at the Mandela memorial, the interpretive interpreter from the memorial, and a 6 year old who was suspended for kissing a girl at school.

TheWeekend_121413_Hr1

This hour Joe talks about the most recent school shooting in Colorado, gun laws, and the common sense that is lacking when trying to police the possession of guns.

TheWeekend_120713_Hr3

This hour, Pags continues to discuss increasing the minimum wage with callers and analyzes the life of Nelson Mandela.

TheWeekend_120713_Hr2

This hour, Pags argues against increases in minimum wage and takes calls on the topic.

TheWeekend_120713_Hr1

This hour, Pags refutes global warming, gives his take on FSU quarterback Jameis Winston, and asks where the morals have gone in younger generations.

TheWeekend_113013_Hr3

This hour Joe verbally visits "Sue York City" and defends the Hot Fit Mom.

TheWeekend_113013_Hr2

This hour Joe talks about amnesty and President Obama's visit with people fasting in protest.

TheWeekend_113013_Hr1

This hour Joe talked about Thanksgiving and its roots in God.

TheWeekend_112313_Hr3

This hour Joe talks more about his issue with overzealous police search, the hypocritical limiting of filibusters by the current administration, and the knock out game

TheWeekend_112313_Hr2

This hour Joe talks about police waving down cars while they are off duty for DNA collection. He asks the question, what would you do in that situation and just how legal is this?

TheWeekend_112313_Hr1

This hour Joe talks about the missed opportunity when Obama no showed at the Gettysburg anniversary.

TheWeekend_111613_Hr3

This hour Joe talks more about the common sense line that needs to be drawn with PC, Brian Wilson's decision to keep the beard and forgo being a Yankee, and a new parody Desperate O

TheWeekend_111613_Hr2

This hour Joe explores how an example of a women not tipping her server based on lifestyle choices even if you disagree with them is probably not okay, and a 20 year military veteran gets in trouble for signing his e-mails God Bless America.

TheWeekend_111613_Hr1

This hour Joe discusses racism, an ESPN announcer's "racist" comment about Jeremy Lin and Oprah's racism claim regarding the treatment of Obama

TheWeekend_110913_Hr3

This hour Joe interviews the Texas mom who wrote and Un-thank you letter to President Obama, and Tom Cruise equates working as an actor to fighting in Afganistan.

TheWeekend_110913_Hr2

This hour Joe discusses Governor Bobby Jindal's fight against EBT abuse, and the problem our country has with feeling entitled.

TheWeekend_110913_Hr1

This hour Joe talks about the continuing disaster that is Obamacare, the effect it's had on Obama's approval rating, and the blow back after a CMA joke about it.

TheWeekend_110213_Hr3

Over PC with Halloween costumes and Walmart makes the big bucks off EBT

TheWeekend_110213_Hr2

Latest parody "Liar" as inspired by the unending stream of lies by Obama

TheWeekend_110213_Hr1

Halloween candy and stealing your kid's while they sleep, changes in smoking age, and the true definition of tolerance.

TheWeekend_102613_Hr3

Taking calls on the effects of spanking on vocabulary, Massachusetts Governor Deval Patrick veto's limiting EBT purchases, and underwear that can filter out your fart smell.

TheWeekend_102613_Hr2

Joe debates the benefit of having faculty in Schools carry a gun. A mother in San Antonio is charged for nearly tearing her son's scrotum off. An LA Times article links spanking to poor vocabulary, forget the role in discipline and respect.

TheWeekend_102613_Hr1

The Obamacare website is an abject failure, would you feel safer if your kid went to a school where the teacher were permitted to carry weapons.

TheWeekend_101913_Hr3

Reaction to Melissa McCarthy's magazine cover and the fatty fats that want to complain about it. Mother of three loses baby weight and even more complaints. Little girl not allowed to write about God as an idol.

TheWeekend_101913_Hr2

Buzz words you don't want your political leaders using anymore. Interview with Brian Aitken, a man charged for legal possession of guns, wait what?

TheWeekend_101913_Hr1

The Shutdown is over, but our troubles with leadership in Washington continue. Joe talks with Senator Ted Cruz, and a new parody!

TheWeekend_101213_Hr3

A women with 15 naturally born children believes the responsibility lies elsewhere in clothing and feeding them. What can we do to counteract this lack of accountability in our society?

TheWeekend_101213_Hr2

Is it fair to compare Obama's rise to power to Hitler's? Can you separate Hitler the mass murderer from Hitler the politician?

TheWeekend_101213_Hr1

Joe is getting sick of the shutdown and the hypocritical position of those who don't believe the House has the right to defund.

TheWeekend_100513_Hr3

When a uniformed police officer is chastised for carrying his gun while dropping his child off at school, what does that say for our faith in public servants.

TheWeekend_100513_Hr2

Joe wants to know why the Government seems to be under the impression they own all our public land as well as the ocean...

TheWeekend_100513_Hr1

The Government is shut down, how is it affecting you? Joe has a new parody courtesy of Bill Withers

TheWeekend_092813_Hr3

Married couple, one claims to be transgender the other responds by coming out gay.

TheWeekend_092813_Hr2

If you found a bag of cash, what would you do? Turn it in? Keep it?

TheWeekend_092813_Hr1

Senator Ted Cruz spoke for 21 hours on the house for against Obamacare. Joe interviews Cruz, but only for 30 minutes.

TheWeekend_092113_Hr1

TheWeekend_00921_Hr3

TheWeekend_091413_Hr3

Joe says if you take money from his paycheck to buy junk food - that's BS! And if your born a girl, you're a girl. Sounds simple, right? Not so much.

TheWeekend_091413_Hr2

Joe destroys yet another song with his version 'Oh Sherry' he calls 'Oh Kerry'. It's a must listen. And EBT cards. Should they be used for junk food? Joe says, get a job ADub.

TheWeekend_091413_Hr1

12 years later and travel has changed... FOREVER. Joe talks with an aviation expert that will blow your mind.

TheWeekend_090713_Hr3

Is your kid FAT? Schools are sending home notes giving your child's BMI number. Joe thinks it's a bad idea. And a couple in Boston wants to get rid of "under god" in the pledge.

TheWeekend_090713_Hr2

High school student wants to be homecoming queen... nothing special there, right? Wait for it... HE wants to be queen. Joe freaks out!

TheWeekend_090713_Hr1

Syria - Should we or shouldn't we. And Joe spent some time in New York this past week. He has the best story from Yankee stadium. Ever talk to a guy so drunk you can smell the vomit on his breath?

TheWeekend_083113_Hr2

Joe talks everything Syria. Why we need to stay out of that country and let them sort it out. What would have been the reaction if another country came over here during our civil war?

TheWeekend_083113_Hr1

Joe smacks Jay in the face about a recent facebook post. Then explains how & why schools need to do a better job protecting our kids.

TheWeekend_802413_Hr1

Joe breaks down the fiasco that is the San Diego Mayor Bob Filner. He says if Filner was better looking, we wouldn't hear about the alleged sexual assaults. Double standard much? And the NFL is making women carry clear bags into stadiums. This way, women will stop shooting people at football games... wait, what? That never happened? Oh. Then this is totally stupid.