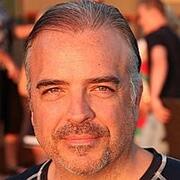 TheWeekend_120713_Hr3

This hour, Pags continues to discuss increasing the minimum wage with callers and analyzes the life of Nelson Mandela.

TheWeekend_120713_Hr2

This hour, Pags argues against increases in minimum wage and takes calls on the topic.

TheWeekend_120713_Hr1

This hour, Pags refutes global warming, gives his take on FSU quarterback Jameis Winston, and asks where the morals have gone in younger generations.

TheWeekend_113013_Hr3

This hour Joe verbally visits "Sue York City" and defends the Hot Fit Mom.

TheWeekend_113013_Hr2

This hour Joe talks about amnesty and President Obama's visit with people fasting in protest.

TheWeekend_113013_Hr1

This hour Joe talked about Thanksgiving and its roots in God.

TheWeekend_112313_Hr3

This hour Joe talks more about his issue with overzealous police search, the hypocritical limiting of filibusters by the current administration, and the knock out game

TheWeekend_112313_Hr2

This hour Joe talks about police waving down cars while they are off duty for DNA collection. He asks the question, what would you do in that situation and just how legal is this?

TheWeekend_112313_Hr1

This hour Joe talks about the missed opportunity when Obama no showed at the Gettysburg anniversary.

TheWeekend_111613_Hr3

This hour Joe talks more about the common sense line that needs to be drawn with PC, Brian Wilson's decision to keep the beard and forgo being a Yankee, and a new parody Desperate O

TheWeekend_111613_Hr2

This hour Joe explores how an example of a women not tipping her server based on lifestyle choices even if you disagree with them is probably not okay, and a 20 year military veteran gets in trouble for signing his e-mails God Bless America.

TheWeekend_111613_Hr1

This hour Joe discusses racism, an ESPN announcer's "racist" comment about Jeremy Lin and Oprah's racism claim regarding the treatment of Obama

TheWeekend_110913_Hr3

This hour Joe interviews the Texas mom who wrote and Un-thank you letter to President Obama, and Tom Cruise equates working as an actor to fighting in Afganistan.

TheWeekend_110913_Hr2

This hour Joe discusses Governor Bobby Jindal's fight against EBT abuse, and the problem our country has with feeling entitled.

TheWeekend_110913_Hr1

This hour Joe talks about the continuing disaster that is Obamacare, the effect it's had on Obama's approval rating, and the blow back after a CMA joke about it.

TheWeekend_110213_Hr3

Over PC with Halloween costumes and Walmart makes the big bucks off EBT

TheWeekend_110213_Hr2

Latest parody "Liar" as inspired by the unending stream of lies by Obama

TheWeekend_110213_Hr1

Halloween candy and stealing your kid's while they sleep, changes in smoking age, and the true definition of tolerance.

TheWeekend_102613_Hr3

Taking calls on the effects of spanking on vocabulary, Massachusetts Governor Deval Patrick veto's limiting EBT purchases, and underwear that can filter out your fart smell.

TheWeekend_102613_Hr2

Joe debates the benefit of having faculty in Schools carry a gun. A mother in San Antonio is charged for nearly tearing her son's scrotum off. An LA Times article links spanking to poor vocabulary, forget the role in discipline and respect.

TheWeekend_102613_Hr1

The Obamacare website is an abject failure, would you feel safer if your kid went to a school where the teacher were permitted to carry weapons.

TheWeekend_101913_Hr3

Reaction to Melissa McCarthy's magazine cover and the fatty fats that want to complain about it. Mother of three loses baby weight and even more complaints. Little girl not allowed to write about God as an idol.

TheWeekend_101913_Hr2

Buzz words you don't want your political leaders using anymore. Interview with Brian Aitken, a man charged for legal possession of guns, wait what?

TheWeekend_101913_Hr1

The Shutdown is over, but our troubles with leadership in Washington continue. Joe talks with Senator Ted Cruz, and a new parody!

TheWeekend_101213_Hr3

A women with 15 naturally born children believes the responsibility lies elsewhere in clothing and feeding them. What can we do to counteract this lack of accountability in our society?

TheWeekend_101213_Hr2

Is it fair to compare Obama's rise to power to Hitler's? Can you separate Hitler the mass murderer from Hitler the politician?

TheWeekend_101213_Hr1

Joe is getting sick of the shutdown and the hypocritical position of those who don't believe the House has the right to defund.

TheWeekend_100513_Hr3

When a uniformed police officer is chastised for carrying his gun while dropping his child off at school, what does that say for our faith in public servants.

TheWeekend_100513_Hr2

Joe wants to know why the Government seems to be under the impression they own all our public land as well as the ocean...

TheWeekend_100513_Hr1

The Government is shut down, how is it affecting you? Joe has a new parody courtesy of Bill Withers

TheWeekend_092813_Hr3

Married couple, one claims to be transgender the other responds by coming out gay.

TheWeekend_092813_Hr2

If you found a bag of cash, what would you do? Turn it in? Keep it?

TheWeekend_092813_Hr1

Senator Ted Cruz spoke for 21 hours on the house for against Obamacare. Joe interviews Cruz, but only for 30 minutes.

TheWeekend_092113_Hr1

TheWeekend_00921_Hr3

TheWeekend_091413_Hr3

Joe says if you take money from his paycheck to buy junk food - that's BS! And if your born a girl, you're a girl. Sounds simple, right? Not so much.

TheWeekend_091413_Hr2

Joe destroys yet another song with his version 'Oh Sherry' he calls 'Oh Kerry'. It's a must listen. And EBT cards. Should they be used for junk food? Joe says, get a job ADub.

TheWeekend_091413_Hr1

12 years later and travel has changed... FOREVER. Joe talks with an aviation expert that will blow your mind.

TheWeekend_090713_Hr3

Is your kid FAT? Schools are sending home notes giving your child's BMI number. Joe thinks it's a bad idea. And a couple in Boston wants to get rid of "under god" in the pledge.

TheWeekend_090713_Hr2

High school student wants to be homecoming queen... nothing special there, right? Wait for it... HE wants to be queen. Joe freaks out!

TheWeekend_090713_Hr1

Syria - Should we or shouldn't we. And Joe spent some time in New York this past week. He has the best story from Yankee stadium. Ever talk to a guy so drunk you can smell the vomit on his breath?

TheWeekend_083113_Hr2

Joe talks everything Syria. Why we need to stay out of that country and let them sort it out. What would have been the reaction if another country came over here during our civil war?

TheWeekend_083113_Hr1

Joe smacks Jay in the face about a recent facebook post. Then explains how & why schools need to do a better job protecting our kids.

TheWeekend_802413_Hr1

Joe breaks down the fiasco that is the San Diego Mayor Bob Filner. He says if Filner was better looking, we wouldn't hear about the alleged sexual assaults. Double standard much? And the NFL is making women carry clear bags into stadiums. This way, women will stop shooting people at football games... wait, what? That never happened? Oh. Then this is totally stupid.