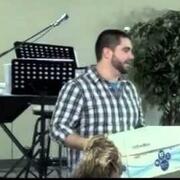 What's Your Part?

Ephesians 4:11-12 11 And He personally gave some to be apostles, some prophets, some evangelists, some pastors and teachers, 12 for the training of the saints in the work of ministry, to build up the body of Christ,

Maker or Faker

Mark 8:34-36 34 Then, calling the crowd to join his disciples, he said, "If any of you wants to be my follower, you must turn from your selfish ways, take up your cross, and follow me. 35 If you try to hang on to your life, you will lose it. But if you give up your life for my sake and for the sake of the Good News, you will save it. 36 And what do you benefit if you gain the whole world but lose your own soul?[a]

Why Trials Exist

James 1:2 My brethren, count it all joy when you fall into various trials,

5 Steps of Effective Prayer (#4,5)

Matthew 6:12-14 12 And forgive us our debts, As we forgive our debtors. 13 And do not lead us into temptation, But deliver us from the evil one. For Yours is the kingdom and the power and the glory forever. Amen.[a] 14 "For if you forgive men their trespasses, your heavenly Father will also forgive you.

5 Steps of Effective Prayer (#3)

Matthew 6:11 Give us this day our daily bread.

5 Steps of Effective Prayer (#2)

Matthew 6:10 10 Your kingdom come. Your will be done On earth as it is in heaven.

5 Steps of Effective Prayer (#1)

Matthew 6:9 In this manner, therefore, pray: Our Father in heaven, Hallowed be Your name.

Sin

Romans 6:18 Now you are free from your slavery to sin, and you have become slaves to righteous living.

All These Things

Matthew 6:33 But seek first the kingdom of God and His righteousness, and all these things shall be added to you.

Cure for Stress

Philippians 4:6 Be anxious for nothing, but in everything by prayer and supplication, with thanksgiving, let your requests be made known to God;

Doers of the Word

James 1:21 Doers—Not Hearers Only 21 Therefore lay aside all filthiness and overflow of wickedness, and receive with meekness the implanted word, which is able to save your souls.

Think On These Things

Philippians 4:8 Meditate on These Things 8 Finally, brethren, whatever things are true, whatever things are noble, whatever things are just, whatever things are pure, whatever things are lovely, whatever things are of good report, if there is any virtue and if there is anything praiseworthy—meditate on these things.

The Mind

Our mind will take us where we don't want to go and leave us there...