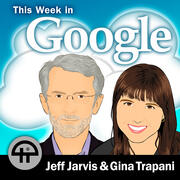 TWiG 240: Let's Troll Prince

25 years of the World Wide Web, Google hasn't scratched the surface of wearable tech, Google Drive add-ons, and more!

TWiG 239: He Pinched My Pixel

The Oscar selfie, new Samsung Chromebooks, the ARA phone, and more!

TWiG 238: Net Brutality

What the media is getting wrong about the Netflix/Comcast deal, net neutrality laws are not the answer? How to get hired at Google, and more!

TWiG 237: Let Go Let Google

Google buys SlickLogin, Facebook's WhatsApp acquisition, do's and don'ts for Google Glass, and more!

TWiG 236: Who's Your Daddy?

Olympics coverage, the $999 Chromebox, Jeff wants to get rid of news stand-ups and more!

TWiG 235: The $4000 Dongle

Google's quarterly results, YouTube has a new Chief, Chromecast API open to developers, and more!

TWiG 234: A Six Pack of Rolexes

Google is selling Motorola Mobility to Lenovo, Nexus getting rebranded, Google buys AI startup DeepMind, and more!

TWiG 233: Glass Goes to the Movies

Matt Cutts SEO signals, Google Glass best practices, why is Yahoo gaining traction, and more!

TWiG 232: Just Lean Forward

Net neutrality, Google's Nest acquisition, the Moto G Play Edition and more!

TWiG 231: My Tonka Book

More reasons to fear the NSA, Android and Windows in the same computer, SEO problems for Rap Genius, and more!

TWiG 230: 2013 Best of!

The best of This Week in Google 2013!

TWiG 229: Jiggery Pokery

Bing architect leaves Microsoft for Google, Google buys military robots, NSA report and more.

TWiG 228: Are you a Robot?

Google bus blockade, NSA piggybacks on Google cookie, Twitter hoaxes, the ethics of new media, and more.

TWiG 227: Turnip Drones

Moto X cyber Monday mess, Google testing flying drones, growing plants on the moon, Andy Rubin is buying robotic companies, and more.

TWiG 226: The Hobbit Menu

NSA spying on you, blackmailing foreign agents, Chromebook Scroogled, and more!

TWiG 225: Crows are Hawt

Google Music available for iOS, Nexus 5 wireless charger, KitKat update for Verizon Moto X, and more.

TWiG 224: OK Jarvis

Cyanogen Mod comes to the Play Store, Google barge revealed, how much money does twitter owe you, Glass open for all, and more.

TWiG 223: Duty-phone or Booty-phone

The new Nexus 5 is out, Android 4.4 Kit-Kat, what's actually in the Google barge, paid HelpOuts, and more.

TWiG 222: An Attractive Virus

Google channels Pixar, Nexus 5 could arrive in November, massive barge in SF bay is likely a secret Google facility, and more.

TWiG 221: Hairy Toes

Google stock over $1000, Apple's announcement yesterday, Google's iron grip on Android, Hangouts for iOS, and more.

TWiG 220: Colder Than Space

How to opt out of Google's Beacon, after 26 years Google Maps help lost boy find home, Google Watch is happening soon, and more.

TWiG 219: Support Like a Pillow

HP Chromebook 11, Chrome OS built into Windows 8, Nexus 5 to start at $299, and more.

TWiG 218: Show Bill the Gates

Celebrate Google's 15th birthday, Glass winning praise from firefighters, Google Plus has a bug, and more.

TWiG 217: The Human Clippy

Google quietly moving to make all searches secure, plan to replace browser cookies, google glass not expected to reach europe for years, and more.

TWiG 216: Verizon Tell Hell

Verizon won't connect Jeff's Nexus 7 LTE, Google+ Gets new editing tools, Google swaps out MySQL, and more.

TWiG 215: What's Italian for MOOC?

Defense against NSA hacked encryption, passwords are dead, Google to create new education site, and more.

TWiG 214: No No No No No

Samsung's Galaxy Gear is a smartwatch, Android KitKat, 8GB Nexus 4 sells out, Google Tests a new tablet search interface, and more.

This Week In Google 213: Jivin' with Jarvis

Google drops Nexus 4 price, Moto X teardown, Google considers Robo Taxi, and more.

This Week In Google 212: You're not the Boss of me

Yahoo's Marissa Mayer, YouTube for Android gets a major makeover, Google introduces native translations, and more.

This Week In Google 211: We Just Installed the Internet

NSA Is commandeering the Internet, Silent Circle preemptively shuts down, the kids guide to the internet, and more.