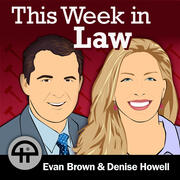 TWiL 249: Release the Flappy Kraken

Patent reform and dealing with trolls, Keurig locking down on cheap K-Cups, Flappy clones, and more.

TWiL 248: A Rock and a Hard Connection

The Comcast-Netflix deal and net neutrality, parodied logos don't violate federal laws, "Secret" apps, and more.

TWiL 247: Mergers of Dystopia

Anti-trust issues with the Comcast/Time-Warner merger, privacy with cellphone location data, how not to be a Glasshole, and more.

TWiL 246: Are There Mushrooms?

The "Silk Road" of information, the Time-Warner and Comcast merger, "Dumb Starbucks", and more.

TWiL 245: Pirate Bay or Google?

Parallels between file sharing and alcohol prohibition, Disney movies based on the public domain, privacy interest in photo metadata, and more.

TWiL 244: Deep Blue vs. The Universe

Singularity Rising, Bitcoin ATM needs a chaperone, protecting your passwords from amnesia, and more.

TWiL 243: Intriguingly Hogan

Obama's NSA reform and Silicon Valley, scraping mugshots, social media affecting your credit score, and more.

TWiL 242: A Box Without a Puppy

Opting out of Gmail's Google+ integration, Aereo Supreme Court case, gadget privacy at the U.S. border and more.

TWiL 241: Made of Plastic and Tears

Why women aren't welcome on the internet, Kanye's Lawyer moves to block Coinye, why customer reviews will become more important in 2014 and more.

TWiL 240: Barnacles, Blackouts, and Blue Ribbons

Fair use decision for the NFL, NSA surveillance ruling, car for hire services and more.

TWiL 239: Digital Diaper, Your Data is Crap

Trolls, revenge porn, Google Glass and more.

TWiL 238: Gourmet Cheese by Drone

Prenda, Goldiblox, Bitcoin heist, Hotfile settlement, and more.

TWiL 237: Networks of Steel

Madonna, Superman, JFK, C.S. Lewis, Aldous Huxley, and more.

TWiL 236: Sounds European

The TPP leak content and journalistic ramifications, when can journalists be held criminally liable for their content, a Google book search victory, and more.

TWiL 235: Model Clientele

Upcoming pending legislations, possible FISA improvement, stock photography, and more!

TWiL 234: Tech policy meets traffic court

Google Glass and cars, cars and liability, liability and law machines, pending legislations, and more.

TWiL 233: Pallante Funkadelic

SpongeBob on your gravestone, net neutrality, lawsuits pertaining to open internet rules, copyright reform, and more.

TWiL 232: The Caramel Commission

Author issues, digital publishing, privacy, and more.

TWiL 231: Taking up Knitting

The Trans-Pacific Partnership, digital copyright, global policy on intellectual property law, and more.

TWiL 230: The 230 Birdie

Creative challenges to NSA surveillance, taking Chubby Checkers to the islands, the proposed federal shield law getting better, and more.

TWiL 229: Trolling, Trolling... Trollhide

Special guest Lee Cheng from Newegg and Jonathan Bailey, patient trolls, copyright in curriculum, and more.

TWiL 228: Operatic Poodles and Flying Pigs

Hollywood blames Google again, cell phone unlocking, NSA cracking net encryption, and more.

TWiL 227: Twitter Breaks out the Bubbly

Google's Wi-Spy law suit moves forward, fingerprints on your iPhone, champagne jam, and more.

TWiL 226: Injunction Junction

Are small out sourced antennae the legal equivalent of big rooftop mounted antennae, should lawyers drink more, and more.

This WEEK in Law 225: Vanna's Robot

TV's and law degrees, texter liability, criminalizing revenge porn, and more.

This WEEK in Law 224: Better Call Saul

Groklaw unGroks, Al Jazeera starts blocking videos on YouTube, new details show broader NSA surveillance reach, and more.

This WEEK in Law 223: Comply or Die

When resistance to government requests is futile, why is Breaking Bad still torrented, and more.

This WEEK in Law 222: Confust it All

Stephen Kaplitt talks about his letter to West Orange, New Jersey, the Jobs Act, and more.

This WEEK in Law 221: We're #9! We're #9!

What's going on in D.C., wireline issues, Public Knowledge, internet filtering in the UK, and more!

This WEEK in Law 220: The Resounding Meh

Serious and silly lawsuits, Comic-Con, the NSA, and more.