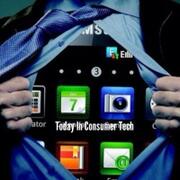 It's not goodbye, I'm only moving url's

in this podcast I give a brief description of what is going to be happening in the future of TICT or today and consumer tech. I hope to see you at our new home on Spreaker.com\\user\\thepodcave

episode 17 Black Friday

where John and I discuss TVs, smart phones, tablets and more

happy Thanksgiving America

where John and I give thanks to the American listeners of TICT or today and consumer tech also we pimp our other podcast of beware the Batman podcast right here on Spreaker.com

where we help protect your computer

we listen to Leo Laporte and Steve Gibson talk about the virus crypto locker and I give my two cents at the end. The prerecorded segment I used was pulled from the tech guy podcast originally aired on premierradio.com I want to think Leo Laporte and Steve Gibson for allowing us to rebroadcast that segment so that everybody can be educated about crypto locker.

The Apple announcement that you deserve

I talk about the new MacBook Pro, Mac Pro and the new iPads are here. absent from this podcast is OS X Mavericks, if you want to give me heck... be my guest leave your comments down below.

Apple had more to cover

iPhone 5C review by mom

insert show title here

A brief update from the TICT world. thank you very much for listening and commenting and sharing everything that we do here. Twitter @tict_rob www.facebook.com/tict.rob fan page www.facebook.com/todayinconsumertech and as all was our webpage tict.squarespace.com

First world Tech Problems

Where we talk about iOS 7

John and I talking about iOS 7 and the different features. if you want to follow John he's at @taggedyourbac on twitter and I'm tict.squarespace.com for all my links and the things we do here on TICT. Thank you for listening and I hope to see you on the web.

The New iPhones are here

this TICT Podcast is all about the new iPhone's.

The show that keeps on going

John and my self just talking about the Samsung Galaxy gear, What Apple might be unveiling at this attempt or 10th event, Why the iPhone 5C makes no sense and just all-around geeky conversation.

Android covered in chocolate

Keep your self off Facebook Ad's

TICT news

The back to school episode

tict.squarespace.com is Back!!

The cell phone scam

TICT Updates

Xbox one accessory prices

Thrifty tech shopping

Today show is about finding the deals in consumer electronics. Visit our website tict.squarespace.com For more information. Like us on Facebook.com/todayinconsumertech

TICT Facebook security

You can find more information at https://tict.squarespace.com and like us on Facebook.com/todayinconsumertech thank you for Listening.

TICT commercial

My wife doing a commercial for the website tict.squaerspace.com To find the hat that she is talking about go to Facebook.com/todayinconsumertech and click the Thumbs-up button to Cast your vote for TICT swag and leave a relevant comment In the comments section.

Don't be caught with your PC pants down

Update your operating system for only $119 on http://windows.microsoft.com/en-ca/windows/buy?ocid=GA8_O_WOL_Hero_ShopHP_FPP_Null and get Windows's 8 today So you don't get left behind in the cyber dust.

The mobile operating system wars

A brief description of three different mobile operating systems. Stay tuned after the show there's a surprise at the end. Facebook.com/rob.olafson.5 or @tict_rob on twitter email is tict@ outlook.com or todayinconsumertech@gmail.com Thanks for listening and I hope to be hearing from ya..