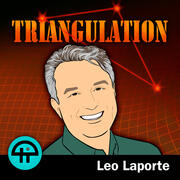 Triangulation 130: Adam Sessler

Adam Sessler is the executive producer of Revision3 Games and the former host of G4's gaming show X-Play.

Triangulation 129: Karl Auerbach

Auerbach is Chief Technology Officer at InterWorking Labs, in Scotts Valley, California, which creates network testing and emulation products.

Triangulation 128: Seymour Rubinstein

Seymour Rubinstein is a pioneer in the PC software industry who invented WordStar, QuattroPro, and the new search tool Webthresher.

Triangulation 127: The Scobleizer and Shel Israel

Robert Scoble and Shel Israel talk about their new book "Age of Context: Mobile, Sensors, Data and the Future of Privacy".

Triangulation 126: Tom Standage

Tom Standage is a digital editor at The Economist and author of the new book "Writing On The Wall: Social Media, The First 2,000 Years".

Triangulation 125: Ladar Levison

Ladar Levison is the owner of Lavabit, an encrypted email service that suspended operations after it was ordered to turn over its SSL private key to the government.

Triangulation 124: Jeri Ellsworth and castAR

Jeri Ellsworth and Rick Johnson talk about castAR, an augmented reality system they created that displays holographic-like 3D projections.

Triangulation 123: Hacker Scouts

Samantha Cook is a founder of Hacker Scouts, a national non-profit organization where children can build skills in science, technology, engineering, art, and math.

Triangulation 122: Bob Bergen

Bob Bergen, voice actor best known as the voice of Porky Pig, talks about his roles in video games, animated and live-action movies.

Triangulation 121: Grant Imahara

Mythbusters' Grant Imahara talks about his work on Star Wars, the Energizer Bunny, the Late Late Show, and more.

Triangulation 120: Ariel Waldman

Ariel Waldman is the founder of Spacehack.org, and the global instigator of Science Hack Day, an event that brings together designers, developers, and scientists to build cool things.

Triangulation 119: of Dice and men

David M. Ewalt is journalist and author of Of Dice and Men, a book about Dungeons and Dragons.

Triangulation 118: Tim Jenison

Tim Jenison is the founder of NewTek and the subject of the new documentary, "Tim's Vermeer".

Triangulation 117: Mignon Fogarty, Grammar Girl

Mignon Fogarty is the creator of Grammar Girl and the founder and managing director of Quick and Dirty Tips.

Triangulation 116: Philip Rosedale

Philip Rosedale is an entrepreneur and creator of the 3D virtual world Second Life.

Triangulation 115: Esther Dyson

Esther Dyson is an angel investor and philanthropist focused on healthcare, biotechnology, and space.

Triangulation 114: Stewart Cheifet

Stewart Cheifet, host and producer of Computer Chronicles and Net Cafe, is this week's guest.

Triangulation 113: Danny Thompson and the Quest for the Land Speed Record

Danny Thompson is a land speed racer with a Kickstarter campaign to resurrect his father's 1968 Challenger II Streamliner to break the piston driven land speed world record.

Triangulation 112: Leo Laporte

Tom Merritt and Sarah Lane interview Leo Laporte, the host of Triangulation and founder of the TWiT network.

Triangulation 111: Amy Critchett and Mark Pauline

Amy Critchett of The Bay Lights and Mark Pauline of Survival Research Laboratories join us this week.

Triangulation 110: Massimo Banzi, Arduino

Co-founder of the Arduino project, interaction designer, educator, and open source hardware advocate, Massimo Banzi is today's guest.

Triangulation 109: Dr. Kiki

Dr. Kirsten Sanford is a science expert with a PhD in neurophysiology, specializes in avian learning, and hosts the radio show "This Week in Science".

Triangulation 108: Chris Lewicki, Planetary Resources

President and Chief Engineer at Planetary Resources, Chris Lewicki is today's guest.

Triangulation 107: Poet Philosopher Jason Silva

Television personality, filmmaker, and poet philosopher, Jason Silva is today's guest.

Triangulation 106: Howard Rheingold

Howard Rheingold, writer, teacher, and critic specializing in modern communication media, is this week's guest.

Triangulation 105: Douglas Rushkoff

Media theorist, early commentator on cyberculture, and author of "Present Shock," Douglas Rushkoff is today's guest.

Triangulation 104: Eric Drexler and Nanotechnology

Eric Drexler, engineer best known for popularizing the potential of molecular nanotechnology, is today's guest.

Triangulation 103: Gavin Andresen

Chief scientist at the Bitcoin Foundation, Gavin Andresen is today's guest.

Triangulation 102: Adam Carolla

Comedian, actor, entrepreneur, and Guinness World Record holder for most downloaded podcast, Adam Carolla is today's guest.