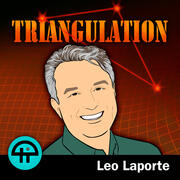 Triangulation 148: Vint Cerf - Part II

Vint Cerf is Google's Chief Internet Evangelist and Co-Inventor of the Internet.

Triangulation 147: Steve Gibson - Part II

Steve Gibson is a computer programmer, inventor of SpinRite, and host of Security Now!

Triangulation 146: Jeff Hawkins

Jeff Hawkins is the founder of Palm Computing and Handspring, and has since turned to work on neuroscience, founding the Redwood Center for Theoretical Neuroscience.

Triangulation 145: Michio Kaku

Dr. Michio Kaku is a theoretical physicist, renowned futurist, and bestselling author. His latest book is "The Future of the Mind."

Triangulation 144: Steve Gibson

Steve Gibson is computer programmer, inventor of SpinRite and host of Security Now!

Triangulation 143: Marty Cooper

Marty Cooper is the inventor of the handheld cellular mobile phone.

Triangulation 142: Caterina Fake

Caterina Fake is an entrepreneur and Co-Founder of Flickr, Hunch, and Findery.

Triangulation 141: David-Michel Davies and The Webby Awards

David-Michel Davies is the Executive Director of The Webby Awards and the Chairman Co-founder of Internet Week New York.

Triangulation 140: Daniel Suarez and Jeff Gurner

Daniel Suarez is the author of the New York Times bestseller Daemon, Freedom (TM), Kill Decision, and Influx. He is joined by Jeff Gurner, who is an actor and narrator of Influx.

Triangulation 139: Brett Martin and Difficult Men

Brett Martin is a correspondent for GQ and author of "Difficult Men: Behind the Scenes of a Creative Revolution, From The Sopranos and The Wire to Mad Men and Breaking Bad."

Triangulation 138: Alex Lindsay

Alex Lindsay is the founder of the Pixel Corps and co-host of Macbreak Weekly.

Triangulation 137: Hatching Twitter

"Hatching Twitter" is the latest book by Nick Bilton, a columnist and reporter for The New York Times.

Triangulation 136: Big Bang Disruption

Larry Downes is an Internet industry analyst and co-author of "Big Bang Disruption."

Triangulation 135: Brad Stone

Brad Stone is an American journalist and the author of the books, Gearheads and The Everything Store.

Triangulation 134: Peter Krogh

Peter Krogh is a commercial photographer, author of The DAM Book on Digital Asset Management, and creator of the 3-2-1 backup strategy.

Triangulation 133: The Best of 2013

A collection of some of the best interview moments of 2013.

Triangulation 132: Kevin Kelly

Kevin Kelly is the founding executive editor of Wired magazine, former editor/publisher of the Whole Earth Catalog, and recently published "Cool Tools: A Catalogue of Possibilities."

Triangulation 131: Alexis Ohanian

Alexis Ohanian is the co-founder of Reddit, started Breadpig and Hipmunk, host of Small Empires, Y Combinator ambassador, and author of the book "Without Their Permission."

Triangulation 130: Adam Sessler

Adam Sessler is the executive producer of Revision3 Games and the former host of G4's gaming show X-Play.

Triangulation 129: Karl Auerbach

Auerbach is Chief Technology Officer at InterWorking Labs, in Scotts Valley, California, which creates network testing and emulation products.

Triangulation 128: Seymour Rubinstein

Seymour Rubinstein is a pioneer in the PC software industry who invented WordStar, QuattroPro, and the new search tool Webthresher.

Triangulation 127: The Scobleizer and Shel Israel

Robert Scoble and Shel Israel talk about their new book "Age of Context: Mobile, Sensors, Data and the Future of Privacy".

Triangulation 126: Tom Standage

Tom Standage is a digital editor at The Economist and author of the new book "Writing On The Wall: Social Media, The First 2,000 Years".

Triangulation 125: Ladar Levison

Ladar Levison is the owner of Lavabit, an encrypted email service that suspended operations after it was ordered to turn over its SSL private key to the government.

Triangulation 124: Jeri Ellsworth and castAR

Jeri Ellsworth and Rick Johnson talk about castAR, an augmented reality system they created that displays holographic-like 3D projections.

Triangulation 123: Hacker Scouts

Samantha Cook is a founder of Hacker Scouts, a national non-profit organization where children can build skills in science, technology, engineering, art, and math.

Triangulation 122: Bob Bergen

Bob Bergen, voice actor best known as the voice of Porky Pig, talks about his roles in video games, animated and live-action movies.

Triangulation 121: Grant Imahara

Mythbusters' Grant Imahara talks about his work on Star Wars, the Energizer Bunny, the Late Late Show, and more.

Triangulation 120: Ariel Waldman

Ariel Waldman is the founder of Spacehack.org, and the global instigator of Science Hack Day, an event that brings together designers, developers, and scientists to build cool things.

Triangulation 119: of Dice and men

David M. Ewalt is journalist and author of Of Dice and Men, a book about Dungeons and Dragons.