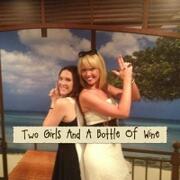 Killer Drummer in the HOUSE – Kristen Miller!!

What has the former producer of Two Girls and a Bottle of Wine been up to?Kristen is a television star... kind of. We will be posting a link to her Subaru commercial on the Facebook page. www.facebook.com/twogirlsandabottleofwine#Trevors1030Challenge on Instagram.... what is it? Listen in and you will want to participate in the fun!What have The Hits been up to? New stuff coming and you can check out some new music from them on the Facebook page. www.facebook.com/twogirlsandabottleofwineA brand new feature for the Podcast - Woman Crush of the Week where me and my guest talk about a woman we feel sets to standards high when it comes to being fierce. Deodorant FAIL is the worst kind of fail. I...

My SOA Sister in Podcast Fun – NATTY WATTERS

Natty Watters joins me today as my co-host. We talk about movies and her love of independent and abstract entertainment from the French. "Boyhood" hits theaters this weekend and we talk about this movie and I give it my Hot Pink Star rating. Filming a movie over 12 years – how did it turn out?Taco Bell is rolling out a HEALTHIER menu. We talk about the new options but will it be easy to switch from the Beefy Five Layer Burrito?Adam Levine got married but is he that sexy. Who is hotter?! The best thing about his wedding is when you hear who officiated and what music event took place.We haven't talked about Fifty Shades of Grey in a while, so how about an update and who is teasing us with smal...

T-Squared Stops By To Sip Wine and Vodka

A Rock Goddess that Fries People's Faces Off - Teresa Terry stops by this week. I prefer to call her T-Squared. Ryan Gosling and Eva Mendes are expecting their first child. My review of the movie Sex Tape and my love for Cameron Diaz.It's no news that Colorado legalized marijuana this year, but you won't believe how much they are on track to sell in one year. Juicy Couture has officially shut down all of it US stores, so we walk down the Juicy memory lane of words on the booty. Corpses are flying around in PA - put yourself in the shoes of motorists when a corpse goes rolling down the road. If Selfies weren't enough... now we have selfie sticks. We talk about our bad habits and some bad habi...

Welcome, the Vodka Stiletto Princess

The Vodka Stiletto Princess, Carrie McCloud is the special guest this week. I was quite surprised to find out that she is a Hollywood stalker, like me. She didn't even know who Ryan Seacrest was until he built a studio at her work. So, why is there a Ryan Seacrest studio where she works? We became friends through Facebook and today is the actual first time we have ever met. So we must talk about our favorite Social Media and taking a break from Facebook. Couples that Sleep naked, tend to be happier. For real? I had my first Voodoo Donuts experience this last weekend and it wasn't a great experience, but Carrie has been a couple of times and we both share our stories. Have you fallen in love ...

NOW HIRING – Calling all my lady friends!!!

It's been a couple of weeks since we have had a new podcast. Ashley has been traveling and her new job has been keeping her crazy busy, so she will be on the podcast less frequently. So - WE ARE HIRING!! Calling all of my lady friends!!! If you are free on Tuesday nights at 5:30 p.m. and would be able to come over to the house to sit down with me and chat with a microphone in your face - let me know - Pinkbarb27@yahoo.com! Steve is in Alaska for work and it seems miserably cold, especially for July 1st. I love the warm weather and sunshine. I prefer to head closer to the equator for my trips. Some Canadians did just that and we should be so thankful. There are some Hollywood hotties that cam...

5 Minutes To What We Really Mean

The Fray and Ashley finally coordinated schedules and she was able to watch them at one of her favorite venues. Watch out Zac Brown Band. ?xml:namespace prefix = "o" ns = "urn:schemas-microsoft-com:office:office" / Speaking of - ZBB make an announcement and they are going to be in Denver again - Is Ashley going this year? You can be trying to find Mr. Right or dating the same guy for a decade. Either way - ladies tend to have crazy expectations when it comes to their man. How about a reality check? We have it here for you! Girls say things but they mean other things. It's life - but we are here to help you decode the lady speak. Cheers and we hope you are having a fabulous summer. See you ne...

A Walk On The Gemini Side

It's your birthday…. Ashley. June 3…. Not a lot has happened except…. ASHLEY GAMBLE WAS BORN!?xml:namespace prefix = "o" ns = "urn:schemas-microsoft-com:office:office" / Where the heck did birthday cakes come from? Why do we blow out candles when we celebrate the annual celebration of our entrance to the world? We will give you some history. Ashley is a Gemini… what does that mean? Has Ashley hit the point where she stops telling the truth about her age? Have you? Are you celebrating the anniversary of 30 again this year? Aging is now very taboo…. Which mean plastic surgery is super popular. Listen as we talk about some strange surgeries. Really strange. Find us on Facebook, Twitter, Instagr...

Life Lessons from Grey's and More Movie Love

The team is back together. We both love Grey's Anatomy and even though it's been a couple of weeks we must talk about the most recent season finale. ?xml:namespace prefix = "o" ns = "urn:schemas-microsoft-com:office:office" / Christina and Meredith have one of those specialist friendships. We can learn a lot from them and we share three top lessons from Girlfriendology.com. Make sure you take note. As Christina makes her exit, we remember all of things she has taught us through the years. Listen carefully, you might miss something. Have you seen the new movie CHEF? We were able to see it before it theaters and we LOVE it. Listen to find out why and why we think it's the perfect date movie. S...

Tunes, Flicks and Being A Character

I halfway watched the Billboard Music Awards, and I surprising must say the Miranda Lambert and Carrie Underwood duet... kicked booty. :) Listen as I talk about other highlights from Sunday night's show. New music means a new album for Ms. Miranda.. Remember - Platinum is available on 06/03. If you pre order NOW - you get "Automatic" and "Something Bad" (Duet with Carrie). More music news and a reminder of an upcoming country music award show - CMT Music Awards - 06/04. Next month is going to be so much fun!! Jarrod Niemann has a hit song "Drink To That All Night" and he has teamed up with some big guns to make it even spicier. A little bit country - a little bit rock n roll?! Some news is g...

Some Parents Need Facebook Lessons

Holy cow - some of our favorite shows have been cancelled. WTH. No one asked us our opinion. Listen to the victims - are you as sad as us??xml:namespace prefix = "o" ns = "urn:schemas-microsoft-com:office:office" / We hope all of the Mother's out there had a fabulous Mother's Day. With the holiday, we were reminded that some parents need to reel in the social media activity. Are you one of these? We list the types of offenders so you can get some much needed help. When you post photos online you need to be aware of what you are opening yourself up to. We want to help you be safe - so listen to these guidelines. We will be back next Tuesday and we are moving to Tuesday from now on. Mark your ...

The Huge Swing Set That Is Love

East Coast meets Midwest in the Mile High City where Ashley and Janet come together to share a drink and chat about life. www.facebook.com/twogirlsandabottleofwine

Be That Girl and CELEBRATE You!!

Last week we left you hanging, so this week we let you know the last of the few things you should celebrate that aren't the typical things you are told to celebrate. We all must strive to be better. If you stop trying, what are you living for? There are aspects of being a girl that we all must strive to sharpen. Be THAT girl without giving up who you are. Listen to see how. Life is full of To Do Lists and deadlines. We have obligations, but there are things we may feel obligated to do, but we shouldn't. Don't feel bad about dropping the ball on these things. Happy week... April Showers bring May Flowers... soon!

Friendiversary… Mark your calendar!!

Jelly - It's a problem for one of the girls. How long could you be away from your significant other? Janet and Steve are going to be away from each other longer than they have been before? Could you do it? What would be your secret?Spring cleaning... should it take 7 hours to clean half of an apartment? Ashley is detail oriented. Life - are you sabotaging it without knowing? Work, relationships, connectivity, alone time... they all can either make your life rock or make your life stink. Which one are you choosing. We love a reason to celebrate... so listen to some unconventional reasons to celebrate. We don't reveal them, so listen in next week for more. What is an occasion you celebrate tha...

Release The Stress… In Healthy Way

We are here on another Tuesday, but Janet has a great excuse.... Nachos!!Life is stressful and work can be a bear. How do you deal with stress?Janet has been working on handling her stress - so she shares some tips she found. You don't want to bring the drama home and ruin your happy life - so listen up. Balancing life and work can be an art. Forbes.com has some great ideas and we share them with all of you. Have a great week. Cheers!!

ACM's, Vegas and Crazy Vacations

Janet was able to attend the Academy of Country Music Awards in Las Vegas this weekend and so we are a day later than normal. We talk ACM fashion, performances, loves and hates. Vegas is crazy.... crazy fun and sometimes just crazy! We let you know where in the world you will find a crazy vacation spot. Hope you have a happy wine week.

Spring Means Get To Springing

The calendar says that it is officially Spring. Here in Colorado, it takes a while for the weather to match up with the calendar. But we have days from time to time when the warmth hits our face and we must bust out of the cabin fever. ?xml:namespace prefix = "o" ns = "urn:schemas-microsoft-com:office:office" / What are your most favorite activities for when the temperatures rise and the snow melts? You don't have to spend a large amount of money to enjoy your surroundings. Get out and take a hike, but listen to us and we help make sure your hike is safe and fun. Revisit some activities that you enjoyed as a child as you get outside and smell the rebirth around you. Put a little effort and g...

Breaking Up Is Never Easy

There are several movie options out there. Janet had the opportunity to see "Bad Words" last week. Listen as she gives you a full review. Jelly U Café is a new discovery by Janet. If you are in Denver, you got to hear what this place offers. You will want to run there... NOW. We have all been there and we have all had friends that have been there. Break ups suck, but there is life after a break up. Break ups are emotionally draining and it's easy to forget how awesome single life can be. After a break up there is a definite transition time. Change always means adapting to a different way. We share some ways to recover from a break up and move on. Bookmark this episode to share with a friend ...

Fashion and Make Up Trends for Spring 2014

Happy St. Patrick's Day..... but do you know where this holiday came from? Is it authentic? We break some of the St. Patrick's Day myths. ?xml:namespace prefix = "o" ns = "urn:schemas-microsoft-com:office:office" / What is Chevron print? You need to educate yourself because it is a must have for 2014. We give you a great excuse to go shopping as we give you the wardrobe must haves for Spring 2014. Spend some time at your local mall and you are going to see some fun trends for Spring 2014. There are a lot of '70's, '80's, and '90's throwbacks for 2014. We share some of them and we aren't afraid to let you know what we aren't crazy about. Any transition can be hard, but transitioning from wint...

Calories Don't Count When You Are Passed Out

Dancing with the Stars is back next week. Are you excited about its return??xml:namespace prefix = "o" ns = "urn:schemas-microsoft-com:office:office" / We feel that the list of "stars" isn't very shiny. How does one not like DJ Tanner? Juan Pablo... sleaze ball? Big new for Miranda Lambert fans!!! Has it really been that long since Miranda had a new album? We are trying to healthy people in 2014. "Have I always had a butt this big?" Sitting can be deadly. Work gets busy and if you don't keep moving you could see an early death. For real! There are stages to dieting... we shall share with you!! Listen up, you aren't alone. Diets - we hate them. But we all try them and have friends that are on...

Slap The Bag!

SURPRISE... It's Sunday and we are here. A day early and packed full of fun.Happy Oscar Sunday!! We are Two Girls and a Bottle of Wine - so let's talk Wine!Today we are drinking Barefoot Refresh Perfectly Pink - it's sparkling and sweet. Love!!!Drunken people when you are sober can be lame. The Oscars are on tonight, so we touch on some interesting numbers related to the Oscars. How many words were in the shortest Oscar's acceptance speech ever? Find that out and some other interesting Oscar facts. Ladies Night... it's something we have all be a part of, and there are things that are inevitable.Girl Dates can be fun and full of drama... we talk about some things that typically happen on a gi...

Stop Being A Robot

The Oscar's are NEXT week... where is the time flying? We love award season because of the fashion and the fun. What do you like most about award season? One of our all-time favorite musical talents is set to perform at the Oscars and we are so freaking excited!! It will be a fun Oscar night. Listen in as we run through the nominees for leading female, leading male and best picture. We share our predictions for the Oscars... who do you want to wine? Ashley's wedding planning is in full swing. When she got engaged one of our fav actresses got engaged and that chick has already run down the aisle. What's the big rush? There is a lot of Hollywood news that we run through. Did we miss anything? ...

Orange Babies and Television Gym Rats

Is Ashley going to quite Facebook?! That's crazy talk.Another Hollywood baby explosion. Orange is the New Black is coming back!!! June 6th, mark your calendar!!Television is our hobby, so we had to go through some of the favorite television couples of all time. Who is your favorite television couple? We are trying to focus on the healthier side of life.... so listen to our Gym Rat Problems!!

All right, All right, All right!!

Janet was supposed to be on the road for work this week, so this podcast is pre-recorded but it is just as fun!! Ashley introduced Janet to True Detectives last week. It has one of Janet's crush boys in it. So she and Ashley are both big fans of this new television show. The show is on HBO and it may be one of Janet's favorite HBO creations. Listen in to hear the five reasons why True Detective might be HBO's greatest drama.You are going to be crazy suprised at the list of celebrities that we run through who DON'T drink.We talk about the productivity level that increases when our men are away. Women everywhere love to clean and men should appreciate this. There is a list of why females love ...

Grammys and Cold Weather

It's cold in much of the United States... and Denver is no different. Therefore, we had to be in separate locations again this week to do the show. Driving in the snow is crazy here. The Grammys were... okay. We were not in love with this year's show. Listen in as we recap some of the obvious happenings and some of the less obvious events of the 2014 Grammys. Ashley admits she is a hater and even Janet found some things that were less than entertaining. Since it is cold, we decided to close out this week's podcast with a list of things that you should keep in your car during colder months. www.twogirlsandabottleofwine.podbean.com

Over The Phone But Still Fabulous

The Oscar nominations were announced. Which movies are you cheering for and will the nominations motivate you to watch some of the nominees that you have missed?Here is the full list of nominees - http://www.cnn.com/2014/01/16/showbiz/2014-oscar-nominations-list/The Grammy's are approaching.... this SUNDAY. You don't want to miss this musical event. Some amazing artists are set to perform on one of music's biggest nights. Kelly Clarkson has crossed back and forth between genres... but the news we share is far from musical. Did you watch NBC's live version of the Sound of Music? The network seems to view that even as a success, so they are going to try to recreate another classic... LIVE on y...

Poopageddon On The Red Carpet and In our Life

We both are dog owners. Listen in as Janet recaps a traumatic dog owner experience she had just before recording this week's show. Speaking of dogs... what do Hollywood's finest name their puppies. What is the craziest dog name you have heard of?How did you come up with your pet's name? If you are planning on expanding your pet family, we are going to share some tips on naming your pet. We talked about how Frozen has taken over the movie theaters last week. This last week, we both went to see the Golden Globe winning Disney movie. Did you watch the Golden Globes? We talk about some of the winners and some of the gossip. You know there is always gossip after such a big event. Thank you so muc...

No Longer Cubicle Mates, But Nothing Can Stop This Duo

A large part of the United States is in what they are calling a Polar Vortex. It was -3 degrees this morning in Denver. How cold has it been where you are?Ashley found another day job, so we are no longer cubicle pals. But have no fear, we will still bring you this podcast every Monday. Now Ashley has the luxury of working from home. Would you work from home, if given the opportunity? Janet thinks it may tamper with her motivation. Ashley and Janet both received new kitchen "toys" for Christmas. What are they whipping up? Do you have any recipe ideas to share with them? Frozen is killing it at the box office. It is the first Disney movie that has had a story line that didn't include a male c...

It's Our 2013 Wrap Up

Britney Spears started performing in Vegas over the weekend. She is set to do 50 shows each in 2014 and 2015 at the Planet Hollywood Resort and Casino. We talk about why her show is different from other acts that have performed in Sin City.Who has announced retirement and causes us to celebrate? We hope it's for real, but chances are it is just a tease.Taylor Swift has hinted at a "Reinvention". What do you think the new Taylor will be?We have talked about crazy baby names in the past, but a recent new one prompts us to recap the Craziest Baby Names of 2013There are some mighty wealthy women in the music industry... who was the Highest Paid Females in 2013? No need to guess long, we go throu...

Holidays Arrive and So Do The Parties

Ashley and Janet had fun filled weekends. Listen in as we recap. Does anyone else get stuck doing all of the decorating?Cabo pics are coming.... The queen B is smashing records and changing the music industry and we talk about it. Janet explains to Ashley what BRO COUNTRY is. Ashley hasn't heard of Apple Pie Moonshine?! Janet educates her and talks about Blueberry Moonshine.Ashley and Janet both exercise, but there is one exercise that Janet really dislikes. Ashley is trying to convince her that she needs to change her tune. We take a look at one of Hollywood's solid couples and share how they could be role models for married folks. We all love our technology and we all want a successful mar...

GOODBYE CABO, HELLO ANTARTICA

It has been cold in Colorado!! Like -10! Ashley has returned from Cabo and we gotta talk about her vacation. It is so good to have her back! One of your fav ladies, Leighton Meester will be making her Broadway debut with one of Hollywood's leading men. Actors make alot of money!! Who are the most overpaid Actors in Hollywood? We run who Forbes has listed. You aren't going to believe what Britney Spears Loves and who she defends. The Grammy nominations were announced and the media has said there were some surprises! We go through our favorites and out predictions for the January 26th show! There is a ginormous list, so we couldn't go through them all. For a complete list of the nominations, c...

GOODBYE CABO, HELLO ANTARTICA

It has been cold in Colorado!! Like -10! Ashley has returned from Cabo and we gotta talk about her vacation. It is so good to have her back! One of your fav ladies, Leighton Meester will be making her Broadway debut with one of Hollywood's leading men. Actors make alot of money!! Who are the most overpaid Actors in Hollywood? We run who Forbes has listed.You aren't going to believe what Britney Spears Loves and who she defends.The Grammy nominations were announced and the media has said there were some surprises! We go through our favorites and out predictions for the January 26th show! There is a ginormous list, so we couldn't go through them all. For a complete list of the nominations, che...

Snap Out Of That Food Coma

Happy Birthday, Britney Spears. It's a great excuse to combine cupcakes and wine. Join us, won't you?! Ashley is taking a break and is currently relaxing on a beach in Mexico. But we still deliver. Are you still in a food coma? We will help you snap out of that nonsense. Taylor Swift was recently spotted with a new boy in a bar. He is really good looking, according to Ashley. Will she churn and burn this one? They are remaking Romeo and Juliet... So exciting. There are so pretty amazing stars that will be in the movie. Liam Hemsworth has been promoting the latest Hunger Games movie and along the way he has hinted about how amazing his life is now that he is single. Jennifer Lawrence is a bre...

He Got On 1 Knee, We Have A Bride 2 Be

He Got Down On One Knee, Now We Have A Bride To Be After dating for ten years, Ashley's guy finally popped the question. She is floating and we discuss the monumental occasion with the help of a special guest. Congrats to Ashley and Joey!! The American Music Awards were Sunday night. We recap the winners of the evening and some of the not so normal occurrences. Since Ashley is newly engaged, We felt that it might be a good idea to go over 8 things to do after you are engaged. Don't forget Small Business Saturday 2013 - it's this Saturday! It's a day to celebrate and support small businesses and all they do for their communities. Please join the SBA and organizations across the country in sup...

Empowerment and Mouse Ears

Today is a special day and everyone needs to celebrate! Join us as we celebrate the birth of a special Mouse!! What Music Are You Listening to? We discuss what is hot on our playlist and what we should all be listening to. Music can be empowering. There is a new song by an artist that many know that should be very empowering to all women. Which one are we talking about? Hollywood has painted an unreal picture of what women should be and it might be time to crack that and snap back to reality. Did you want to be a princess when you were young? There is a school that is trying to get rid of that mind set in their female students. Who didn't want to be Cinderella, Belle, Ariel or Jasmine?! But ...

Veteran's Day, CMA's. and Parties... Wee

HAPPY VETERAN's DAY 2013!! Thank you to all the women and men that have fought for our freedom!! The CMA's were last week. We provide our recap here. It's out inside opinion. Blockbuster… so sad to see you go away. The world of VHS has died and now Blockbuster… No worries… we still have Redbox. The European Video Music Awards were Sunday and Miley did it again. Also, Katy Perry is sporting a pretty ring on that special finger. She is dating a playboy, but did she tame him? The Hollywood starlets are chopping their hair. We talk about Jennifer Aniston and Jennifer Lawrence.. Why would they do it? Would you let your man take your name when you get married? One musician did and then he had to d...

Will The CMA's Be A Family Affair?!

Drew Barrymore is expecting child number two! Dancing With The Stars is in full swing, but it's going to be swinging without the Jersey Shore princess... Can Ashley handle that? Who are you rooting for? Kanye West has taken ownership over an unlikely symbol. What are your thoughts? Kim and Kanye are engaged and it was an elaborate affair. But someone who wasn't supposed to have video footage posted and video and now Kanye and Kim are attacking. Courtney Stodden is ridiculous and her marriage may be done... will she have a reality show to find new love? Who is going to watch that train wreck? Reality TV has started to lean from the crazy to the educational. Find out what we mean. Someone got ...

Pauly D and His Baby Mama Drama

Gym, Tan, Laundry turns into Diapers, Bottles and Teething Rings #babymamadrama We are so happy to announce that our show can now be heard on iHeart radio. Here is a link to last week's show - http://www.iheart.com/#/talk/show/23938004/?episode_id=23938124 From Jackass comes Bad Grandpa. This new movie has taken over the box office this week. Did you see it? What did you think? Janet has started watching Orange is the New Black. She has good stuff to say about it. Julianne Hough is also a fan and dressed up as one of her favorite characters for Halloween and now she is in hot water. We think it's ridiculous!! Finally... again... the powers that be have chosen someone to play Christian Grey i...

WHO GOT MARRIED OVER THE WEEKEND?

It was a Boy Meets World weekend. Shawn and Topanga from the show both tied the knot this weekend and they didn't marry each other. We have the details, so listen in. Kelly Clarkson tied the knot this weekend, as well. She is now officially Reba's daughter in law. We have both been spending some time at the movie theater lately. We talk about the hits and misses. What have you seen that you think we should see? Janet's Son of Anarchy crush has backed out of Fifty Shades of Grey… so who will be Christian Grey and will Ashley approve? Who do you want to play the part? CMA's are Nov. 6th. Some details have been released about the much anticipated show. Will Zac Brown perform with Miranda? Proba...

Hollywood, Savings, and The New Girl

Hollywood separations are nothing new, but after over twenty years of marriage we are sad to say that Bruce and Kris Jenner are separating. We discuss what has been said and how nasty with this be? Hayden is engaged and we both love her so much!! She is such a tiny woman and her fiancé is ginormous. But still.... congrats!!! Blake and Adam have a very playful relationship on The Voice. We talk about the latest incident that Blake is totally blaming on Adam. Miley Cyrus has been talked about alot lately, but is she a smart business woman? We chat about her appearance on SNL. Did you watch? What is your take on her SNL performance? The American Music Awards are coming up and some of the nomine...

Couch Potatoes R Us

Couch Potatoes R Us The best thing about Fall is the television line up. We talk about our favs that have returned and the new shows that have peaked our interest. What are you watching? Celebrities don't have the best track record when it comes to relationship choices. But we run through a list of things we can learn from celebrities. STOP IT - Women can be crazy and there are things that we all need to stop doing. What do you need to stop doing? www.twogirlsandabottleofwine.podbean.com

ARE YOU ROCKING AN ACCENT NAIL?!

Oktoberfest and Ashley = some fun times. Twitter helped Janet enjoy a recent concert much more. Do you tweet? If so, shout at us @2girlsandwine Twitter is the platform that Blake used to attack the Westboro Baptist Church who has threatened to picket his upcoming show in KC. Why would they do that and what did smarty Blake say to the crazy church that has been known to picket on the funerals of soilders? Zac Brown has recently slammed one of Janet's favorite country guys. What did he say and do you agree? We weigh in. Janet is addicted to getting her nails done and trying to be create but up to date with the colors that she chooses. She has been wondering of the accent or party nail is still...

In Love, Timing Is Everything

Ashley had a fun and exciting weekend that included a dinner date, a fabulous movie and a fabulous find. Listen in as she recaps. Janet might just be the next match maker. Found out if her love pairing skills are up to par with Match.com. The Emmy's were last night and we let you know what we like and what we didn't like about them. What were your favorite parts? Neither one of us are married, but it's in our plans.... we hope. Ashley is a planner and has thought 18 months would be an ideal engagement. Janet hasn't really thought that far ahead. So we found an article that compares the lengths of engagements and what is ideal. Share your personal story with us and we just might share it with...

A Melt Down Waiting To Happen

It's Janet's favorite B and she is back.... it's Britney and she is rumored to be making serious bank for performing in Las Vegas... PLUS... she has a new single that has been released. Have you heard it? Do you like it? Robin Williams is headed to your television... just in case you have missed all of the marketing. We were excited to see him return, but the reason he is returning kind of surprised us. When will the man learn that women are evil?! Beyonce has some fanatic fans. During a recent concert, she was literally pulled off stage. Did she handle it with grace? We will let you know. Julie Chen, host of Big Brother and The Talk, spoke this week about plastic surgery that she felt she h...

Snooki The Dancing Queen?!

Transitioning from Summer to Fall. Are you ready to put your flip flops away and break out those boots? Are you someone that can wear shorts with a sweater? We weight in without season changing pros and cons. The View is starting their new season. Jenny McCarthy is joining the cast and we may just have to set our DVRs. Who will be her first guest? Clue... NKOTB + BF = A famous bodyguard is dead due to a taser. Who did he protect and why is he in the news? We keep talking about it, but so is the rest of the world.... Fifty Shades of Grey casting. We finally make our decision on if we will be seeing the on screen version of our favorite books. J-Lo and T-Sweezy are an unlikely pairing, but ala...

Mamas Don't Let Your Babies Be Unhealthy

Mamas Don't Let Your Babies Grow Up to Be Unhealthy Happy Labor Day!!!!! A huge announcement is on the horizon for one of our favorite beeeches. We wonder what it could be.... Fifty Shades of Grey.... Who could play Christian? Are they narrowing the search??? Wait.... What is Labor Day? Janet is a dork and wants to share the meaning behind they day off of work. Are you a Mom? Do you want to be a Mom? Then don't miss the tips on how to ensure your daughter is confident and can take on this crazy world. You might have a second thought before you grab those sexy stilettos next time after you hear what the doctors are saying. Metabolism... It's on most of our minds... especially us females. We r...

Twerkin' Ain't Classy

It's a show full of entertainment news. So, sit back and get ready for some Hollywood in your face. We start by talking about some breaking news about a potential breakup. Kelly Clarkson and her fiancee have decided to not have a huge wedding and elope. Is there a baby on the way? We will let you know what she says. Eva Longoria is just not luck in love. After a four month relationship, she is back to being single. Na na na na na... Batman!!! The world is pissy about the person that has been chosen to be the next crime fighting super hero... Batman! What do you think? MTV did it again... they have the world talking about the 2013 installment of their Video Music award. Miley, JT, Katie, Lady...

Your Co-Worker Makes What?!?!?

Ashley has returned from sick leave!! A lot of younger celebrities have died recently. We talk about the most recent tragedy. Miley Cyrus is always in the news. We have seen her evolve from Hannah Montana to…. Ummm… an adult?? She has explained the changes and the answer shocked us. "Coal Miner's Daughter" is hitting Broadway. Loretta Lynn, the original Coal Miner's Daughter, recently revealed why she chose the actress, Zooey Deschanel, to play the lead role. The most shocking part of our discussion is the fact that Ashley doesn't know who Loretta Lynn is. Janet might need to educate her. Models work real hard, ((Eye Roll)), we were surprised at what the top five models, according to Forbes,...

I Want Jennifer Aniston's Body

Two…Errr… One?! Ashley is on the mend and so Janet sits down and tries to deliver your dose of girls stuff, wine, entertainment news, movie news, and much more. Cinderella on Saturday… Batman on Sunday. That is a summary of Janet's weekend. Listen in and hear what made her weekend so crazy, but crazy fun. Janet announces the winner of our "You're Next" screening contest from last week. Did you win?!? Listen in. "We Are The Millers" debuted at the box office this last weekend. It didn't top the box office numbers, but Janet gives you her review…. "I want Jennifer Aniston's body!" Listen in and hear her review… Do you agree? IPSY… what is Ipsy and why is it a great idea for women and why shoul...