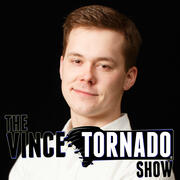 VT SHOW 8-17-14, HR3

Big announcement regarding future programming on the Vince Tornado Show, the ALS Ice Bucket Challenge fad, Black Keys' drummer Pat Carney joins us, Jesse Jackson's asinine quote on Ferguson, MO story.

VT SHOW 8-17-14, HR2

On-the-ground info from inside the Ferguson, MO shooting story, favorite Robin Williams films, firing of OSU Marching Band director, interview with Jon Waters' attorney David Axelrod.

VT SHOW 8-17-14, HR1

Ferguson, MO shooting has community in out of control riots, the shocking rush to judgment, "Purge" to happen in Delaware, the militarization of local police being a concern.

PartTimers 8-10-14, HR3

College football players could soon get paychecks, our baseball walkup songs, and tick bite could make you allergic to red meat.

PartTimers 8-10-14, HR2

Ohio Senator says the Cleveland Indians should change their name and logo, sales tax in Ohio, OSU marching band scandal updates.

PartTimers 8-10-14, HR1

NASCAR's Tony Stewart hit and kills a fellow driver, and should the Cleveland Indians change their name and logo?

VT SHOW 7-27-14, HR3

NFL Hall of Fame enshrinement with HOF's Joe Horrigan, Ann Wilson of Heart talks about meanings behind songs and more. Note: Hour cut short due to breaking severe weather coverage.

VT SHOW 7-27-14, HR2

Insights into culture of the OSU Marching Band with Jon, a former member. Note: Hour cut short due to breaking severe weather coverage.

VT SHOW 7-27-14, HR1

Will the OSU Marching Band scandal taint "TBDBITL" forever, flash poll, calls from band alumni.

PartTimers 7-20-14, HR3

Who is responsible for drunk driving deaths, OSU vs. Michigan won't be at night anytime soon, Weird Al interview replay.

PartTimers 7-20-14, HR2

Straight White Guy Festival to happen in Columbus – maybe, fruit flavored jeans hitting the web, new Captain America, and what should be done about habitual drunks.

PartTimers 7-20-14, HR1

Weird Al on the show, office bathroom etiquette, Ohio State suing makers of O-H-I-O shirt for $1M.

VT SHOW 7-13-14, HR3

Columbus pro-life group attacked downtown, insane markup on World Cup tickets, lesbian couple denied pool membership, benefits of farts – no, seriously there really is.

VT SHOW 7-13-14, HR2

Gross new MTV show, not a fan of the Duggar show on TLC, Unnecessary Censorship, and Columbus Casino woes.

VT SHOW 7-13-14, HR1

Lebron James coming back to Cleveland, flash poll about Lebron's return, Guest Josh Seas' of WTVN's Sunday Sports Slam, and Foo Fighters album news.

VT SHOW 7-6-14, HR3

Shockingly low amount of Americans say the USA is #1, why is that, excellent callers weigh in.

VT SHOW 7-6-14, HR2

"Like a girl" insult apparently damaging to kids, Unnecessary Censorship EP2, Toronto Mayor Rob Ford, college assignment - don't shave your pits.

VT SHOW 7-6-14, HR1

Target says "NO" to guns, do you boycott stores that are anti-gun, another divorcing celebrity couple doesn't use word is apparently too good to use the word "divorce."

PartTimers 6-29-14, HR3

The PartTimers! Lame Ohio fireworks laws, most gut-wrenching we've heard in a long time, the most awkward moment this week on TV.

PartTimers 6-29-14, HR2

Soccer versus football debate continues, surprising stats from CDC as to what constitutes a heavy drinker.

PartTimers 6-29-14, HR1

The PartTimers! Is soccer an American sport, which one is more American – soccer or football? The debate rages.

VT SHOW 6-22-14, HR3

Obama is going to manipulate immigration issue, 47k kids at the border, Pearl Jam covers "Let It Go," viral and "banned" Grey Poupon ad, former BenGal loses suit against gossip site.

VT SHOW 6-22-14, HR2

Men vs. women who is the better driver, first episode of Unnecessary Censorship (Columbus edition), and why soccer isn't taking off in the USA.

VT SHOW 6-22-14 HR1

Bullying is talked about alot, but is it really a problem in schools today? Your calls, etc.

PartTimers 6-15-14, HR3

Every other week - it's The PartTimers! Stupid "Free The Nipple" campaign, Scott's Father's Day story, and Dumb and Dumber To.

PartTimers 6-15-14, HR2

The PartTimers every other week! Your dad is the original hipster, guest Brad Getty, texting and driving bans, and FOX is dumping crappy "Harry" reality show.

PartTimers 6-15-14, HR1

Passing of radio legend Casey Kasem, should we take the penny or leave it, Sean steps on his soapbox.

VT SHOW 6-8-14, HR3

Michigan hospital wanted private meetings with kids, it's now cool to be against e-cigarettes, Adam Carolla joins the show, America's celebrity fascination.

VT SHOW 6-8-14, HR2

Exclusive report with James Rosen from Fox News on the Bowe Bergdahl exchange, what is your theory on this sketchy situation, and the most awkward expo ever.

VT SHOW 6-8-14, HR1

Controversy surrounding Kurt Ludlow's "letting go" from Channel 10, World Cup food prices, and Catholic church employee contracts.

PartTimers 6-1-14, HR3

The PartTimers! The US gets one of our soldiers back - but at a questionable exchange, embarrassing yearbook photos and quotes, school edits "racy" yearbook photos.

PartTimers 6-1-14, HR2

The PartTimers! Red light cameras, should these bad boys stay legal, your calls, and the worst spelling bee fail ever.

PartTimers 6-1-14, HR1

The PartTimers! Gas prices, should government regulation happen, alternative cars, and Breaking Bad could return.

VT FOR CORBY 5-26-14, HR4

The full context of the Mark Cuban controversy, Stephen A. Smith's epic response to critics, the disgusting stuff you don't know that's in your food, and the top ten most stolen cars.

VT FOR CORBY 5-26-14, HR3

Preview of the summer movie season, where and how to get the cheapest gas, what to say and how to get out of a ticket with the cops, plus your calls.

VT FOR CORBY 5-26-14, HR2

Michigan school sends absolutely stupid flyer home with kids, a Navy SEAL's advice to graduates, and the most brilliant commencement quote from the most unlikely source.

VT FOR CORBY 5-26-14, HR1

Remembering what Memorial Day is all about, inside look at the Memorial Tournament with "Mr.Golf," camera phones are erasing memory, and your calls on road rage triggers.

VT SHOW 5-25-14, HR4

Guest Chris Long of the Ohio Christian Alliance, being an involved and informed voter, someone stole Josh's Diet Dr. Pepper, and the latest on the VA scandal.

VT SHOW 5-25-14, HR3

Is the "Washington Redskins" name racist, painkiller culture of the NFL, dogs have an amazing ability we're just now learning about.

VT SHOW 5-25-14, HR2

50 Senators send letter asking for Washington Redskins name change, but who is really on the wrong side of history here?

VT SHOW 5-25-14, HR1

It really isn't a "happy" Memorial Day, death row birds causing issues with inmates, firing squads making a comeback, mom banned from Facebook.

PartTimers 5-18-14, HR4

Bonus hour of the PartTimers, Rock On The Range noise in Columbus, prank call, and that beloved video game is coming back.

PartTimers 5-18-14, HR3

PartTimers this week! Girl kicked out of prom for a totally stupid reason, Vince's most embarrassing story (it's bad), and Donald Sterling won't go away.

PartTimers 5-18-14, HR2

The PartTimers on this week. The girls from Patriot Pin-Up join us in studio, Sean is now single and on the prowl, and the lies men and women tell.

PartTimers 5-18-14, HR1

The PartTimers this week! First gay NFL player Michael Sam, a Tebow double standard, and most worthless story of the week.

VT SHOW 5-11-14, HR4

Is the Tea Party dead, nastiest thing women are selling online, NFL draft, and Donald Sterling's girlfriend is becoming a foster mom. (Note: lower audio quality for this hour due to technical difficulty).

VT SHOW 5-11-14, HR3

Satanic statue coming to Oklahoma, "bacon hazing" shuts down sorority, that "organic" you're eating isn't all that organic, and the Tea Party might be dead.

VT SHOW 5-11-14, HR2

Gross treatment of NFL cheerleaders and the way you eat fast-food is going to change forever.

VT SHOW 5-11-14, HR1

"Johnny Football" is now "Johnny Cleveland," NFL draft makes history, and great cause raffling a massive dream wedding.

PartTimers 5-4-14, HR4

Bonus hour! The Zoo levy is a bad idea, but Sean doesn't think so. We battle it out along with other excellent calls.

PartTimers 5-4-14, HR3

Former male stripper running for Ohio governor: could you vote for the guy? What are your qualifications for office?

PartTimers 5-4-14, HR2

Guest named "Homeboy Sandman" with provocative commentary on race, dude in Georgia robs Waffle House with pitchfork, and the weirdest and most super-specific dating websites.

PartTimers 5-4-14, HR1

Ballpark is banning peanuts, supposed KKK cross in Ohio, Simpsons Lego episode, and "24" returns to TV.

Cheryl From Moscow Calls Open Phones

Cheryl from Moscow calls Saturday Morning Open Phones on 610 WTVN. Morning of May 3rd, 2014.

VT SHOW 4-27-14, HR3

"Under God" is under fire again, new health benefits to coffee, Affirmative action struck down in Michigan, teacher gives 15-year-old kid a sexy birthday present.

VT SHOW 4-27-14, HR2

Eight things you didn't know about the Blue Jackets, update on flight MH370, Ohio woman steals from baby's grave, and the IRS is doing ever so wise things with your money.

VT SHOW 4-27-14, HR1

Most Ohioans don't like Ohio, Donald Sterling is a sickening human being, and is Cliven Bundy really racist?

PartTimers Highlight 4-20-14

Crosses in Stratton, Ohio causing a stir. Sean and I duke it out over the issue and share a bro hug in the end.

VT SHOW 4-13-14, HR3

Cliven Bundy and the government storming his Nevada ranch, should men pay more for buffets, and a school humiliated non-graduating students.

VT SHOW 4-13-14, HR2

The six things you're doing wrong when driving, Cleveland punk steals thousands in seconds, and why you need to change passwords now.

VT SHOW 4-13-14, HR1

Columbus Zoo asking for more money, but do they really need it? Let's delve into their financial records and see.

Columbus By The Slice at Shirky's Pizza

The guys and I review a fantastic place in Carroll, OH. Shirky's Pizza Zone delivers on just about every level.

PartTimers 4-6-14, HR3

Mom suspended over Common Core opposition, excellent call from Dena, Ohio State finds 15 new emotions, and most insane amusement park attractions.

PartTimers 4-6-14, HR2

Controversy with the NY Mets, should dad get paternity leave, and what is the best pizza, donuts, and radio in Columbus?

PartTimers 4-6-14, HR1

Scott, Sean and I talk about the Mozilla CEO fired for his $1,000 donation, married-man Scott gets strange "Cougar" emails, and caller Frank weighs in.

VT SHOW 3-30-14, HR3

Crappy student-athlete paper got an A-, Hobby Lobby headed to the SCOTUS, Wacked out teacher in Fairfield, Ill-timed British Airways ad.

VT SHOW 3-30-14, HR2

You could get pulled over for not buckling your kid in, crook released because he's too tall, OSU should treat athletes like employees.

VT SHOW 3-30-14, HR1

Jesus is Muslim billboards in Columbus, Scientists could read your mind sooner than you think, the four foods that could disappear from your plate.

Columbus By The Slice at B and B Pizza

Guys and I review B and B Pizza located on Karl Rd.

PartTimers 3-23-14, HR3

The PartTimers! Kansas and Arizona to require citizenship proof to vote, Flappy Bird is coming back, Starbucks to offer booze, stupidest theories on the missing Malaysian Airlines flight, and the WalMart toe-sucker.

PartTimers 3-23-14, HR2

The PartTimers! Right to flash your headlights in Ohio, Kansas and Arizona to require citizenship to vote, and Columbus' "CBUS" nickname.

PartTimers 3-23-14, HR1

Should Thad Matta be fired after a stinky season, Malaysian Airlines plane is a punchline now, and right to "flash" your "headlights" bill coming to Ohio.

Absolutely Lost It During This Segment

The PartTimers! Meant to have a serious conversation about "flashing" your "headlights," but it all went downhill fast. We absolutely lost it. Couldn't. Stop. Laughing.

Caller Takes Exception With My Joke

On "Open Phones," I made the joke that 40-year-old's should not dance. It's embarrassing. Jane took exception with that and took me to task!

VT SHOW 3-16-14, HR3

New information on the missing Malaysian airlines flight 370, and one caller named Hamid has the most bizarre explanation of them all.

VT SHOW 3-16-14, HR2

Cell phone screens are way to dang massive, Obama says you might have to change your doctor after all, most bed bug ridden cities in Ohio, your pictures could be on porn sites.

VT SHOW 3-16-14, HR1

"Stand Your Ground" could come to Columbus, a father's worst nightmare, reason why Bin Laden death photo isn't released, pastor dies after confessing sin to church.

VT SHOW 3-9-14, HR3

PartTimers with Scott and Sean. Kid expelled because of "lookalike" gun, weather records with ABC6's Andrew Michael, woman says she can survive off air and light, BatKid snubbed by Oscars.

VT SHOW 3-9-14, HR2

The PartTimers! Viral video prankers Roman Atwood and Chase Gilroy are in-studio guests, discontinued breakfast cereals, and a secret Starbucks menu.

VT SHOW 3-9-14, HR1

The PartTimers this week! Let's do away with the time change, bacon-scent alarm clock, Ohio high school hockey teams settle for tie in 7OT, "Travoltified" names, best car brands.

Conversation With Roman Atwood

Roman Atwood is a local professional prankster. He and his buddy Chase Gilroy join me to discuss the recent run-in they had with Columbus Police. Excellent story.

VT SHOW 3-2-14, HR3

Guy in NYC ticketed for jogging, Arizona governor vetoes "anti-gay" legislation, weirdest crap in the Oscar swag bag.

VT SHOW 3-2-14, HR2

Columbus By The Slice at Casa Di Pizza, garbage man does something totally cool, and dude who eats literally nothing but pizza - legit story.

VT SHOW 3-2-14, HR1

Stupidity of early voting, new medication could actually kill you while another could make you younger, two Facebook posting horror stories.

Columbus By The Slice at Casa Di Pizza

The guys and I review another place near Grandview: Casa Di Pizza. Great stuff. We enjoyed the "Defibrillator" pizza.

VT SHOW 2-23-14, HR3

The conversation about minimum wage continues this hour, new "Flappy Bird" replacement, crooks steal 80 tons of road salt, and woman wants to become "brainless" Barbie.

VT SHOW 2-23-14 HR2

Minimum wage to go up to $10.10 an hour in 2016, 25% of Americans are doing this sick thing, excellent calls.

VT SHOW 2-23-14, HR1

The PartTimers on WTVN! Why the US Olympic Hockey team totally fuzzed out, dumb people are everywhere, most miserable states in the US.

VT SHOW 2-16-14, HR3

I was ticketed for something I didn't do: failure to signal. Fought the charge and won. What are your court success stories?

VT SHOW 2-16-14, HR2

Gas station mistakes puts the price per gallon at 1-cent. Would you buy it? Candy and earwax can predict your politics, etc.

VT SHOW 2-16-14, HR1

Facebook rolling out new gender definitions. Do you know your genders? This is some wack stuff.

VT SHOW 2-9-14, HR3

Zimmerman boxing match axed, Lesbian denied communion at mom's funeral, great call at the 30:40 mark, and the best cover song at the Olympics Opening Ceremony.

VT SHOW 2-9-14, HR2

Weirdest work of art in Boston, School has a "smart kids only," party, and the strangest perfumes known to man.

VT SHOW 2-9-14, HR1

Sean gets pranked, Sports with Scott, Valentine's Day party trashed by school, and chemicals in your food.

Conversation With Dewey Jones

Dewey Jones spent 19 years in prison for a murder he didn't commit. So, what's he got to say in his first few days of freedom?

VT SHOW 2-2-14, HR3

Columbus By The Slice! The guys and I review Enrico's in Dublin. Time to rock no helmets during NFL games? The top five weirdest stories you'll hear all week.

VT SHOW 2-2-14, HR2

Is it time for marijuana in the NFL? Dewey Jones released from prison - 19 years after a wrong conviction. What's he have to say?

VT SHOW 2-2-14, HR1

What is wrong with Columbus Public Schools? Why isn't anyone being held accountable? Also, SodaStream controversy with Scarlett Johansson.

Columbus By The Slice at Enrico's

The guys and I review Enrico's on Frantz Road in Dublin.

Interview With Sexy Crabtree

Pataskala, Ohio woman hates her real name so much, she's getting it changed to "Sexy."

Columbus By The Slice at Lido's

The guys and I review Lido's in the Carriage Place Shopping Center. Absolutely fantastic place.

Highlight: Excellent Calls On 1-19 Show

On the January 19th edition of my show, we were talking about the execution of Dennis McGuire. One caller named Dan said he thinks the killer was making theatrics or faking his "gasping" actions in the death chamber. But then, another guy called and set the record straight on this. Powerful stuff. Very insightful.

Columbus By The Slice at Villa Nova

The dudes and I review Villa Nova in Worthington.

McLawsuits Are A Sign Of McDumb America

Excellent callers, engaging dialogue, entertaining topic about a new lawsuit against McDonald's and their hot coffee. Sean, Scott, and Vince - together we make the PartTimers. Every Other week on News Radio 610 WTVN.

Chewbacca Joins The Show?!

We were running down a list of the dumbest college courses and suddenly Chewbacca joined the show. Hear the madness during the PartTimers on 610 WTVN.

VT Show 1-5-14

First show of the year! We cover: Pot now legal in Colorado. Stop over-praising kids. What do the Buckeyes do now? Stank water issue in Columbus. And more.

Columbus By The Slice at Renaldi's

The dudes and I from Columbus By The Slice review Renaldi's in Canal Winchester.

Caloric Counts on Vending Machines?

In yet another stupid move, the feds think you're too dumb to make choices at vending machines. Sean, Scott, and I discuss this and get great calls, too. The PartTimers – every other week – Sundays at 2p on 610 WTVN.

How Were We Founded?

... that's the question that became a theme of Saturday Morning Open Phones on December 28th, 2013. One caller touched it off with some comments and it just went from there...

Real Or Fake - Xmas Tree Debate

Filling in for John Corby on 610 WTVN. Real or fake - which kind of Christmas tree do you prefer? Your calls, my comments. The debate is settled here.

Attempting To Add Some Sanity

Highlights from the December 22nd, 2013 edition of the Vince Tornado Show on 610 WTVN. Topics: Phil Robertson and Duck Dynasty - getting the facts straight. Should Satanist displays be allowed on public property? My theory why we have so much nanny state infecting our lives.

Columbus By The Slice at Dante's

The rest of the guys and I gather once more to try out a little place in Clintonville called "Dante's."

PartTimers Highlights: 12-15-13

Sean, Scott and I discuss Sean's mishap at the company Christmas party, a surprise caller, and the worst Christmas films of all time. Oh, they are bad.

Christmas Songs We Hate

Everyone has those Christmas songs you hate. Took calls, Sean on, and discussed the most crappy ones.

Beating Old Ladies With Furbies

My thoughts on some of the deal-seeking Black Friday lunacy. Also, whatever happened to just Legos?

Full Interview with John Freshwater

John Freshwater was fired just over six years ago for having a Bible on his desk. This week that the Ohio Supreme Court said his firing was OK. So, what's next?

CBus By The Slice at Harvest Pizzeria

The guys and I have found an solid little place in German Village. Great pizza is to be had at Harvest Pizzeria.

John Freshwater Interview Preview

Ohio Supreme Court ruled that John Freshwater's firing was just. Got to talk with the former Mt. Vernon teacher in one of his first, post-ruling interviews. He refused to remove a Bible from his desk and is now in a 6-year long battle for his job. Hear the full interview 3:04pm Sunday on 610 WTVN.

Columbus By The Slice at Yellow Brick

Our review this week is at Yellow Brick Pizza in Columbus. Definitely a hipster pizza joint.

PartTimers Highlights 11-17-13

Scott, Sean, and I are the PartTimers! We discuss a guy's creative way to get back at his ex-wife, a new "racist" highschool mascot, and the 13 things you shouldn't buy on Black Friday!