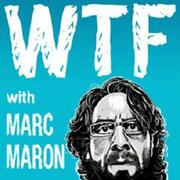 Episode 476 - Billy Connolly

Billy Connolly brings his powerful charisma and propulsive storytelling to the garage. Find out how a working class lad from Glasgow, Scotland became a comic-actor-musician who dined with the Queen. Also, Adam Carolla drops by the garage to talk about the latest efforts to save podcasting from predatory patent trolls. This episode is sponsored by Sirens on USA Network, Squarespace and GoToMeeting by Citrix.

Episode 475 - Allan Stephan

Comedian Allan Stephan is in the garage to challenge some of the conventional wisdom surrounding The Comedy Store. Allan brings another side of the story to Mitzi Shore's rise and the infamous comic strike of 1979. Also, Allan talks about two of the defining relationships in his career - Sam Kinison and Roseanne. This episode is sponsored by Sirens on USA Network and by Stamps.com.

Episode 474 - Tom Arnold

It's not every day that Marc refers to a guest as "a handful." But not every guest is Tom Arnold. The veteran comic and actor discusses the difficult past he had to overcome to make it into the business, as well as the challenge to define himself as more than just the guy who was married to Roseanne. This episode is sponsored by Vimeo, Catch a Contractor on Spike, Audible and Sirens on USA Network. 

Episode 473 - Jon Ronson

Author and journalist Jon Ronson provided Marc with a lot of conversation points through his books, including Them: Adventures with Extremists, The Men Who Stare At Goats and The Psychopath Test. Jon and Marc mine that material to discuss conspiracy theorists, hoarders and victims of public shaming. Also, Andy Daly pops into the garage after papering Marc's neighborhood with fliers for his new Comedy Central series, Review. This episode is sponsored by Squarespace, Stamps.com and USA Network's new series Sirens. 

Episode 472 - Laurie Kilmartin

Comedian Laurie Kilmartin writes dozens of jokes daily for Conan O'Brien, but she has no problem jumping into some serious material in the garage with Marc. Laurie discusses her struggles with an eating disorder, her transition from a road comic to a steady television writer, and the challenges of a single mom working in show business. This episode is sponsored by Squarespace, GoToMeeting and Hover.com.

Episode 471 - Billy Gardell

Mike and Molly's Billy Gardell took the long road from stand-up comedy to television success. After years as a hardworking road comic, it was only when Billy's life was at it's lowest point - thanks to addiction, a crumbling marriage and a career he thought had bottomed out - that Billy got the big break that had eluded him all those years. This episode is sponsored by Vimeo, Stamps.com and Catch a Contractor on Spike.

Episode 470 - Ron White

One of the comics Marc has always wanted on WTF is Ron White. He gets his chance in the garage when Ron sits down to talk about his early life in the military, his hazy days breaking into the business, his eventual escape to Mexico and his involvement from start to finish of the Blue Collar Comedy Tour, which made him one of the biggest stars in comedy. This episode is sponsored by Comedy Central, Pro Flowers and Squarespace.

Episode 469 - David Bronner

This episode is all about soap. Soap and religion and schizophrenia and firefighting foam and pshycedelics and the drug wars and civil disobedience and the never-ending struggle to improve the way we live. But mostly soap. Marc talks with David Bronner about his grandfather's famous creation, Dr. Bronner's Magic Soap. David provides the details about Emanuel Bronner's life and the legacy of a product that still mystifies millions of consumers. This episode is sponsored by Shari's Berries, Stamps.com and ProFlowers. 

Episode 468 - Langhorne Slim

When Langhorne Slim was first starting out as a singer-songwriter, his first appearance on live radio was with Marc. Now, more than eight years later, both Marc and Langhorne Slim are a little older and a little wiser during this chat in the garage. It turns out they share a similar process of discovering material and they have likeminded vulnerabilities when it comes to performing. And there's also a great story about a chance encounter with Bruce Springsteen. This episode is sponsored by Pro Flowers and Shari's Berries. 

Episode 467 - Morgan Murphy

Comedian and writer Morgan Murphy dealt with several life challenges on the way to a successful career as a television writer. One of those challenges was Marc Maron. Morgan and Marc reckon with what went on between them, and Morgan details the rocky road she traveled as a young writer heading toward gigs on Jimmy Kimmel Live, Late Night with Jimmy Fallon and Two Broke Girls. This episode is sponsored by ProFlowers, Stamps.com and Shari's Berries.