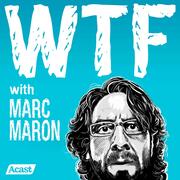 Episode 525 - Alec Sulkin

Comedy writer Alec Sulkin found success on Family Guy and the movie Ted. But as he explains to Marc, the road to good TV writing jobs is long and winding, filled with connections, coincidences, injustice and nepotism. Alec explains how he made it through the long slog, got past the disappointment of his own show getting canceled, found personal popularity on Twitter and subsequently got himself in hot water. This episode is sponsored by Comedy Central, UnTuckIt, Prosper and Stamps.com. 

Episode 524 - Bob Mould

Bob Mould shook up alternative music in the '80s and '90s with his influential bands Husker Du and Sugar. But Bob seems willing to shake up his own life at every turn, too. Bob tells Marc how he took advantage of sudden opportunities that set his life down different paths, like becoming a writer for pro-wrestling, composing The Daily Show theme song and coming to terms with his true identity. This episode is sponsored by Merge Records, Squarespace and Doctor On Demand.

Remembering Robin Williams

Robin Williams passed away on August 11, 2014. This is Marc's conversation with Robin from April 26, 2010, as well as Marc's reflections about the great comedian and actor.

Episode 523 - Bob Newhart

Bob Newhart is an American institution thanks to his incredibly funny and popular television shows. But the way Marc sees it, Bob Newhart is one of the most important stand-up comedians ever. Marc talks with the legend about the comedy albums that turned Bob into an overnight sensation and changed the game for American comedy. This episode is sponsored by Katt Williams: Priceless on HBO, Boyhood from IFC Films, Squarespace and Stamps.com.

Episode 522 - Pat Healy

Actor Pat Healy is coming off a string of acclaimed performances in challenging films like Compliance and Cheap Thrills. But how do those complex roles compare with another from his past? That role being the roommate of Marc Maron's ex-wife. Pat and Marc talk about those strange days when their lives intersected, as well as Pat's earlier years at the vaunted Steppenwolf Theatre in Chicago. Plus, Pat busts out a killer Werner Herzog impression. This episode is sponsored by Blue Apron and Prosper. 

Episode 521 - Peter McGraw and Joel Warner

Authors of The Humor Code, psychologist Peter McGraw and journalist Joel Warner, traveled around the world to find out what makes things are funny. They stop by the garage to share their findings and conclusions with Marc, including a scientific theory of humor. Plus, Eddie Pepitone drops in to get Marc up to speed on his life and his latest projects. This episode is sponsored by Doctor on Demand, Prosper and Audible.  

Episode 520 - Claire Danes

Claire Danes always had a Plan B. In fact, throughout her life, Claire could have taken several alternate career paths. But whether it was because of My So-Called Life or Temple Grandin or Homeland or something else, Claire kept coming back to acting. She tells Marc what it was like to find success at such a young age, why she briefly left it all behind, and what happened when she finally got to work with her hero. This episode is sponsored by Prosper and Harry's.

Episode 519 - Adam Ferrara

Comedian and actor Adam Ferrara is enjoying his gig as host of the car show Top Gear, which is surprising because he's never been good at fixing cars. But he tells Marc there's one major reason it's the perfect job for him. Adam and Marc also share their memories of horrible road gigs and the Boston comedians that welcomed Adam into the fold. This episode is sponsored by the free online game World of Tanks. 

Episode 518 - Mike Myers

Wayne's World. Austin Powers. Shrek. Mike Myers doesn't just make comedy. He makes worldwide sensations. Mike tells Marc how a working class kid from Toronto made his way through the improv ranks to land on SNL and how his phenomenal career set the table for a profoundly personal project, the documentary Supermensch. This episode is sponsored by World of Tanks, LegalZoom and Stamps.com.

Episode 517 - Denny Tedesco

Denny Tedesco has been on a quest to tell a story for 18 years. His father, Tommy Tedesco, was a member of The Wrecking Crew, a group of studio musicians who went unrecognized while recording some of the biggest records in history. Denny tells Marc the story of The Wrecking Crew as well as his own struggle to get the documentary made. Plus, Marc recounts the worst day of his life in a story he has never told before. This episode is sponsored by Comedy Central and by Audible.