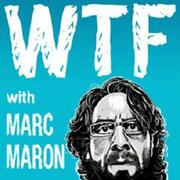 Episode 489 - Ivan Reitman

Ivan Reitman finds himself in the garage days just days after his son Jason sat down for his own WTF. The elder Reitman sheds some more light on the relationship with his filmmaker son and provides Marc with a detailed overview of his impressive career in show business, leading up to his latest film Draft Day. This episode is sponsored by GrubHub, LegalZoom and Lumosity. 

Episode 488 - Jason Reitman

Filmmaker Jason Reitman was determined to carve his own path in Hollywood despite being the son of a phenomenally successful filmmaker. Jason tells Marc about the choices he made along the way and why he gravitated toward projects like Thank You For Smoking, Juno and Up In The Air. This episode is sponsored by Nice Laundry, the WNYC app, GoToMeeting and Stamps.com.

Episode 487 - Karen Kilgariff

Comedian Karen Kilgariff is no longer the person Marc remembers from their days in San Francisco, which is a good thing because back then she was battling some real demons. Karen tells Marc about the twists her career has taken since then and sings some songs to boot. Also, Bob Saget pops into the garage to compare notes on memoir writing with Marc. This episode is sponsored by Lumosity, NatureBox and Audible. 

Episode 486 - Todd Barry

Comedian Todd Barry and Marc go way back. So far back that Todd was one of the very first guests on WTF. A lot has happened to them in the last five years, so now is as good a time as any for the two of them to take stock and catch up.  Also, Marc gives another old friend a call to find out what he's been up to since the last time they talked. This episode is sponsored by Comedy Central, the WNYC App, Trunk Club and Stamps.com. 

Episode 485 - Lewis Black

It took Lewis Black 50 years to break through to mainstream audiences, but his passion was on the page for most of his life, specifically in the form of playwrighting. Find out what Lewis was doing before he became known for his sizzling rage and caustic insights on The Daily Show and in his stand-up comedy. This episode is sponsored by Comedy Central, the WNYC App, Silicon Valley on HBO, and Lumosity. 

Episode 484 - Josh Radnor

How I Met Your Mother star Josh Radnor first met Marc about nine years ago, fresh off landing the role of Ted Mosby. Now Josh sits down in the garage on the same day that his long-running series comes to an end. Marc and Josh talk about his personal and professional evolution over those nine years, as well as the many things that define him beyond his time on a hit sitcom. This episode is sponsored by GoToMeeting from Citrix and by Stamps.com.

Episode 483 - Patterson Hood

Continuing the through line from the last episode, Drive-By Truckers frontman Patterson Hood tells Marc about the history of Southern Rock, particularly the strain that grew out of Muscle Shoals, Alabama. Hear why David Hood, Lynyrd Skynyrd and Jason Isbell play such important roles in that genre as well as in Patterson's life and career. This episode is sponsored by Squarespace, everything you need to create an exceptional website. 

Episode 482 - Jason Isbell

For a young guy, singer-songwriter Jason Isbell has already been down the road and back again. Marc finds out about Jason's upbringing in rural Alabama, his days as a member of Drive-By Truckers, and how sobriety gave new life to his career. This episode is sponsored by NatureBox and GoToMeeting by Citrix. 

Episode 481 - Dan Vitale

Comedian Dan Vitale was a one-and-done cast member on a season of Saturday Night Live in the mid-80s. But to Marc, Dan was always someone to be admired for his raw and aggravated style of stand-up. Dan visits with Marc to explain what happened along the way, how he got so close to the brass ring, and how it slipped out of reach. This episode is sponsored by Squarespace and LegalZoom. 

Episode 480 - Duncan Trussell

Marc has a soft spot for comedian Duncan Trussell thanks to a gesture of kindness at The Comedy Store. Now, in the garage, Marc gets a clearer picture as to why Duncan is such a nice guy. Duncan gives the details of the spiritual quest that helped him cope with the most difficult time in his life. This episode is sponsored by Harry's, the best way to get a clean shave, and by Sirens on USA Network.