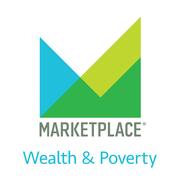 What kind of jewelry goes with a tattoo?

Millennials, born between 182 and 24, are growing up. And marketers are starting to pay attention.

On a bus to nowhere

Many Silicon Valley homeless take "Hotel 22" bus for hours every night.

Food stamps: A reporter's notebook

Wal-mart, food stamps, and listener responses.

'quotSave money, live better'quot

As real wages continue to decline, the food stamp economy keeps booming.

The anti-hunger movement's strange bedfellows

Stores profiting most from food stamps play a big role addressing hunger

The secret life of a food stamp

The biggest winners of the SNAP economy are the ones the government won't tell you about.

Detroit to delinquent water users: pay up

Half the bankrupt city's residents are delinquent on their water bills. Businesses, schools and the city itself owe more than $5 million in unpaid water bills.

Fighting food deserts takes more than stocking stores with fresh produce

A California survey finds more food shops sell beer than milk.

You can be the President, I'd rather be the Pope

The widening gap between rich and poor is decried by both the president and Pope

More elders are working as caregivers to the elderly

The pay is low, the work can be hard.

Take out a loan - from your employer

The workplace loan is on the rise

Abercrombie? Aeropostale? That's so 212.

Aeropostale is closing stores and posted losses for the past five quarters.

Middle class families fight over East Baton Rouge schools

Some residents want to leave a struggling public school system by incorporating a new town, St. George.

States change rules to avoid SNAP cuts

The Farm Bill tried to cut about $8 billion from the food stamps program.

The increasing difficulty of being out of work

Job seekers try to find work after unemployment benefits run out.

Chicago, Detroit get funding for next-gen manufacturing

President Obama announces two innovation institutes.

Ranking cities from Miami to Boston to Wichita on inequality

A new report from the Brookings Institution tracks American cities with the highest and lowest rates of economic inequality. Some cities with less inequality look a lot like the suburbs.

Which schools will win the college tuition battle?

Some schools set tuition high, while others try a lower approach.

Your 'loyal' employees? Always looking for the next job.

And they'll tell you that zero-loyalty cuts both ways. They know you may let them go at any time, too.

Why student loans affect the housing market

The percentage of homes sold to new homeowners has slipped. One reason: student loan burdens have grown, which keeps would-be first-time home buyers out of the market.

What buying power buys African-Americans

Not everyone agrees buying power translates into other uses

An assist for young men of color?

President Obama launches an initiative to help young minority men stay in school and out of the criminal justice system

College philanthropy hits new high

Donations to higher ed reached $.8 billion in 21.

Should the U.S. Postal Service get into financial services?

Providing basic financial services could bolster the post office's income

Navigating the many firsts of freshman year

Going away to school is an adjustment for nearly every student, but when you're the first in your family to go, the transition can be even harder

Who are the biggest givers? And where do they get the money?

And what are they giving to?

Tennessee Promise to make state's community colleges free

The announcement from the state's governor is part of a broader workforce development strategy. And similar moves have worked before.

Should companies put underrepresented workers on a fast-track to the top?

A recent NAACP report suggests 'yes'

Foster care is costly, and some states send more kids to relatives

Family care outside of the foster system is cheaper, but some children may lose out on services and oversight.

Going to prison can be costly for the whole family

Prison costs don't just fall on the taxpayer.

Where will young people live when they're old and gray?

Home ownership hits its lowest level since 15. Home equity has in the past served as a retirement savings plan for many Americans

State of the Union: Tackling income inequality

Last night in his State of the Union address, President Obama touched on several economic themes, including jobs, the middle class, health care, and something he has been talking quite a bit about recently -- income inequality.

Why would you hire the long-term unemployed? Why not?

We expect the President to ask companies to pledge to hire the unemployed. But some hiring managers see a potential risk in hiring someone who's been out of work for a long time.

What happens when you put rich and poor students together in charter schools?

One knock on charter schools is the lack of diversity -- filled with either all minority and low-income students, or mostly affluent students. Some charter schools see a benefit to pulling students from both sides of the tracks.

Juggling multiple jobs: Hey, at least its not boring.

It can be stressful to patch together a living from several jobs.

Strutting in style at the Grammys doesn't come cheap

The dress, the hair, the limo -- even if you're not a star (yet), it's part of the cost of breaking into the music business.

Flaunting their wealth is not for the 'quotstealthy wealthy'quot

Some rich folks keep their wealth to themselves - for a number of reasons.

Michigan wants 5, skilled immigrants to save Detroit

But employment-based visas aren't divvied up geographically.

African-American hosts on Airbnb may make less on listings

Researchers say that African-Americans who rent out comparable apartments in similar neighborhoods charge less for their listings than white hosts do.

Crowdfunding for investors may soon get easier

The JOBS Act will promote equity investing through crowdfunding. A Washington, D.C. real estate firm has already been trying it out.

African-American unemployment is double that of whites. Why?

In good times and bad, blacks suffer unemployment at much higher rates than whites. That's been true since the time of Martin Luther King, Jr.

Can Phoenix un-suburbanize?

A Phoenix developer says new plans could bridge high-rise downtown and the Latino barrio of Grant Park.

Banks aim for diversity at the top. Can they do more?

The NAACP gives retail banks low grades for diversity in upper management.

Meet the modern guidance counselor

President and First Lady Obama met with more than a hundred college and university presidents and leaders from business and nonprofits to talk about helping low-income students finish college. One solution starts well before college, with high school guidance counselors.

Could personal coaches help low-income students graduate?

More than 1 college presidents will meet with President Obama to discuss ways to help low-income minority students graduate.

Going to Plan B when jobless benefits get cut off

For one woman looking for work, unemployment benefits kept certain career options. With Congress not extending benefits, a new plan is in order.

Heroin's back - but prescription opiates are still a bigger problem

An increase in heroin use has been reported in many states, in part in response to government efforts to restrict access to prescription opiates.

Starting over with a startup: When is it time to stop?

In Silicon Valley, a failed start-up is often considered to be a helpful lesson in how to succeed - next time.

American presidents and the rhetoric of poverty

January 8, 214, marks fifty years since President Lyndon B. Johnson declared war on poverty in America.

Prospects bleak for long-term unemployed

As Congress considers extending federal benefits, the long-term unemployed find it harder to find a job with every day they're out of the workforce.

5 years of the War on Poverty. But which poverty?

The 5th anniversary of Lyndon B. Johnson's declaration of the War on Poverty.

Your start-up failed. Congratulations!

Silicon Valley's embrace of failure as a step toward success can be confusing -- especially if you're the venture capitalist that put up the money.

Failing in order to succeed? There's a conference for that.

FailCon is an annual event in San Francisco for the Silicon Valley crowd, who've taken to heart the notion that failing teaches us how to get it right the next time.

Need a last-minute gift? How about $1, in chocolate?

Mansion owners can spend five figures on Christmas decorations and gifts, without asking, "How much?"

Long-term unemployed get a holiday without much cheer

Long-term unemployment has not been this high for this long since World War II.

Does holiday work lead to full-time jobs?

Holiday retail hiring is strong this year, but the vast majority of those jobs will disappear in the New Year.

Tax relief may expire for underwater homeowners

Unless Congress acts, struggling homeowners who seek relief could face an unexpected tax bill.

Why do big donors give away millions?

Recognition and peer pressure can motivate some. But donors -- and fundraisers -- say most people don't give millions unless they really care about the cause.

Philanthropy's edge: innovation and a long time horizon

Philanthropists say they can take risks that government just can't -- which helps them tackle the root causes of big problems.

Peter and Jennifer Buffett on giving with the Buffett name

Warren Buffett's son Peter and his wife talk about his ideas on philanthropy.

What's wrong with giving money away? Even generosity has critics.

Each year, Americans give away billions of dollars. Some of those donations, particularly the large ones, come in for criticism.

The realities -- and pitfalls -- of giving away money

One philanthropist passes on lessons she's learned, including the risks of "following your passion" without doing your homework

Rent takes a bigger bite out of family budgets

As more people are excluded from homeownership, the demand for rental housing has grown beyond capacity, driving rental costs up.

The roots -- and some results -- of the charitable tax deduction

The tax break for charitable deductions reflects American attitudes about government, and about the best way to help others.

Charitable foundations aren't just for the über-rich

There are some 8, private charitable foundations operating in the U.S. today, and you don't have to be crazy rich to launch a one.

As fast food workers go on strike, Obama argues for increasing minimum wage

Fast food workers across America are striking today, asking for $15 an hour. Their employers may not be sympathetic to their cause, but they have a friend in the White House.

One student's path to an elite university

For George Alvarez, the decision to apply to Johns Hopkins was a "happy accident." Most low-income, high-achieving high school students don't apply to any selective colleges.

'quotTragedy as a generation'quot for U.S. youth

Young Americans, between the ages of 16 and 24, have been hit awfully hard by the financial crisis.

Detroit bankruptcy could become free-for-all

A ruling is expected to determine if Detroit will have the protection of bankruptcy court as it seeks to get out from under its debts.

Charities count on Thanksgiving dollars and volunteers

Donations of time and money during the holiday season can replenish the volunteer corps and the coffers of non-profits all year long.

A tall tower threatens to darken New York's Central Park

A glut of new luxury towers going up in Midtown Manhattan has some residents worried their beloved Central Park will be overshadowed.

First generation college students go viral

A new campaign on YouTube aims to encourage more students to be the first in their families to go to college.

McDonald's advice to the hungry

A bit of advice on the McDonald's website.

Using 'early college' to help vocational training

The Obama administration launches a $1 million race-to-the-top-style competition meant to overhaul career and technical education.

Tall Towers versus a Dark Park, in New York City

Developers defend the need for new residential high-rise apartments in New York City, while park-lovers protest that they'll cast long shadows in Central Park

Hey Occupy Wall Street! Will you buy my debt?

A group of Occupy activists says it's bought almost $15 million of people's personal debt on the cheap.

Could the Supreme Court deal another blow to unions?

The Supreme Court hears arguments Wednesday in a case that could weaken union-organizing efforts.

Who mows the lawn? The invisible golf course worker

The golf course business in the U.S. would collapse without low-wage work, according to a new investigative series in Gold Digest.

Employed again, but still looking for work

We talk to a Nevada woman who needs a second job to pay for a stretch of unemployment.

Beyond GDP: Future growth depends on addressing racial inequity

An advocacy group says the U.S. economy won't thrive unless everyone is included.

College ratings from the Oval Office

The Obama administration's tries its hand at a college-ratings plan.

A view of income inequality from the perspective of a city

There are mayoral elections in a lot of cities across the U.S. today and one thread that's common to a lot of those city races is the issue of income inequality.

Will Coloradans back higher taxes for schools?

Colorado voters are considering a state measure that would increase state income taxes to fund a significant overhaul of public school financing system.

Grocers do the math on food stamp cuts

As a temporary increase in food stamp benefits expires, families and businesses prepare to get by on less.

For the working poor, food stamp cuts mean living with a lot less

Starting today, Americans will get less in foods stamp assistance. We talk to one of them.

Reframing the "risks" of being black

The National Black Child Development Institute says the conversation around poverty and success in the African-American community needs to be shifted.

Making school meals free for everyone

About half of public school children today qualify for free and reduced-price meals at school. A new federal option allows high-poverty schools to feed all students at no charge.

What is the 'quotAmerican Promise'quot?

A new documentary film chronicles the journey of minority boys through a predominantly-white, private education system.

Picky eaters: Making school meals that kids will eat

More than half of public school children now qualify for free and reduced-price meals. But getting kids to actually eat school meals can be tough.

How free lunches pay off for schools

Roughly half of public school children today qualify for free or reduced-price lunch, and that number drives billions of dollars in other benefits for schools. But critics say the program is prone to error and fraud.

Some colleges waitlist students who can't afford tuition

George Washington University is changing how it describes its admissions policy - and admitting it does wait-list some students in part because of inability to pay tuition.

As luxury housing market rebounds, new mansions are more modest

In some markets, wealthy owners are buying smaller and less costly homes, but they aren't scaling back on luxe details inside their mansions.

West Oakland: From Black families to tech geeks

The housing crisis hit many black families in West Oakland. One community activist thinks how the real-estate market is doing now doesn't match the neighborhood.

Where everyone graduates high school, but few go to college

In parts of Tennessee, about one third of working-age residents have a college degree. In a few counties, the rate drops to fewer than one in 1.

Immigrant entrepreneurs benefit by improving credit scores

A San Francisco group helps launch small business owners with micro-loans, which in turn create a path to mainstream credit when they are ready to expand.

Startups experiment to diversify Silicon Valley

Leaders at a few startups in Silicon Valley test out new strategies to raise diversity at their workplaces.

Just having a credit record can be an economic step up

The Mission Asset Fund in San Francisco leverages informal lending circles of low-income immigrants, to help borrowers eventually gain access to mainstream bank loans.

In the wake of federal shutdown, philanthropists step up

Charitable donors have come forward with funds to support programs shuttered in the wake of the government showdown.

What does meritocracy really mean in Silicon Valley?

The Valley loves its rags to riches stories.

The exchanges are open. Now the real work begins.

State- and federally-run health care exchanges have been enrolling people for the past four days.

The problem with 'opportunity hoarding'

You've heard about the glass ceiling. But what about a "glass floor"?

7's rebellion and the roots of tech's reputation for meritocracy

Early Silicon Valley companies experimented with a new management style to reward talent and avoid corporate status and hierarchy.

World Bank wants to end poverty by 2. Possible?

World Bank President Jim Yong Kim talks about the importance of poverty, and how war zones factor into his goal to eradicate poverty.

When no money means no school lunch for kids

Some school districts are hundreds of thousands in debt because of unpaid lunches. So they've stopped feeding students who don't have cafeteria credit.

Film 'Inequality for All' takes on the income gap

Former Labor Secretary Robert Reich stars in a new documentary about income inequality

Where did the boomer women go?

Women aged 55-64 have left the workforce by the hundreds of thousands. Meanwhile, men that age are staying in jobs longer than expected. What gives?

Winner of MacArthur 'genius grant': 'We have a very passive health care system in America'

Dr. Jeffrey Brenner, was named one of the prestigious MacArthur Foundation 'genius grant' winners today. He organized a system in Camden, the Camden Coalition of Healthcare Providers, that tracks down the poorest patients who need care.

Income, poverty and a new interactive from Marketplace

The U.S. Census released a report on the national median income and poverty rate this week. And Marketplace released a data tool on incomes to tell a bigger story about how we live at any income.

Is a future for a comfortable middle class just science fiction?

A practitioner of the dismal science and a writer of dystopian sci-fi have competing takes on the survival of the middle class.

What median income can buy depends on where you live

The Census releases U.S. median income data today. We visit two families to compare what it's like to live at the national median income and local median income.

Unprepared for rain, Colorado pays the price

Colorado is equipped to deal with all sorts of natural disasters, from raging fire to heavy snow. But this torrential rain has caught Colorado off guard.

When you're the first to go to college

Last spring, Raven Gribbins was the first in her family to graduate from high school. Now she begins the next chapter -- as a college student.

How the one percent make their money today

The gap between rich and poor in America is at its widest ever. But the way the rich make their money has changed.

Cascade Platinum: Turning household goods into gold

Consumer products companies are offering customers upscale versions of everyday household goods -- things like embossed paper towels.

Paying for college: We don't spend as much as we think

The cost of college is rising faster than inflation. But when you take financial aid into account, it's gone up only modestly faster than inflation.

Fifteen percent of American adults are offline

Data released this week by the Pew Center shows that 8 percent of Americans now live in an area with access to broadband internet. Despite that, 15 percent still don't use the internet at all.

Fast food strike: Of walk outs and drive-throughs

Fast food workers across the country are walking off the job today. Workers are demanding $15 an hour.

Fast food workers of the world, unite!

Fast-food workers are extending their one-day strikes to 5 cities nationwide as they try to gain traction for higher wages

What did the tech CEO say to the worker he wanted to automate?

A labor dispute in the San Francisco area launched a surprising debate about the future of work in the new economy.

16's list of demands: Minimum wage hike

The March on Washington, in 16, wanted the minimum wage moved up to $2.