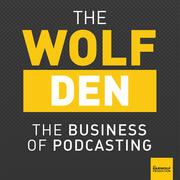 59 Kevin Smith, SModCast Founder

The multitalented Kevin Smith is Jeffs guest for this episode of The Wolf Den. Kevin says that hell always be called director Kevin Smith, but the truth is that hes done way more podcasts than films. He tells Jeff why he got started podcasting and de...

58 Chris Hardwick, Chief Nerdist

Chief Nerdist Chris Hardwick returns to The Wolf Den for the first time in four years. He and Jeff get caught up with everything going on in the Nerdist world, and how Chris keeps on top of having a podcast, a Comedy Central TV show, and being the CE...

57 Alex Blumberg of This American Life

Public radio producer Alex Blumberg enters The Wolf Den to discuss the entrepreneurial future of audio journalism. Alex is a long-standing producer for This American Life and the co-founder of the NPR podcast and radio program Planet Money. He tells...

56 Ellen Weiss, VP of E.W. Scripps Co.'s News Bureau

Ellen Weiss is vice president and bureau chief for E.W. Scripps Company's multimedia news bureau. She joins Jeff from Washington DC to discuss podcasting's new frontiers in journalism. They talk about Ellen's distinguished career in news at NPR and t...

55 Brendan McDonald, WTF producer

Though he is rarely heard from on his own, Marc Maron says he considers WTF producer Brendan McDonald, half of the show. On this episode of The Wolf Den Brendan steps out of the producers chair and in front of the microphone. He tells Jeff how his fi...

54 David Plotz of Slate

Editor & Chief of Slate and Political Gabfest host David Plotz joins Jeff to talk about all of the new changes that have occurred in the world of podcasting. They'll discuss the value and downsides regarding live shows for podcasts, David's current i...

53 Paul Riismandel of RadioSurvivor

All the way from Portland, Paul Riismandel of RadioSurvivor.com joins Jeff to discuss many important things in the world of podcasting. Theyll talk about the sustainability of podcasting, the discoverability of podcasts, and the difficulty of buildin...

52 David Lidsky of Fast Company

Deputy Editor of Fast Company and podcast enthusiast David Lidsky joins Jeff all the way from New York for a special episode of the Wolf Den that we hope will get some press! David gives us a quick history of business media, tells us how Fast Company...

Thursday October 24, 2013

Thursday October 17, 2013

Thursday October 10, 2013

Thursday October 03, 2013

Thursday September 26, 2013

51 What's Up With Earwolf?

Its the triumphant return of Peter Moses who once again interviews Jeff about all the things that have changed with Earwolf since they talked almost 2 years ago. Theyll discuss the early days of recording in a roach infested studio, some of the surpr...

Saturday July 06, 2013

Friday July 05, 2013

Thursday July 04, 2013

Wednesday July 03, 2013

Tuesday July 02, 2013

Monday July 01, 2013

Sunday June 30, 2013

Saturday June 29, 2013

Friday June 28, 2013

Thursday June 27, 2013

Wednesday June 26, 2013

Tuesday June 25, 2013

Monday June 24, 2013

Sunday June 23, 2013

Saturday June 22, 2013

Friday June 21, 2013

Thursday June 20, 2013

50 Chris Fealy of Nerdist

General manager of Nerdist Industries and all around good guy Chris Fealy is here to squash any thoughts of there being any sort of Nerdist vs. Earwolf rivalry. He joins Jeff to discuss expanding a podcast network into different mediums which include...

49 Slate.com's Andy Bowers

Its been 16 months since the last episode but The Wolf Den is back with Slate.coms Andy Bowers. Hes here to discuss the mood of podcasting, how radio will survive with the increasing amount of audio on demand choices, and finding a balance between ha...

48 Hello 2012!

This week's The Wolf Den is short but sweet! Get an update on the status of this podcast, a look back at Earwolf 2011, an announcement of a cool future episode, and several other business announcements that might be of interest. We'll see you in a fe...

47 Drew Droege

Drew Droege treated us to Glitter in the Garbage for a year here on Earwolf. Now he joins Jeff in The Wolf Den to discuss his life in the south, the mistakes he made as a young artist, the relationship between comedian and businessman, and the fallac...

46 David Kahn of SModcast

One of the most successful podcasting networks is Kevin Smith's SModcast. After we had so much fun and learned so much with Bagged and Boarded's Matt Cohen, it was a no brainer to invite David Kahn to The Wolf Den. He is in charge of advertising and...

45 Walking The Room

Greg Behrendt and Dave Anthony have a podcast called Walking the Room that is considered by many "a podcaster's podcast." They leave their closet to join us in The Wolf Den to talk to us about the way the podcast has changed their careers, how listen...

44 HijiNKS ENSUE

There seems to be a connection between podcasting and graphic design. There are so many amazing artists out there who make podcast art. Joel Watson from HijiNKS ENSUE has given us two popular show logos and he is here on The Wolf Den to tell us about...

43 Earwolf Thanksgiving

Since we're so thankful for all you wonderful listeners, we decided to put together a last minute The Wolf Den with everyone in the office. You'll hear both our wonderful engineers, Cyrus and Dustin, our tech wizard Shahruz, our financial guru Dave,...

42 How Did This Get Made?

How Did This Get Made? has been on a roll lately. They've had guests like Lexi Alexander, director of Punisher: War Zone, Greg Sestero from The Room, and just performed a live show at Largo with Damon Lindelof and Superman's Jack O'Halloran. As we ap...

41 The Chris Gethard Show

The Chris Gethard Show is just the latest crazy, hilarious, original project from Chris Gethard. Chris has spent the last few years dreaming up some of the coolest comedy projects to come out of New York City. He's used his brilliance to bring Diddy...

40 5 Second Films

According to Ben Gigli of 5 Second Films, making friends with your fellow content providers is imperative to having success online. We took that advice before he even gave it and had him on The Wolf Den to discuss Youtube monetization, understanding...

39 Jimmy Pardo: Never Not Funny

Jimmy Pardo came to Earwolf to record Who Charted? and we couldn't let him leave without a good solid brain-picking on the world of podcasting. His show Never Not Funny played (and continues to play) such a important role in the growth and developme...