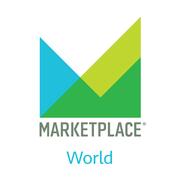 The 5 second rule actually works

In which science completely validates conventional wisdom.

How many stars? Affordable Care Act user reviews

The March 1 enrollment deadline to sign up for Affordable Care Act benefits is about two weeks away. And this is the big one. Get covered, or start paying a penalty.

A raft of weak economic data out of China

Industrial output, fixed asset investment, retail sales, you name it: all slipped the first two months of the year, defying expectations. But we've seen this before.

'Big Men' filmmaker chronicles oil boom in Ghana

Rachel Boynton follows a Texan oil company and Ghanaian government officials as they scramble to profit from newly discovered oil wells off the coast in her new documentary, "Big Men."

Who are the Russian oligarchs?

Extremely wealthy men wielding influence in Russian politics.

Preparing for China's urban billion

If current trends hold, the number of people living in Chinese cities is expected to hit one billion within the next 15 years.

Being middle class in Pakistan

Author Haroon Ullah talks about his new book 'The Bargain from the Bazaar'

Quiz: Which countries pay women the most?

Women make about 85 percent of men in industrialized countries

Missing flight threatens popular tourist route

Tourism industry analysts say Malaysian Airlines flight 7 could complicate Chinese tourism to Southeast Asia.

How much aid Ukraine really needs

Ukraine needs billions in aid to meet its debt obligations because of widespread government corruption.

How much aid Ukraine really needs

Ukraine needs billions in aid to meet its debt obligations because of widespread government corruption.

Hot Pot: The meal of China's consumer class

American fast food chains are doing well catering to China's new consumer class.

PODCAST: Seen at South By

SXSW Interactive is in full swing in Austin, Texas.

Exchanging currency in Venezuela is a nightmare

A new exchange system could bring the currency rate closer to the black market.

Gary Shteyngart on why Russians don't want to live in Canada

The Soviet-born author remembers spending family time in Crimea.

Obama's options on the 'Cold War chessboard'

David Sanger from the New York Times on President Obama's options.

Mutually-assured (economic) destruction

Journalists and scholars see reasons this is -- and isn't -- deja vu all over again.

Loving the global economy

Despite all the Cold War rhetoric, the global economy is the bigger picture.

U.S. natural gas supplies could become geopolitical weapon

Lessening Ukraine and Europe's dependence on Russian energy could help weaken Vladimir Putin's hand.

Conflict in Ukraine goes online

A look at the efforts on either side – and possible third parties - in the Ukraine/Russia spat to cripple infrastructure and cause economic difficulty.

Like your healthcare plan? You really can keep it.

Until 216, that is.

Why not seize Putin's assets?

The EU and U.S. are considering sanctions to punish Russia for its intervention in Ukraine.

Why China is lowering the bar on its growth

China chases 7.5 percent economic growth, less pollution, and Internet banking.

What natural gas has to do with conflict in Ukraine

Natural gas is one of the most important components of the Ukraine equation. Europe is a big consumer and Russia is its supplier of choice.

PODCAST: U.S. sanctions won't hurt Russia

President Obama face an uphill battle in getting more funding for early childhood development. And the Fed takes a more personal approach in New England.

How much influence does the U.S. have on Russia's economy?

Some critics of Russia's move on the Crimea say the U.S. should consider economic sanctions. But the U.S. doesn't do much business with Russia.

Russia's economy isn't doing so well, either

As tensions rise in Ukraine, the Russian economy is feeling the effects.

In Crimea, fears of violence

The arrival of Russian troops in Crimea have increased tensions in the region.

PODCAST: Markets react to Ukraine

We look at the economics of Russia's military moves in Ukraine. And, car sales lagged as winter weather put a chill on car buyers, so automakers are letting their discounts run a little longer.

Is Puerto Rico the new Greece?

Puerto Rico is issuing $.5 billion worth of bonds this month and investors are hungry to buy.

Can shipping containers solve London's housing crisis?

Rent for old steel containers costs just $4 per month.

The economics of Russia's moves in Ukraine

With Russia seizing control in Southern Ukraine, some of the geo-economics of the tension.

The economics of Russia's moves in Ukraine

With Russia seizing control in Southern Ukraine, some of the geo-economics of the tension.

House of Cards is a huge hit in China

China allows a show about U.S. corruption to breach the "Great Firewall."

Beef Prices, beefed up

Beef prices are at record highs and they're only steering north from here

Ukrainian protests follow oligarchs to London

Mansions outside of Ukraine are drawing charges of corruption as well

Oscar predictions are an imprecise art

Film Critic Wesley Morris on why he hates the guessing game of Oscar predictions.

What it costs to write those bill Congress doesn't pass

Only a fraction of the bills introduced in Congress each year actually become law. What's all that wheel spinning cost taxpayers?

Venezuela according to a Venezuelan

Inflation and a shortage of basic goods are fueling protests in Venezuela.

What really happens in those Swiss banks

It reads more like a plot pitch for the next spy thriller than a Senate report.

Out

Some British veterans ordered to witness nuclear explosions during the Cold War went on to develop serious health problems.

China's version of Twitter, Sina Weibo, plans Wall Street IPO

Chinese Internet company Sina Corporation plans to raise $5 million for its initial public offering. But analysts say Sina's timing could be way off.

Look out Wall Street: Here comes Sina Weibo

Weibo, the social network that has transformed the way young Chinese share information, now has plans to go public in the U.S.

Captured drug lord a master of supply chain management

"El Chapo" likely left a successor to continue in his steps.

Estonia: Europe's economic comeback kid?

One of the first European counties to show some welcome economic growth after the financial crisis was one of the very smallest.

Love the ice cream truck? Thank inventor Fred Jones

After Fred Jones lost a truckload of overheated chickens, he invented the refrigerated truck. Jones was self-taught, but took out 6 patents in his lifetime.

Zello: An app for protestors

Venezuelans turn to a more private messaging system than Twitter or Facebook

Ukraine has new government will face old economic challenges

Peace has returned to the streets of Kiev after last week's violent clashe,s but new interim President Oleksander Turchinov faces turbulent economic times ahead.

Russia may have overspent for the Olympics

Sochi locals wonder what will happen to the hotels and facilities that were built.

Climate change is making English wine better

Climate change is reversing the fortunes of a once derided industry.

Ukraine's unrest: Violence continues despite truce

More dead and captured in clashes between protesters and police.

The science of the selfie

Statistics on selfies taken worldwide.

Ukrainian unrest: Old tensions between E.U. and Russia

The U.S. and E.U. consider sanctions against Ukraine for its harsh response to protests

Can the 'quotThree Amigos'quot help business travelers?

President Obama meets with his counterparts from Mexico and Canada.

Uber faces tough competition in China

China is already saturated with similar car-service apps.

Kenya eyes new anti-poaching methods, including drones

Demand for ivory in China has authorities scrambling to stop poaching.

Half of all sandwiches now sold in France are hamburgers

One in two sandwiches sold in France is a hamburger. Presumably with French fries.

Why is our banking system so far behind?

In U.S., it takes days for a bank payment to clear. In foreign countries, it happens in seconds.

Economic indicators: weird weather edition

Marketplace Datebook for February 18, 214

Japan's stimulus efforts come up short

Economic stimulus is the talk of Japan, but the latest numbers suggest there's not much to show for it.

The California drought and 'climate resiliance'

Look forward to continued climate change, says President Obama in California today

How much do Olympic figure skating dresses cost?

Love them or laugh at them, Olympics figure skating costumes are hard to ignore. They're just so shiny. But how much does all the sparkle cost? Thousands.

MMR Silicon valley part

How much do Olympic figure skating dresses cost?

Love them or laugh at them, Olympics figure skating costumes are hard to ignore. They're just so shiny. But how much does all the sparkle cost? Thousands.

Tesla's 'fair price' China strategy - will it work?

In China, foreign automakers typically markup the prices of their luxury vehicles by more than 1 percent, just because they can. Tesla has a different strategy.

EU officials debate sanctions after Switzerland restricts immigration limits

Switzerland isn't an European Union member, but still benefits from the charter. Official members say the country is cherry-picking which laws to follow.

For China, a new year and a new U.S. ambassador

The United States has a new ambassador to China: Montana Senator Max Baucus was unanimously confirmed by the Senate late last week. Is he up for the job?

Toyota will stop making cars in Australia by 217

A grim domino effect for car manufacturing in Australia.

Beer per minimum wage hour

Somewhere between economics and happy hour

Shadow of corruption allegations hangs over Sochi Olympics

A discussion of money and corruption on this opening day for the Winter Olympics.

The Chinese New Year: A 2 week holiday everywhere?

When two weeks leads to two months of manufacturing delays.

Sony to sell off VAIO brand, expects $1bn loss

Sony of Japan struggles with the Microsoft problem: finding its way in the land of Apple and Samsung.

India's reaction to Satya Nadella becoming Microsoft CEO

The BBC's Yogita Lamaye to see how Nadella's home country is reacting to the announcement.

Spain's skilled and affordable workers may turn the tide

Spain is still suffering from an economic crisis that has left 26 million people unemployed.

Market slump continues in Japan

A lesson from Japan on how American factories are connected to collapsing stock prices.

As China slows, emerging markets stamp on the brakes

The Fed's actions are affecting emerging markets, but there's something else weighing things down: China.

PODCAST: Matchmaking in Mexico

The new Secretary of Commerce Penny Pritzker is going on a trade mission to Mexico to find new business partners to match with U.S. companies. And, investing in iPads to help schoolchildren learn carries some costs that may be getting overlooked.

South Africa hosts major mining conference amid labor strife

A mining conference kicks off in Cape Town as platinum workers go on strike.

Government operates as 'matchmaker' for U.S. business in Mexico

On a trade mission to Mexico, Commerce Secretary Penny Pritzker will play matchmaker for U.S. companies looking for new business partners.

Global crimefighters on edge at the Olympics

The International Olympic Committee has a $2 million contract with Interpol to police doping, match-fixing and corrupt gambling

Weekly wrap: Derivatives (No seriously)

Catherine Rampell and Felix Salmon join Kai Ryssdal to bid farewell to Ben Bernanke, analyze Argentina, and argue about calculus

Unrest imperils Thailand's economy

Protesters in Thailand have been taking over polling stations ahead of Sunday's elections.

Payton Manning's New Jersey tax bill

A financial incentive to win, courtesy of the Garden State

Cuba makes bid for foreign investment with a multi-million dollar port

The $57 million overhaul of the port of Mariel, in west Havana, is being financed by Brazil, and is in the heart of a special economic development zone.

DONG brings Danish government to the bring of collapse

Danish Prime Minister Helle Thorning-Schmidt's government is in peril and Danes are protesting after a deal for Goldman Sachs to acquire a state-owned energy company.

Why the dollar dominates global currency

The dollar continues to tighten its grip as the world's reserve currency.

What tapering in the U.S. has to do with Turkey and South Africa

Why our recovery is throwing emerging economies into a tizzy

How the world heard the State of the Union address

President Obama focused mostly on domestic issues during his speech last night. How did it go over in Europe?

Whither Europe on emissions?

Europe has been in the forefront of limiting carbon emissions. Do new European Union rules represent backsliding?

Does the government like what you're up to on Facebook?

The NSA and its British counterpart are sucking up data from some mobile apps.

Getting 4 percent of the world's economy on the same page

The Trans-Pacific Partnership would include 12 countries and 4 percent of the world's economy.

Unrest overseas ripples into U.S. economy

The currency markets overseas economies took a tumble on Friday. Here's why the United States should keep an eye out -- but not worry too much.

The economics behind Ukraine's unrest

Ukraine's trade relationship with Russia is at the root of the mass protests there.

Emerging markets spook investors

Emerging markets are starting off 214 in the worst place they've been in 5 years.

Tunisia's economy still recovering, years after Arab Spring

A new constitution should provide more stability, reassuring investors and tourists.

Argentina's woes have been a long time coming

It's not really a shock that Argentina is in such a perilous state. What's surprising is it too this long for things to go wrong.

An economic storm in Argentina

The value of the peso had plummeted before stabilizing this morning.

5 months before the World Cup, half the venues aren't finished

Less than five months before Brazil's World Cup kicks off, 6 out of 12 venues are still unfinished.

Ukraine's economy goes from bad to worse

BBC's Ukraine correspondent David Stern says the violence in Kiev ebbs and flows, but the economy continues to stagnate

Actually, not much has changed about American mobility

A new study finds economic mobility for Americans hasn't changed much in the last 2 years.

Vigilante groups on the offensive in Michoacan

In Michoacan, Mexico, vigilante groups are fighting back against drug cartels.

The Chinese Internet's detour to... Wyoming?

Seventy-five percent of Chinese Internet traffic took a day trip to Cheyenne, Wyo.

Chinese workers fight Wal-Mart for better wages

Wal-Mart's been in hot water lately with the National Labor Relations Board. But Wal-Mart's labor problems don't stop there. Wal-Mart employees in China are filing lawsuits against the company for similar problems.

Lena Dunham, Vogue, and the end of Photoshop?

Could the social media outrage over Lena Dunhams' retouched Vogue photo-shoot spark the end of Photoshop?

A bright new day at the World Economic Forum

The World Economic Forum, the winter gathering of the powerful, kicks off today in the Alpine town of Davos, Switzerland.

The Davos World Economic Forum: A lot of 'hot air'?

The World Economic Forum opens tomorrow in Davos, Switzerland. The big-name event draws reverent commentary-- and "a lot of bloviating"

Stressed out by the Davos World Economic Forum?

Try meditating with Goldie Hawn.

'Dear subscriber, you are registered as a participant in a mass disturbance'

The Ukrainian government may be using mobile phone location data to intimidate protesters during ongoing civil unrest.

Bollywood booms in U.S. and overseas

Action thriller 'Dhoom ' has made more than $8 million at the U.S. box office, and it's in Hindi.

Inequality on the docket at World Economic Forum in Davos

The annual meeting of The World Economic Forum kicks off this week, in Davos, Switzerland. This year, one of the items on the agenda is inequality.

Plastic money: bills that defy crumpling, boiling and counterfeiting

Buy a $5 Canadian bill -- it's polymer base makes it fun to torture and almost impossible to destroy.

China GDP lowest since 1

China's fast growing economy is slowing down.

Iran says it's curbing uranium enrichment

As part of a deal with world powers, Iran says it has begun suspending its nuclear program.

Which spies scare you more?

The NSA announcement is sucking up a lot of the oxygen today. But what should we be more worried about: the government holding data – or the likes of Target?

Oil giant Shell has a nasty surprise for the markets

The company is reporting weak profits. Shell says it was hit by higher exploration costs and lower oil and gas volumes.

Some towns fight to hang onto their JC Penney

JC Penney announced it will close stores across the country, including the store in Butte, Montana.

Drug cartels have an offer you can (and should) refuse

Mexican drug cartels increasingly use small businesses in the U.S. to launder their criminal revenues.

The NSA has new ways to see inside your computer

The National Security Agency has been able to access computers that are not connected to the internet for at least five years.

How to sharpen a knife: A disappearing job

Knife sharpeners say they are still on the cutting edge, but their market is nearly obsolete.

Just how seriously should we take the latest bank earnings?

When accounting affects earnings so greatly, what's the value of these earnings reports?