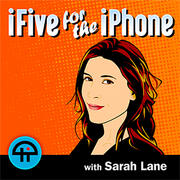 iFive 69: Hatch, Heyday, Olloclip Macro 3-In-1 Lens

Hatch is your very own iPhone pet, Heyday is your new history journal, photo crop tricks, an Olloclip for your iPhone photographer, control your location history, and more!

iFive 68: Heads Up! iPin, Touch ID woes

Party fun with Heads Up! iPin laser pointer for presentations, Touch ID sucks, toggle dark/light theme tricks, & more!

iFive 67: Mustbin, Twitter, QuizUp, Cat Academy

Mustbin for saving digital copies of documents, Twitter gets better, tap and drag addresses, QuizUp tests your knowledge, learn Spanish from cats, and more!

iFive 66: Google Play Music, Spine, Facebook Messenger

Google Play Music is the all-in-one music lover app, Facebook Messenger gets a nice redesign, Spine for very short stories, an audio Duh Tip, customize Tweetbot, the realtime analog clock, & more!

iFive 65: Knock to Unlock, Context messaging, Tweet Library

Knock your iPhone to unlock your Mac, picture messaging with Context, Tweet Library is an archive tool, Google Search is REALLY good, deep Snapchat thoughts, & more!

iFive 64: Fantastical 2, Nudifier, Dictionary Tricks

Fantastical 2 is the best calendar app, Nudifier for faux nude pics, turn on multi-language dictionaries, demystifying Weather app's chance of rain, & more!

iFive 63: BBM, RockPack, Tweetbot 3, LinkedIn Intro

Blackberry Messenger hits iOS, RockPack for organized video collections, Tweetbot 3 is brand-new and beautiful, LinkedIn Intro for iOS email, Oyster is a book reader's dream, & more!

iFive 62: Memoir, Launch Center Pro, Runtastic

Memoir wants to organize your photo memories, Launch Center Pro is your app/action command center, Runtastic Pro for serious exercisers, a Clock timer audio trick, why slo-mo sucks, & more!

iFive 61: Terminology 3, Battery Club, Weather Duh Tips

Why your iPhone 5S might be crashing, Terminology 3 for word nerds, Battery Club for charging on the go, handy Weather app tricks, customize your contact nicknames, & more!

iFive 60: Circa 2.0, Snapchat Stories, Siri Alias Tricks

Sarah & Goldie navigate through Circa 2.0, show off Snapchat Stories, tell Siri our relationship aliases, get familiar with camera Burst mode, play autocorrect pranks, & more!

iFive 59: Gold 5S, Photosynth, Blocking tricks

arah's gold 5S has arrived, TouchID is the future of happiness, Photosynth for spherical panoramas, block phone numbers and websites, edge swiping tricks, & more!

iFive 58: Cinch, set your geofence, iOS 7 tricks

We take Cinch q&a for a spin, Sarah's unlimited data battle, Siri and Safari iOS 7 tricks, perfect your geofenced reminders, & more!

iFive 57: iPhone 5S vs. 5C, Reeder 2, Coffitivity

We choose our next iPhone, Reeder 2 for RSS feeds, Coffitivity for ambient cafe tricks, join the iTunes Music Festival, Vine is a lot more fun, & more! e!

iFive 56: Lumosity, Studio, NFL Mobile

We take Lumosity for a brainteasing spin, NFL Mobile just in time for football season, Studio is a design powerhouse, PayPal's app is everything financial, & more!

iFive for the iPhone 55: Soundwave, Twitter Conversations, Blow Up Traffic

We make sense of Twitter's new "blue lines", Soundwave for the ultimate music network, Blow Up Traffic will ease your road rage, Flickr's snazzy new filters, & more!

iFive for the iPhone 54: Readquick, Frequency, Tastemade

We speed read with Readquick, hunt for food on Ness & Tastemade, hunt for Miley Cyrus on Frequency, simulate push-to-talk without an app, & more!

iFive for the iPhone 53: iFive for the iPhone 53: Whitagram, Find My Friends, Chrome Tabs

Conquer the square crop with Whitagram, use Find My Friends for lost iPhones, a Duh Tip shortcut for power texters, why Chrome tabs blow away Safari's, & more!

iFive for the iPhone 52: Lulu, Glide, Weather Kitty

We (reluctantly) take Lulu for a spin, Glide for video chats, Weather Kitty is just awesome, an iPhone alarm Duh Tip, & more!

iFive for the iPhone 51: Clear, Photochop, Commercial Break

We take to-do app Clear for a test drive, Photochop distorts your photos, Commerical Break helps you skip all the ads, how to batch delete your Camera Roll photos, & more!

iFive for the iPhone 50: Kanvas, Grocery iQ, CityMaps

AnyList vs. Grocery iQ, lock your camera focus with a photo Duh Tip, CityMaps is competing with Google socially, Kanvas is like Instagram for the sticker generation, & more!

iFive for the iPhone 49: FitBit One, Agenda Calendar 4, Drafts

Take fitness to the next level with the FitBit One, Agenda Calendar 4 is rebuilt from the ground up, jot down all text in Drafts and send anywhere, when to quit apps that drain your battery, and more!

iFive for the iPhone 48: LIMBO, IFTTT, VSCO Cam

LIMBO is a creepy/challenging game, VSCO Cam has great photo filter packs, IFTTT will help your apps talk to each other effortlessly, Cal from the Any.do team, & more!

iFive for the iPhone 47: Free apps! iOS 7 Dictation! Vesper!

Vesper for simple note-taking, free apps that usually aren't, iOS 7's offline dictation, how to correct Siri, & more!

iFive for the iPhone 46: Swell Radio, Emoji Jumps, Zoom Crop Tricks

Swell Radio is the Pandora of news, emoji jump shortcuts, zoom crop tricks, let Siri define things for you, & more!

iFive for the iPhone 45: Analog Camera, TimeCode Toolbox, Control Center

Why Analog Camera is just simple enough, TimeCode Toolbox for broadcast projects, Control Center saves you from Settings, Duh Tips galore, a dictionary plea, & more!

iFive for the iPhone 44: iOS 7, Nextdoor, Office Mobile

Our initial thoughts on iOS 7 in dev beta, Nextdoor for neighbor networks, Office Mobile brings Excel to your iPhone (for a price), Camera app Duh Tips, & more!

iFive for the iPhone 43: Marbly, Boxer, Atlas

Boxer is an outstanding email app, Atlas for robust scheduling, Marbly from the creator of Tetris, a photo trick, a dictionary shortcut, & more!

iFive for the iPhone 42: Candy Crush, Social Pandora, International Data Guides

Why Candy Crush is so addictive, Pandora gets more social, data guides for international travelers, broken iPhone button workarounds, & more!

iFive for the iPhone 41: Osito, Luma, Readmill

Osito's your predictive assistant, Luma will smooth out your videos, Readmill for ebooks, Siri tricks, & more!

iFive for the iPhone 40: Oggl, Elevatr, Beer Hunt!

Hipstamatic's Oggl is an incredible photo app, Elevatr for your next big idea, Beer Hunt for brew afficianados, duh tips for Mail.app, & more!