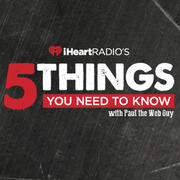 Godsmack Says Nice Things!

When Rockers Godsmack sing it's HEAVY. So, here's what they sound like saying NICE things!

Special Guests Sam Smith, Tiesto, The World Cup + more!

Plus the best Britney dance moves horses play soccer too!

Special Guests Ariana Grande, Rixton + 5 Seconds of Summer!

Plus a 'Billie Jean' Bottle Cover - and it's OK Luke Bryan, everybody falls!

New Music You Need To Know! Iggy Azalea, Katy Tiz, Rixton + More!

Plus UsTheDuo's 'Musical Newlywed Game' and hangin' with MKTO!

FOX Fall TV! Andy Samberg, Rainn Wilson, & Jada Pinkett Smith

Plus Terry Crews, Martin Short, Ben McKenzie and more of what to see on TV this fall!

Special Guests Hunter Hayes, Steve Aoki & The Best Of The Week

Plus Animals 'Wiggle' with Jason Derulo, Kid Salsa Superstars + More!

Special Guests Rita Ora, Mariah Carey, Oprah + More!

Plus a fancy Yorkie, #Selfie Dance-Cam Dance-Off + the best of the week!

Special Guests 5 Seconds of Summer & Timeflies, and the Best of the Week!

Plus a Llama In-Sync with DMX, Baby-Suiting and Goat-Screaming!

Emotional Movie Scenes with Ellie Goulding, Drake Bell and More!

Plus the Best Flight Attendant Ever, a Rapping Sergeant, and Country Star Craig Cambell's Daughter Sings 'Let It Go'!

Ed Sheeran's Flow, Eric Hutchinson Sings Weird News Headlines & more!

Plus One Awesome Grandma, a Toddler Dancer, a Touchy Parrot & more!

Iggy Azalea Gets Fancy and R5's Freestyle Challenge

Plus Bobby Bones' #CountrySelfie ft. Dierks Bentley & Jake Owen and more of what you need to see this week!

Aloe Blacc's The MAN, Lady Gaga's G.U.Y. Cat Remix, Lily Allen

Plus the Biggest Little March Madness Fan The Most Epic Singer Impressions Ever!

iHeartRadio's #DRUNKINLIFE

Beyonce's 'Drunk In Love' Lyrics were meant to be said to Strangers on the Street!

Speaking 'Drunk In Love' to Strangers, Katy Perry/Baby Goat Remix

Plus Ariana Grande, Cody Simpson, a Rixton Singer-view more!

Little Mix Teaches How to 'MOVE' & American Authors Freestyle Flow!

We're rounding up 2 bands, 2 babies and a Bieber!

Pharrell's 'HAPPY' Message for Us+ Becky G vs. Mahone Beatbox-Off

Everything that went down this week - Cody Simpson & DJ Tanner bust some moves, LOL Animal Soundtracks + more!

Dierks Bentley's Delivers Pick-Up Lines, Christina Perri Says What's Up Mike Posner !

Everything that went down this week including a dancing armadillo, news blooper and weird news sing-a-long!

All of John Legend & an Imagine Dragons Storage Room Performance!

Everything that went down this week wrapped into one video!

With Special Guests Lorde, Mariah Carey & Neon Trees!

WATCH: Our Weekly Show Makes JT "Oh!" + Mariah Carey and more! We're bringing you dancing, singing, the internet's best, your favorite artists and fun every week!

With Special Guests Jason Derulo, Paramore and A Great Big World!

WATCH: With Special Guests Jason Derulo, Paramore and A Great Big World! Plus babies, babies + a kangaroo....seriously!

With Special Guests Bruno Mars, Austin Mahone + Bastille!

There's puppies, MMMYEAHing, Teleporting, a Big Game Vortex + more!

Viral Moms, Backstage with The Neighbourhood + The Bachelor

Plus the best Polar Vortex stunts + more!

What You Need To Know about 5 Things You Need To Know!

Every week we're highlighting the most buzz worthy parts of pop culture!

One Direction Without Auto-tune & World's Most Talented 8-Year-Old!

Everything you need to know from this week, including One Direction like you've NEVER heard them before!