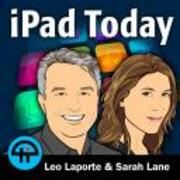 iPT 194: Cooking Apps, Solar Walk, Fantastical 2

Leo & Sarah will make you hungry with cooking apps, a better way to search the App Store with fnd.io, block inappropriate sits for kids, explore space with Solar Walk, & more!

iPT 193: Tax Apps, IFTTT, Monument Valley

Leo & Sarah show off their favorite finance apps in time for taxes, LearnVest for money planning, IFTTT for action recipes, tell Siri to shut down, Monument Valley is a lovely game, & more!

iPT 192: Microsoft Office for iPad, Surgeon Simulator, MLB.com at Bat

Leo & Sarah's favorite office apps, Wattpad for self-publishers, follow the latest baseball season with MLB.com at Bat, Surgeon Simulator for virtual doctors, & more!

iPT 191: Loopy HD, Duet, Toc and Roll

Leo & Sarah's music app picks, Apple's new iPad pricing, MS Office coming to iOS this week, why iOS 7 ruins wallpapers, Duet is REALLY challenging, & more!

iPT 190: Action: Infinity, Tynker, Daily Burn

Leo & Sarah's app roundup for kids, If You Can, Ellie's TV, Tynker for kid programmers, Daily Burn for fitness, keyboard duh tips, & more!

iPT 189: Brushstroke, Smash Hit, Rails, iTunes Festival

Leo & Sarah's favorite news apps, iOS 7.1 is live, Brushstroke for photos, an iMessage duh tip, iTunes Festival, Rails, Smash Hit for stress gaming!

iPT 188: Icycle, Card Wars: Adventure Time, Castle of Ilusion

Leo & Sarah's favorite new games, Icycle, Disney's Castle of Illusion, Chromatik for sheet music, SurveyMonkey is a great tool, & more!

iPT 187: Tengami, Gneo, Fragment

Leo & Sarah's favorite photo/creative apps, Photofunia, PicLab HD, gesture tips, Gneo for productivity, Tengami is beautiful and unique, & more!

iPT 186: Pacemaker, Prismatic, Cinebeat

Leo & Sarah make beautiful tunes with the latest music apps, Prismatic is a fantastic social news tool, Flappy Bird has left the building, Threes is a super addictive game, Flow for Instagram, & more!

iPT 185: Flappy Bird, Facebook's Paper, Swiftkey Note

Leo & Sarah's addictive game picks like Flappy Bird, QuizUp, Impossible Road, 5by for videos, Paper is Facebook's best app yet, predictive text comes to iOS, & more!

iPT 184: Superbowl XLVIII, Storehouse, Nasty Gal

Leo & Sarah pick their favorite Super Bowl apps, Nasty Gal for iPad shopping, Storehouse for visual storytelling, Facebook's upcoming news app, & more!

iPT 183: Fitstar, Duolingo, Piano Mania

Leo and Chad discuss self improvement apps, Fitstar to stay fit, Duolingo to learn languages, more Lightroom Mobile rumors, & more!

iPT 182: Sunrise Calendar, NHM Alive, We Heart It

Our picks for non-Apple apps, Sunrise Calendar, Yahoo News Digest, NHM Alive for virtual museum tours, Exoplanet for space fans, & more!

iPT 181: Lose It! Fat Secret! Mosaique!

Sarah and Chad talk weight loss apps, Mosaique for gamers, goals in 2014, Chad's favorite iPad accessories, & more!

iPT 180: Shine CV Creator, MagicPlan, Homestyler, Zinio

Leo & Sarah discuss best options for home design apps, creative resume maker Shine, Zinio for free magazines at the library, why an iPad Pro would rock, & more!

iPT 179: Cook's Illustrated, Republique, Angry Birds Go!

Leo & Sarah's top apps of 2013, Google Play Music, Dots, Republique, Angry Birds Go, Drafts, & much more!

iPT 178: The Hobbit, Writer Pro, Yahoo Weather

Leo & Sarah's apps to survive the holidays, Yule Log extravaganza, Writer Pro for your great American novel, Opera Coast gets an update, The Room Two, & more!

iPT 177: Assassin's Creed Pirates, Instagram Direct Messages, Snapshots of the Universe

We pick our favorite holiday helper apps, Santa's Twerk Shop, get an actual newspaper inside your iPad, Siri Duh Tip, Petting Zoo for kids, & more!

iPT 176: Gifts HD 2, Elf Dance, Clash of Clans

Our favorite holiday gifts, Instagram marshmallows, Morgan Freeman is creepy real, the year's worst iPad accessory, Leo loves Clash of Clans, Elf Dance is better than ever!

iPT 175: Coin, Pitchfork Weekly, Oceanhorn

Leo & Sarah's favorite financial solutions, Coin vs Simple vs Mint, Oceanhorn for happy gamers, Pitchfork Weekly for music news, FiftyThree's new Pencil stylus, Apple Store for iPad, & more!

iPT 174: ARTPOP, Retina mini, Leo's Pad

Leo & Sarah share iPad Air and iPad mini Retina stories, Leo's Pad is a great app for little kids, ARTPOP for Lady Gaga fans, iWork gets updated, Digg gets video, seaturtle.org tracks iPads, & more!

iPT 173: iPad Air Unboxing, Twitter IPO day, Parallax Wallpapers

Leo unboxes his iPad Air, Sarah's horrible iPad mess, Twitter's IPO, an iCloud Duh Tip for families, True Color for color theorists, & more!

iPT 172: Spooky apps, DEAD TRIGGER 2, Papa Sangre II

Leo & Sarah show off the latest scary apps in honor of Halloween, Apple earnings wow 'em, iPad Airs are screaming fast, why upgrading isn't always best, a LastPass Duh Tip, & more!

iPT 171: iPad Air, Retina mini, DEVICE 6, Threema!

Leo & Sarah recap a huge week in new iPad Airs, iPad mini with retina displays, iOS 7.0.3, iWork & iLife app suites are free, Threema for secure messages, DEVICE 6 is really confusing, & more!

iPT 170: Gif Finder, LensFlare, Le Vamp

Leo & Sarah pick their favorite image apps, Le Vamp for vampire fun, we're getting new iPads on 10/22, PlayMemories Mobile for syncing photos, & more!

iPT 169: FaceTune HD, RockPack, Frax HD

Leo & Sarah get excited about retina iPad minis, Frax HD is a trip, an iPad kitchen Duh Tip, RockPack for awesome videos, FaceTune HD for portrait fun, & more!

iPT 168: Homesnap, iMessage Hell, Spin

Sarah & guest host Chad Johnson tackle the best real estate apps, iMessage meltdown, The Orange Chef's iPad accessories, print out your Paper app creations, Spin for video chats, Smule for karaoke!

iPT 167: iOS 7 security, Scanner Pro, Diptic PDQ

Sarah and guest host Shannon Morse cover maximizing iOS 7 iPad security, Google search is awesome on iOS, a duh tip for timestamps, eBay mania, throw out your scanner with Scanner Pro, & more!

iPT 166: iOS 7 for all!

Sarah & guest host Iyaz Akhtar talk pros and cons of iOS 7, Microsoft will pay you for your iPad, make your own iPad cookbook, find guitar tabs with TabFinder, & more!

iPT 165: Reeder 2, Tetris Blitz, Coast for Opera

We lament the absence of new iPads at Apple's iPhone event, Reeder 2 for RSS feeds, Tetris Blitz is addictive as heck, iLife is going free, & more!

iPT 164: Fan, Doctape, Call of Duty

It's TV time! We show off a gaggle of great TV apps, Magbak for iPad mounting, hide your Apple TV apps, doctape for hard-to-open files, Call of Duty for real gamers, & more!

iPad Today 163: The Human Body, iTunes Festival, US Open 2013

We stir our witches' brew of apps including Grammar Pop, The Human Body, Asphalt 8: Airborne, more iPad 5 leaked photos, Parallels comes to iPad, Twitter Conversations are confusing, & more!

iPad Today 162: Plants vs. Zombies 2, Poems by Heart, TripRider

Our favorite educational apps for the new school year, Articles, iStudiez Pro, Poems by Heart, Plants vs. Zombies 2 finally, & more!

iPad Today 161: Tinder, HowAboutWe, Timeline Civil War!

Leo & Sarah talk about dating apps, what to expect from the next iPad, photo editing apps, and more!

iPad Today 160: MixBit, Rise Alarm Clock, Double Robotics!

Our favorite "field trips" to The Design Museum, world of Dinosaurs, and Rough Guides, the Rise alarm clock, MixBit is taking on Vine & Instagram video, the Double Robotics robot, & more!

iPad Today 159: Imgur, Quip, Retina iPad mini!

Leo & Sarah cover Imgur & the best photo options in the App Store, glasses.com's crazy 3D try-on, Quip makes word processing cool, Bad Piggies are free, & more!

iPad Today 158: djay 2, Glide, FitBit One & Flex

Leo & Sarah show off their iPad exercise stats with their FitBit One and Flex, Glide for video texting, 1 billion podcast subscriptions, djay 2 is live, & more!

iPad Today 157: Hotel Tonight, Duolingo, Tiny Thief!

Leo & Sarah cover their favorite "sharing economy" apps like Lyft & Hotel Tonight, Google Maps and Chrome get updated, IMDB adds tix purchases, Duolingo for language learning, Tiny Thief for game addicts, & more!

iPad Today 156: TouchCast, Badland, Over

10 must have free apps, Badland's a great game, Traktor DJ for synth wizards, Path sticker comments, & more!

iPad Today 155: iOS 7 for iPad, Digg Reader, Atlantic Weekly

Sarah & guest host Iyaz Akhtar talk iOS 7 for iPad, Digg Reader launches, Twitter #music genres, 'Age of Empires' on iOS, Atlantic Weekly for good reading, & more!

iPad Today 154: Gardening apps, Instagram video, Carmegeddon

Leo & Sarah talk gardening apps, The New Sunset Western Garden book, Houzz, Instagram gets video, Postale for modern postcards, Carmageddon for crazy drivers, & more!

iPad Today 153: iOS 7, Feedly's Cloud, Control Center

Leo & Sarah on the best & worst of iOS 7, Feedly takes over Google Reader's servers, Kindle app updates, Bump Pay for iPad, One Kings Lane, & more!

iPad Today 152: FitStar, Musyc, Dumb Ways to Die

Leo & Sarah round up their new favorite music apps: Musyc, Scape, Yellofier, Any.do gets a makeover, FitStar for home training, Dumb Ways to Die, & more!

iPad Today 151: Star Wars Knights of the Old Republic, AnyList, Dots

First look with Star Wars Knights of the Old Republic, WWDC expectations, Google+ adds photo editing, is Dots an iPad bust? & more!

iPad Today 150: Mailbox, Map Camera, Yahoo's Tumblr

Leo & Sarah show off Mailbox's new iPad app, Map Camera for geotagging your photos, the future of Flickr and Tumblr under Yahoo, Shazam's always listening, & more!

iPad Today 149: Google Hangouts, Square Stand, Kashoo Accounting

Why Google I/O is good for iPads, 50B app downloads, BBM on iOS, Video 2 Photo, Kashoo Accounting, & more!

iPad Today 148: Viber, The Loop, Photosmith

We compare video chat apps, Facebook sticker chat, Runkeeper hooks up to Pebble watch, The Loop magazine, Photosmith for Lightroom users, & more!