Apocalyptic City
The Legacy, 5m 51sec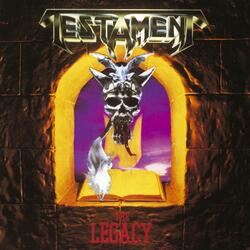 Lyrics
Testament

Born into a world of hatred
Nothing to live for
What started with a simple match
Turned into something more
The pain I felt inside my head
Came on my day of birth
Now the time has come for me
To burn the planet earth

[Chorus]
I can feel the fire
Burning inside of me
The powers at my fingers
Waiting you shall see
Burn! Ignite the population
Burn! Causing mass cremation
Burn! Feel no shame or pity
Burn! Apocalyptic city

Years have passed as I stood still
To plan the final blow
I'll make the town go up in flames
A hellish death they'll know
As I pour on the gasoline
I listen deep inside
I hear the cries of all my victims
Nowhere to run or hide

[Chorus]

Now my great assault is over
And my life is done
Staring at my great infernos
Was my only fun
So I leave you with my tale
Here my conscious falls
Victim of myself
So now I'll end it all

[Chorus]

Written by SKOLNICK, ALEXANDER NATHAN / PETERSON, ERIC STANLEY
Published by Universal Music Publishing Group

Lyrics Provided By LyricFind Inc.