Black Sabbath Ex Tony Iommi Is Building New Studio
By Martin Kielty
May 31, 2017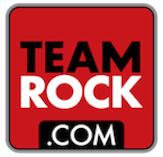 Black Sabbath icon Tony Iommi is building himself a new studio, says Tony Martin, who fronted the band in the 80s and 90s – and they're still hoping to work together again.
It's more evidence that, despite winding up the band's career in February as a result of his cancer status, Iommi intends to keep working at some level.
At the time he said: "My illness is the bloody reason why I have backed off from long tours." He added of his future musical plans: "The only criterion is that it cannot involve being away for seven or eight weeks at a time, unless it's in one place."
Last year Iommi confirmed he had plans to regroup with Martin. Now the vocalist – who appeared on Sabbath albums The Eternal Idol, Tyr, Headless Cross, Cross Purposes and Forbidden – tells Metal Jacket Magazine (via Blabbermouth): "I spoke to him just a few weeks ago. He's bought a new house and he's building a new studio.
"He said he needs to set that up and get that all ready. But when he's ready, I'm happy to do it, and I know he wants to do it."
RELATED VIDEO: Black Sabbath Calls It Quits
Chat About Black Sabbath Ex Tony Iommi Is Building New Studio