Gente De Zona, Camila Cabello & More To Perform During 2017 Fiesta Latina
Start working on your dance moves now, you're going to need them for this year's iHeartRadio Fiesta Latina! 🔥 💃🏻 #iHeartFiesta iHeartRadio.com/Fiesta

Posted by iHeartRadio on Tuesday, August 29, 2017
South Florida is about to turn the heat up this November, because the 2017 iHeartRadio Fiesta Latina returns to Miami on November 4th at the American Airlines Arena to celebrate the best in latin music with a star-studded lineup.
Taking the stage at this year's Fiesta Latina with some unforgettable performances are Gente De Zona, CNCO, Reik, Jesse y Joy and Camila Cabello, with more artists to follow. And for the second straight year, the concert event will be hosted by Enrique Santos, Chairman and Chief Creative Officer of iHeartLatino and on-air personality for iHeartRadio.
"The iHeartRadio Fiesta Latina is a true celebration of Latin music and culture. Each year we bring the best of Latin music to one stage and this year's impeccable lineup is no different," said Enrique Santos. "We're thrilled to once again partner with Telemundo, whom just like us have a powerful connection to the Latin community."
Fans from all over the country will be able to watch a video stream live exclusively on Telemundo.com for fans across the U.S. and broadcast live on iHeartMedia Spanish-Pop, Tropical, regional Mexican and Spanish Adult Hit radio stations nationwide on Saturday, November 4. Then, catch it again during a special re-broadcast on Telemundo at a later date.
Tickets for our 2017 Fiesta Latina go on sale to the general public on August 30 at 10 a.m. ET. For more information, visit iheartradio.com/fiesta.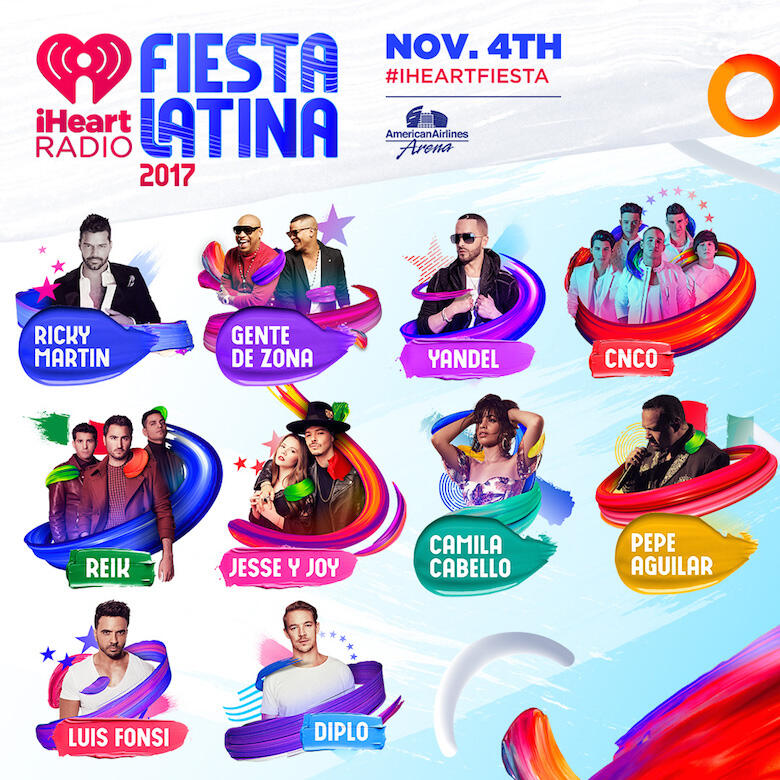 Also, beginning Monday, October 2, fans will be able to win their way to Fiesta Latina. Thousands of Latin music fans across the country the opportunity to win trips to Miami to experience all of the fun and incredible performances. Just listen to iHeartMedia Spanish-language stations as well as on iHeartRadio and on additional radio stations in key markets across the country for your chance to win.
Chat About Gente De Zona, Camila Cabello & More To Perform During 2017 Fiesta Latina