Creepy Delivery Guy Skeeves Out Woman With Texts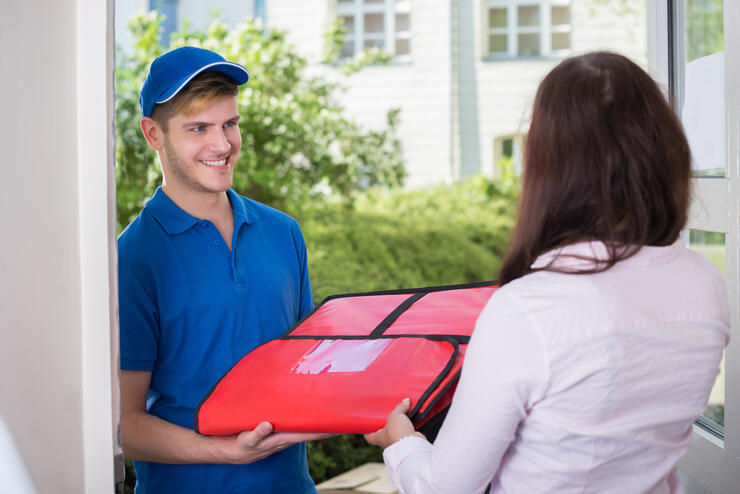 If all goes well, when you order in food, the delivery person shows up quickly, gets paid and leaves you to eat, never to be heard from again, but that's not what happened to England's Michelle Midwinter.
Michelle ordered her meal through Just Eat, a food delivery service in the UK, and aside from the delivery guy looking at her weird and not speaking, everything went well... until she got a series of creepy texts from a stranger, who turned out to be the delivery man.  
Just a snippet of Just Eat's response to my receiving unsolicited messages from the guy who had just delivered my food. Nice one Just Eat! Apart from him using my number in this way surely being in breach of privacy laws etc, they don't really seem to take it seriously do they?? pic.twitter.com/OVZkl0IW5f

— Michelle Midwinter (@ShelbyTree) January 15, 2018
Along with ominously telling her to enjoy her meal, he went on to write, "If you have a bf tell me I don't want to make any problems but I do not just try to make friends in the end. Good night bby see you next time when I get your meal" and sent a kissing emoji. 
Disgusted, Michelle told him she was "literally never ordering from there again," and immediately contacted Just Eat, which didn't go very well either. 
After reporting the harassment to them, Just Eat offered her a $7 "goodwill voucher" for the "inconvenience." Michelle pushed back saying "it's not an 'inconvenience,' it's absolutely outrageous and disgusting behavior," so Just Eat offered her a $14 voucher. 
She turned to Twitter and her story went viral. Now many other women have come forward to say how deliverymen contacted them as well. 
Same thing happened to me and they just said to me "what would you like us to do?" It's ridiculous!!

— lucilluminati ♚ (@LucyOfficial_) January 15, 2018
Happened to me before with a pizza delivery guy about 10 years ago! And the guy who collected me and my car once when I broke down!

— Abigail Rose Glover (@abigailrose_g) January 15, 2018
This happened to me with a supermarket delivery boy a few years ago. It's very stalky.

— Ilana Fox (@Ilana) January 15, 2018
I stopped ordering delivery after a similar experience (delivery guy turned up w chocolates - totally unencouraged). Saved me money (good), left me feeling creeped out & unsafe (obvs not good)

— Bridget Beale (@brdgtbl) January 15, 2018
Michelle is shocked by the amount of people who have reached out to her to say that they experienced something just like she did. 
That escalated quickly. I am astounded by the amount of females who have contacted me saying a similar thing happened to them. This is no longer about my personal experience, this is about privacy law and safeguarding females. This is clearly a huge problem and it needs to stop https://t.co/m9uObXFjYc

— Michelle Midwinter (@ShelbyTree) January 16, 2018
As for what she is looking for, Michelle just wants companies to be aware that this is happening and to put an end to it. 
I don't think I want to sue anyone, I want there to be more safeguarding etc!!

— Michelle Midwinter (@ShelbyTree) January 15, 2018
She might be one step closer to her goal - the Information Commissioner's Office in the UK learned of the incident and tweeted about how the delivery guy broke data laws.
The ICO also posted a link for anyone wanting more information. 
Photo Credit: Getty
Chat About Creepy Delivery Guy Skeeves Out Woman With Texts