Gibson Guitars 'Running Out of Time' to Pay Debts
By Andrew Magnotta
February 14, 2018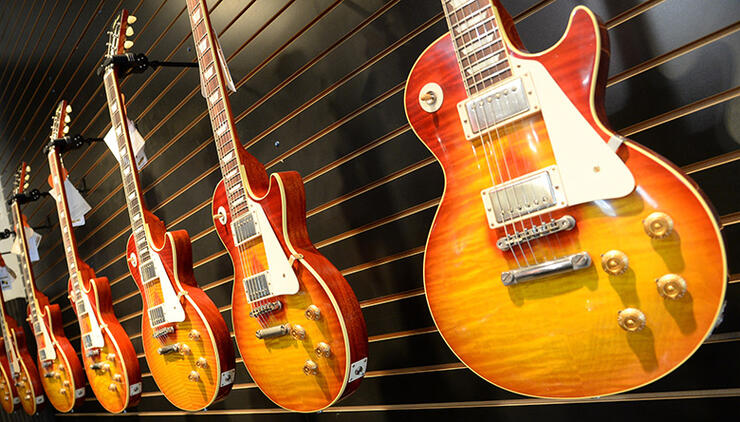 Gibson Brands, Inc. is reportedly "running out of time" to resolve debt issues that could force the company to shut down.
The Nashville Post reports the iconic guitar company has until July 23 to refinance hundreds of millions in debt.
"At the end of the day, someone will take control of this company — be it the debtors or the bondholders," Debtwire reporter Reshmi Basu told The Nashville Post. "This has been a long time coming."
CFO Bill Lawrence quit his job with the company after less than a year. He did so just six months before $375 million in senior secured notes is set to mature.
Another $145 million in bank loans is also coming due this summer.
Basu says bondholders have complained that Gibson has been unclear insofar as how it plans to tackle its debt issues.
But debt isn't the only problem for Gibson.
While the company reportedly rakes in $1 billion in annual revenue, it's suffered from a growing sentiment from musicians that Gibson products just aren't what they used to be.
Gibson has endured a number of public relations failures in recent years, and negative reviews of their instruments are piling up online.
Several high-profile endorsers, like Metallica's James Hetfield and Mastodon's Bill Kelliher, have abandoned Gibson in favor of competitors in recent years.
Over the summer Gibson unveiled the 2017 Les Paul Standard with a photo that showed an obvious ding in the $4,799 guitar's finish.
Then in the fall, Kelliher bluntly revealed in an interview why he stopped working with Gibson.
"They kept f***ing up my guitars that I was asking for," he told Ultimate Guitar. "I didn't ask for a lot – I just had a few certain things that I would like with my guitar – I told them I didn't want it chambered and they made my second guitar chambered."
He painted a picture of disarray at Gibson, saying the company's A&R department was constantly turning over, making it impossible for him to build a relationship with a rep.
In 2016, Moody's Investors Service downgraded Gibson's credit rating outlook to Caa2 or "negative," reporting that the company owes over $80 million to a supplier and $45 million in accounts payable.
Outstanding debt could be a reason for a dip in quality, meaning Gibson is trying to increase production and sales at the expense of the details. A Gawker piece goes even deeper into what's amiss, and it's all pretty damning.
"Gibson faces two main problems: their employees hate them (particularly CEO Henry Juszkiewicz), and their customers think they're crap."
Gear reviewers often report finding careless flaws in brand new, high-end Gibson guitars, and the company seems to have all but thumbed its nose at the music business. Gibson has ignored the major music manufacturers conferences attended by all of its competitors, instead opting to display its products at consumer electronics expos.
Photo: Getty Images
Chat About Gibson Guitars 'Running Out of Time' to Pay Debts