Tool Has Finally Begun Recording Its New Album
By Andrew Magnotta @andrewmagnotta
March 6, 2018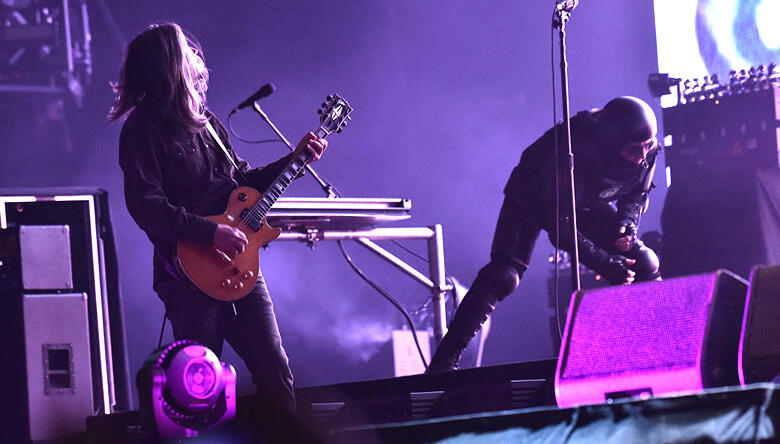 Tool guitarist Adam Jones has revealed that the band has finished writing its new album and began recording this week.
In February, after months of toying with fans' hopes and expectations for the new album, singer Maynard James Keenan revealed that the band was finalizing music on one song but was otherwise finished writing.
Jones through his Instagram account has been the most vocal of all the members of Tool in updating fans on the status of the new music.
Early Tuesday, Jones posted a photo to Instagram of a micc'd up guitar amp alongside his signature silver burst Les Paul accompanies by the simple caption, "Day 1."
Tool hasn't released new music since 2006's 10,000 Days album but has toured fairly regularly in the ensuing years.
Fans long assumed the drought in new music was due to discord within the band, and that perhaps Tool was breaking up.
Jones, however, has chalked up the delay to other factors, including growing families of the band members, as well as other projects and interests.
Keenan told the Joe Rogan Experience podcast over the summer that his bandmates had been composing and revising the music to the album for years. He described the band's "very analytical" process.
"And they're always going back over things and questioning what they did and stepping back and going farther and going forward," Keenan say. "And in a way it's like they're laying a foundation; they're putting in the footings for a house."
Keenan also acknowledged that Jones, bassist Justin Chancellor and drummer Danny Carey were probably affected in their writing and revising process by pressure for the album to be great.
In a since-deleted Tweet from January, Keenan skewered the decade-plus his bandmates took to complete the music by joking that he would only take "half as long" on his lyrics.
The singer's most recent update was more magnanimous, however, as he confirmed his vocal parts were nearly complete.
"Started getting music files from the boys [with] the world FINAL in the title a few months ago after 11 years of begging," Keenan wrote in the post from February. "That in theory means the tracks won't change out from under my while I'm trying to write stories and melodies to them. In theory."
In a Rolling Stone interview focused on the upcoming A Perfect Circle album, Eat the Elephant, due April 20, Keenan suggested that delays in the completion of the new Tool album led to that album being finished by APC guitarist Billy Howerdel and himself.
Never one to take long breaks, Keenan begins his tour with A Perfect Circle in support of the new album in April. Get the tour dates here.
Tool has only one tour date announced for this year, and the band has yet to reveal a release date for the new album. Look for updates here.
Thumbnail Photo: Getty Images
Chat About Tool Has Finally Begun Recording Its New Album