Jennifer Lopez, Cardi B & DJ Khaled Shoot 'Dinero' Music Video
By James Dinh
April 23, 2018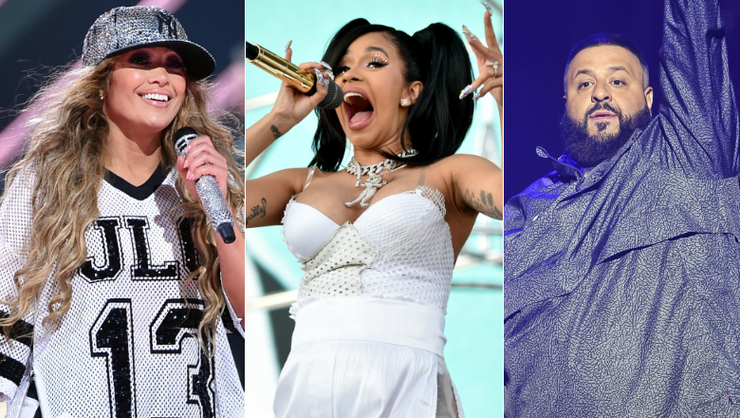 Months after teasing the all-star collab, it seems like Jennifer Lopez, Cardi B, and DJ Khaled are finally ready to start unveiling "Dinero" as the trio recently came together to shoot the video for the all-star team-up.
Originally due at the beginning of the year, the track hears Lopez demand good ol' cash, incorporate some Spanish into the mix and was previewed at Calibash 2018 in January. The video, on the other hand, is set to hit "cinematic" territory, as per Lopez. "It has those themes. I was just trying to connect it to the song where it's just not the typical reggaeton, bachata, hip-hop video that everybody does all the time," she said of the clip. Khaled echoed the sentiments, adding that "the video idea is gonna make the record even more crazier."
While we'll continue to receive new music from the star, Lopez is putting her NBC series, Shades of Blue, to rest after three seasons. "I have enjoyed producing and starring in this beautifully complicated world and playing such an empowering yet flawed character – a woman, a detective but, first and foremost, a mother," Lopez said in a statement to Deadline. "Now looking at it with a little distance, playing Harlee strengthened me and helped me grow into a more self-assured woman."
Still, it's not like she doesn't have enough on her plate since her Las Vegas residency, "All I Have," is going strong until the end of 2018 and she has the second season of her NBC World of Dance competition premiering on May 29, 2018.
Chat About Jennifer Lopez, Cardi B & DJ Khaled Shoot 'Dinero' Music Video