Lyft Is Giving Phoenix Riders Great Discounts For Cinco De Mayo Weekend
By Alex Siordian
May 3, 2018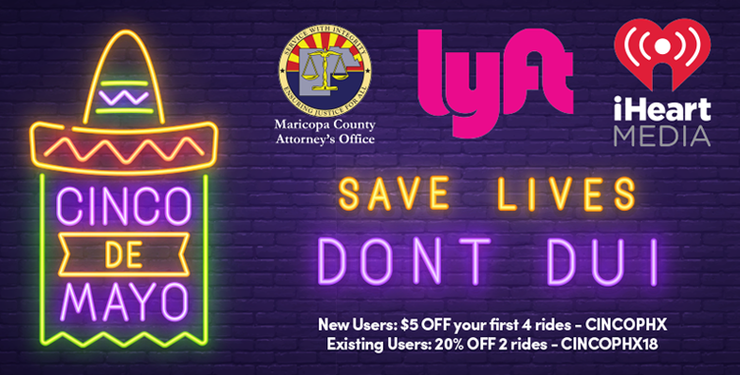 Lyft & Maricopa County Attorney's Office have teamed up with iHeartRadio for another Save Lives, Don't DUI campaign to promote safe ways of transportation especially during this holiday weekend as many residents will be out celebrating Cinco De Mayo.
Drinking and driving NEVER mix and Lyft wants to give new and existing users a chance to get to the party and home safely! Trust us on this... a DUI will cost you way more than a few dollars for a ride to and from the fiesta.
Lyft is giving New Users $5 off their first 4 rides by using the code CINCOPHX. That's not even the best part! Existing users of the app will also get a chance to save some money on 2 rides (20% off to be exact) by using the code CINCOPHX18.
So if you're out and about for Cinco De Mayo weekend and looking to have fun.... remember Save Lives and Don't DUI.
Chat About Lyft Is Giving Phoenix Riders Great Discounts For Cinco De Mayo Weekend