Ariana Grande To Open The 2018 Billboard Music Awards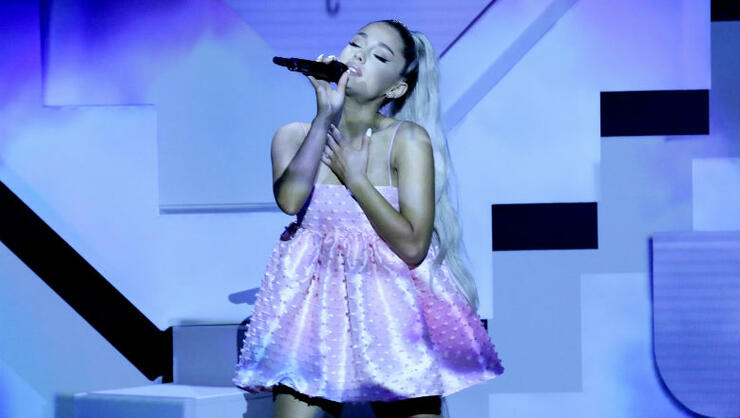 Ariana Grande's "No Tears Left to Cry" has climbed to the top of the iTunes Singles Chart, courtesy of her recent performance on The Tonight Show Starring Jimmy Fallon, and it looks like we have plenty of promo ahead as the star will open the 2018 Billboard Music Awards.
On Tuesday night (May 1), Grande broke the big news during her appearance on the late-night show, announcing that she'll offer the star-studded affair with its first performance of the evening. She'll be joined by a line-up of performers, including Kelly Clarkson, BTS, Camila Cabello, Dua Lipa and Shawn Mendes. "No Tears Left to Cry" has already made history by helping Grande become the only artist to have the lead single from their first four albums debut in the Billboard Hot 100.
"It's kind of about bringing light to a situation or to someone's life, or about somebody that brings light to your life, or sweetening the situation," Grande said of the album, which will be called Sweetener and features production from Pharrell and Max Martin. Among the songs set to appear on the LP include "R.E.M.," "The Light Is Coming," "God Is a Woman" and an intro called "Raindrops." Interestingly enough, the opener samples Four Seasons' 1964 track, "An Angel Cried," which was co-written by Grande's grandfather's best friend.
Keep your eyes peeled for more on the 2018 BBMA, which will be hosted by Clarkson live from the MGM Grand Garden Arena in Las Vegas on Sunday, May 20 at 8 p.m. ET / 5 p.m. PT on NBC.
Chat About Ariana Grande To Open The 2018 Billboard Music Awards