Scarlett Johansson Faces Backlash Over Reports She'll Play Transgender Man
By Hayden Brooks
July 5, 2018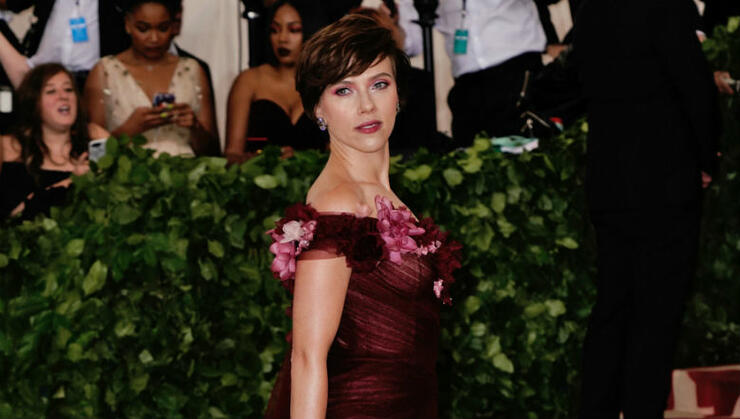 Scarlett Johansson has received backlash after the Hollywood titan has reportedly accepted a role to play a transgender man in the upcoming film, Rub & Tug.
In the forthcoming Rupert Sanders-directed film, Johansson will help tell the true story of transgender massage parlor owner Dante "Tex" Gill. Sanders previously directed the actress in 2017's Ghost in a Shell, where she starred as the Japanese manga character, Major Motoko Kusanagi. "Diversity is important in Hollywood, and I would never want to feel like I was playing a character that was offensive," she told Marie Claire over that backlash in her March 2017 interview.
Still, the Rub & Tug casting announcement has arrived. Johansson's statement on the controversy didn't help anything either. "Tell them that they can be directed to Jeffrey Tambor, Jared Leto, and Felicity Huffman's reps for comment," she told Bustle. Needless to say, the announcement, as well as Johansson's tone-deaf response to the debacle, didn't rub the LGBTQ+ community and its supporters the right way. Scroll on below to see some of the reactions to the star's upcoming project!
This is Dante 'Tex' Gill, who Scarlett Johansson is playing in a new movie.

So basically, ScarJo was cast to play Murray Hill.

I am so confused. pic.twitter.com/LmnVfAWBeK

— Mary Emily O'Hara (@MaryEmilyOHara) July 3, 2018
You're making a movie about a fat, Trans man who was a crime boss and Scarlett Johansson is the first name that comes to mind? Really? https://t.co/P3Vnb91HRp

— @red3blog (@red3blog) July 3, 2018
The only role that makes sense for Scarlett Johansson to play at this point is Rachel Dolezal

— Orli Matlow (@HireMeImFunny) July 4, 2018
I hope the Scarlett Johansson controversy doesn't keep the amazing story of Jean Marie Gill aka Dante "Tex" Gill from being told - if Johansson was smart, she'd find a new director, take the role of Tex's girlfriend Cynthia, and give a trans actor a big break: pic.twitter.com/1eKnZxp89Q

— Grace Randolph (@GraceRandolph) July 4, 2018
Scarlett Johansson has proven time again that she is not much of an ally when it gets in the way of her personal advancement. I hope this new movie will be rewarded in the same way as GitS - mediocre reviews and a box office failure.

— Hanna Ines Flint (@HannaFlint) July 3, 2018
Yeah, I'm gonna avoid Scarlett Johansson movies moving forward after her response. Even if this topic were complex (and it's not: trans people should play trans people), flippantly dismissing concerns over this new role really says a lot about her views regarding trans people.

— Charlotte Clymer🏳️‍🌈 (@cmclymer) July 3, 2018
Guys please stop dragging Scarlett Johansson she's an Asian trans queen who deserves opportunities in a white dominated industry 😕😕😕

— donnia (@fincherism) July 4, 2018
Chat About Scarlett Johansson Faces Backlash Over Reports She'll Play Transgender Man