Sabrina Carpenter Turns Men Into Stone in "Almost Love" Music Video
By Taylor Fields
July 13, 2018
Sabrina Carpenter's music video for her new single "Almost Love" has finally arrived!
After debuting the song at iHeartRadio's KIIS FM Wango Tango at the beginning of June, the Hannah Lux Davis-directed visual, filmed at a museum in Pasadena has made its debut, and it's amazing.
Ever hear of the Greek myth of Medusa? She was a female who turned men to stone with one look. Well, Sabrina's new music video is almost like that. While Carpenter does not have snakes for hair in this clip (her super blonde hair looks amazing), she does also turn men into stone — as does her girl squad — with one kiss. Hey, it was almost love. Right?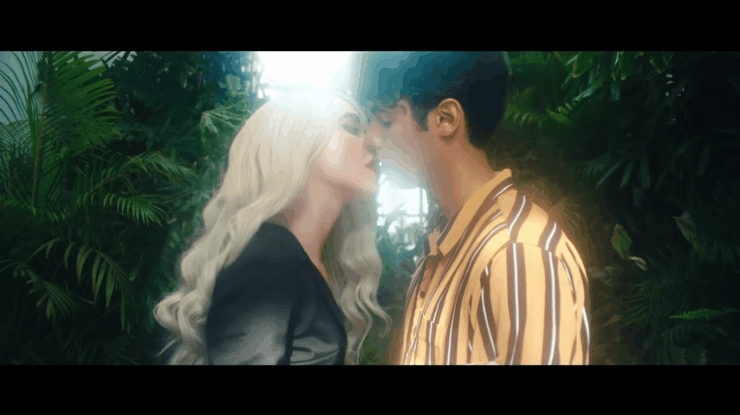 "Almost Love" was co-written by Sabrina, Mikkel Eriksen, Nate Campany and Steph Jones and produced by Stargate. The song is the first single off of Sabrina's upcoming third full-length studio album, Singular, which is set to be released this winter. The 19-year-old has been working on the LP for two years, and the record will follow 2016's EVOLution.
Sabrina debuted "Almost Love" by kicking off this year's iHeartRadio Wango Tango concert in Los Angeles in early June, and then officially released the track a few days later. She explained to Ryan Seacrest of her new upcoming album:
"I hear everything differently now. It's just you really do grow over time without even paying attention to it. … The difference with this album than my previous album before was I just kind of went into not thinking about it. Because I was touring and I felt so much more confident in myself, and what I was doing, and my abilities, and knowing I was growing, and I brought that right into the studio so I didn't have to think about anything and once you stop thinking you just go 'Oh!' … you take control in a different way."
Watch Sabrina Carpenter's "Almost Love" music video above!
Chat About Sabrina Carpenter Turns Men Into Stone in "Almost Love" Music Video