The 1975 Calls Out Trump, Kanye West on 'Love It If We Made It'
By Katrina Nattress
July 19, 2018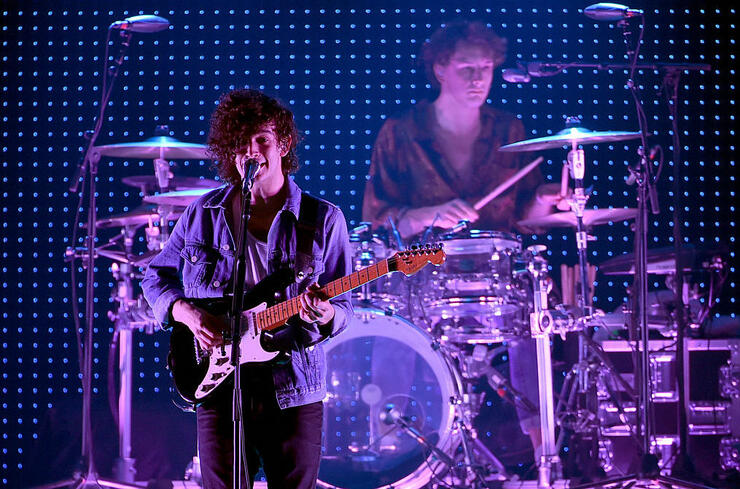 On Thursday (July 19), The 1975 gifted fans with "Love It If We Made It," the second single off their upcoming album, A Brief Inquiry Into Online Relationships. The pulsing track finds singer Matty Healy going for the jugular, as he trades in his angsty, introspective lyrics for blunt, hyper-referential words about the current state of the world.
As Rolling Stone points out, Healy howls about "issues like racism and police brutality ('Selling melanin and then suffocate the black men'), the National Anthem protests ('Kneeling on a pitch') and the refugee crisis ('A beach of drowning three year olds')."
He also quotes the current U.S. president twice in one verse—the first pulled from his infamous Access Hollywood tape and the second from a tweet Trump posted thanking Kanye West for his support: "Excited to be indicted / Unrequited house with seven pools / 'Thank you Kanye, very cool!'"
Listen to the politically charged new track below.
In an interview with Zane Lowe, Healy says "Love It If We Made It" captures "a lot of the ethos" of the band's upcoming album. "I think it's quite inward, even though I try and speak about larger things than myself, I normally use myself as the frame to do so," he explains. "Especially on 'Love It If We Made It' it's quite outward. And it's me kind of looking out. It's an interesting one, because there's not a lot of context and a lot of things that I say in a kind of direct quotes of people or the headlines that I've read."
Last month, The 1975 released "Give Yourself a Try," the lead single off Brief Inquiry. Though a specific release date has yet to be announced, the new album is tentatively scheduled to come out in October.
Photo: Getty Images
Chat About The 1975 Calls Out Trump, Kanye West on 'Love It If We Made It'