Justin Bieber & Hailey Baldwin Seen Crying On A Day Out In NYC
By Hayden Brooks
August 8, 2018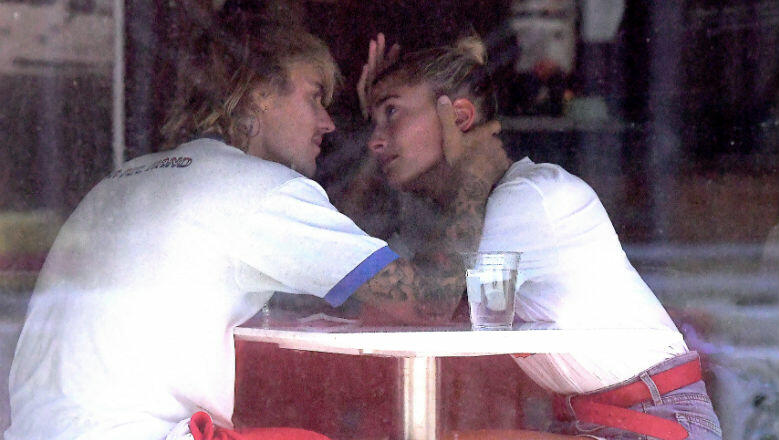 Justin Bieber and Hailey Baldwin had an emotional Tuesday afternoon (August 7) as the newly-engaged couple was seen crying during their day out in New York City.
After a bike ride, Baldwin was seen comforting the pop superstar as he shed some tears and attempted to hide his face with his hands. Rubbing his back on the sidewalk, the 21-year-old model looked concerned for her fiancé, but the tears didn't stop there. Later in the afternoon, Baldwin was in tears herself as the pair sat in a Tribeca restaurant. Returning the affection, the 24-year-old star attempted to caress the model's face as she wept. Interestingly enough, Baldwin shared a photo of the pair later in the afternoon on her Instagram Story, making no mention or indication of their emotional afternoon.
Just last week, Bieber teased fans with a hint that his wedding with Baldwin could potentially be happening soon. When paparazzi caught up with the power couple, they asked what's next for the star. Instead of giving an update on the music front, Justin replied, "What's next? Getting married," according to a video on TMZ. After rekindling their relationship earlier this year, Bieber popped the question to his on-again, off-again girlfriend in the Bahamas on July 8. Days after TMZ broke the news, the singer confirmed his engagement via Instagram. "Hailey, I am soooo in love with everything about you!" he captioned the image. "So committed to spending my life getting to know every single part of you loving you patiently and kindLY. I promise to lead our family with honor and integrity letting Jesus through his Holy Spirit guide us in everything we do and every decision we make."
Chat About Justin Bieber & Hailey Baldwin Seen Crying On A Day Out In NYC