Quavo's Solo Album 'Quavo Huncho' Drops This Month
By Peyton Blakemore
September 5, 2018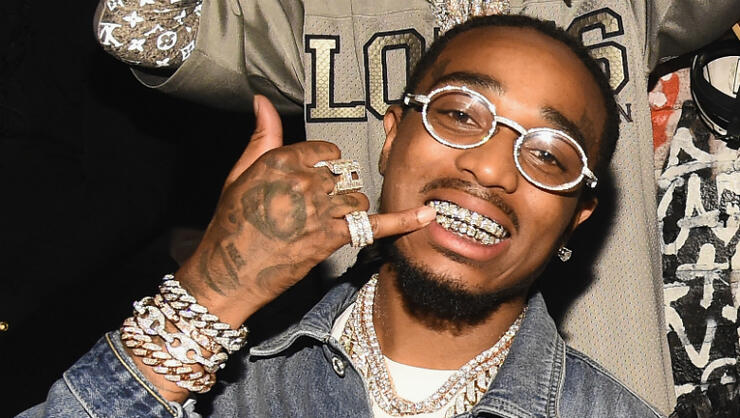 Quavo is gearing up for the release of his first solo album, Quavo Huncho, later this month.
The "Workin Me" rapper announced the news on Instagram Tuesday (September 4). "T H I S M O N T H Q U A V O H U N C H O T H A A L B U M," he captioned a photo that showed his hands with Quavo Huncho spelled out in diamond rings. He also wrote in his Instagram story, "This month is mine."
Last month, the Migos member teased his upcoming solo project on the Angie Martinez Show. While promoting his three latest singles — "Workin Me," "Lamb Talk," and "Bubble Gum" — the "No Brainer" rapper told Angie that his fans should prepare for even more music from him in the near future. "It's an alley-oop for the biggest slam dunk in the game," he said, referencing his next project. "It's gonna be crazy... It's on the way."
"Is it a full album? A full EP? What?" the radio host asked. "It's not you leaving [Migos]?"
"No. It's going places and coming back with the trophy so we can celebrate. That's it," he explained, before saying that something "crazy was on the way."
"Something real special on the way from your boy Honcho," he added. "It's for the culture. Always for the culture."
While the rapper seems to be focusing on his solo career these days, he's not saying goodbye to the Migos. The trio is currently on tour with Drake for their co-headling "Aubrey and the Three Amigos Tour," which concludes in November.
Most recently, the group collaborated with DJ Durel for his new track "Hot Summer." The single's music video was released on Tuesday (Septemeber 4), and it pays tribute to Spike Lee's 1989 film, Do the Right Thing.
Photo: Getty Images
Chat About Quavo's Solo Album 'Quavo Huncho' Drops This Month