Kanye West Surprises Crowd At Teyana Taylor's San Francisco Concert
By Peyton Blakemore
September 6, 2018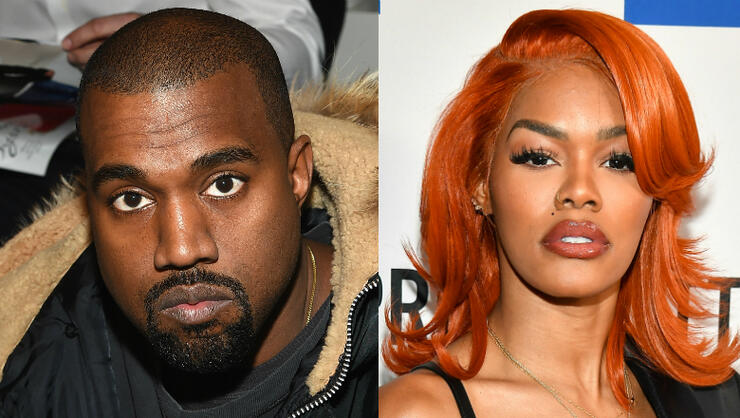 Mr. West was in the building!
Kanye West surprised fans at a Teyana Taylor concert on Wednesday (September 5). When he walked onstage to perform his collab, "Hurry," with Teyana, off her latest album KTSE, the "Lift Yourself" rapper was met by screams and fanfare from the shocked audience at Regency Ballroom in San Francisco. After the two performed the hit, West remained onstage a bit longer to film Teyana's set.
Kanye's surprise pop-up follows his public apology to Drake. Hours before Teyana's show, the "All Mine" rapper took to Twitter to apologize to the "God's Plan" rapper amid their alleged feud. As previously reported, Pusha T dropped two diss tracks in May, including, "Story of Adidon," which revealed to the world that Drake had a secret son. After its release, many speculated that Kanye was the one who told him about Drake's child, sparking the beef rumors between the two.
In a nine tweet apology, Kanye owned up to his part in Drake's feud with Pusha. Ye made it clear that he did not tell Pusha about Drake's son and he even admitted that he should not have been involved with any of Pusha's music "that had any negative energy" towards Drake. Kanye also apologized for "stepping on" Drake's album release date and for not keeping his word when he said he would put him on his single "Lift Yourself." To end his apology, Ye expressed his love for both Pusha and Drake, adding that he plans to go to one of Drake's concerts in "the next seven days to give love and be inspired by the art you have created."
Teyana is currently on her solo "KTSE ON Alse VII Tour."
Check out the footage from Kanye's appearance at Teyana's concert above!
Photo: Getty Images
Chat About Kanye West Surprises Crowd At Teyana Taylor's San Francisco Concert