Nicki Minaj Reportedly Won't Press Charges Against Cardi B After NYFW Brawl
By Paris Close
September 9, 2018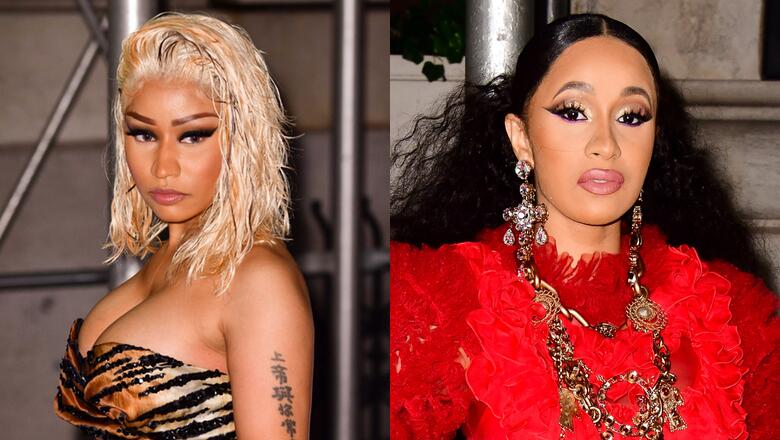 Nicki Minaj is letting Cardi B off the hook.
The Queen rapper reportedly won't press charges against the Bronx musician after she tried to strike Minaj during Harper's Bazaar ICONS party at New York Fashion Week Friday night (September 7).
Insiders close to the "Chun-Li" star told TMZ neither she nor her bodyguards were injured in the explosive fight — and quite frankly, that she was unbothered by the altercation. She was even spotted blowing kisses to the paparazzi after the conflict. So, to spare any lingering drama, Minaj is choosing not to file a police report. The NYPD has also confirmed no complaints have been made by either party.
In case you've been sleeping under a rock all weekend, the Invasion of Privacy artist caught herself in a heated brawl with Minaj and her crew that resulted in the 25-year-old exiting the function with a nice-sized lump above her left eye.
Video footage of the incident circulating online since late-night Saturday (September 8) shows the "I Like It" performer lunging at Minaj before security guards intervene, though not before Cardi took off one of her shoes and chucked it at the "Bed" MC.
Shortly after the fight broke out, Cardi was escorted out of the event barefooted and with her backside exposed through her torn dress. TMZ reported the 35-year-old, on the other hand, kept "cool as a cucumber" as the dust settled.
The altercation between Nicki Minaj and Cardi B, where Cardi reportedly initiated the fight by throwing her shoe, was allegedly caused by Nicki Minaj mentioning Kulture's name. pic.twitter.com/7rQblyWfWq

— Music News Facts (@musicnewsfact) September 8, 2018
Tensions had already been rising between the two stars — who've shaded each other plenty in the past — but the final straw supposedly came when Minaj brought up Cardi's daughter, Kulture, during the fight.
Cardi detailed the incident in a note shared to Instagram moments after everything went down:
"I addressed you once in person, and every time you copped the plea!! But when you mention my child, you choose to like comments about me as a mother, make comments about my abilities to take care of my daughter is when all bets are f**kin off!!" she wrote in an Instagram of her notes. "I've worked to hard and come too far to let anybody f**k with my success!!!!"
Chat About Nicki Minaj Reportedly Won't Press Charges Against Cardi B After NYFW Brawl