Beastie Boys Weigh in on Eminem's 'Kamikaze' Album Cover
By Katrina Nattress
September 18, 2018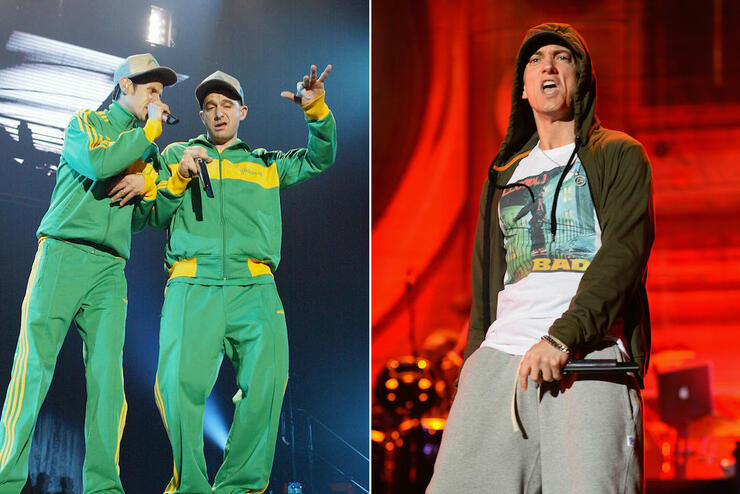 When Eminem surprise-dropped Kamikaze in late August, he unsurprisingly pissed off a lot of people with his unapologetic lyrical warfare, but he may have pissed off some other musicians, and this time it wasn't in the form of a diss track.
During a recent interview with George Stroumboulopoulos, the Beastie Boys' Ad-Rock and Mike D chatted about their long-awaited memoir, Beastie Boys Book and coming up in New York. During the hour-long discussion, Stroumboulopoulos brought up Slim Shady's new record. Namely, how similar the Kamikaze cover looks to the Beastie Boys' debut album, License to Ill artwork. The duo both agreed that they never got a heads up about Em's seeming homage to their 1986 album.
"I got maybe 10 text messages, 20 text messages. And I'm like, 'Why do I all of a sudden have like 50 text messages? I better see what's going on,'" Mike explained. "Everybody's forwarding me the album cover from, like, the Twitter feed, or whatever. So, that's how we found out about it."
Though they didn't sign off on the album artwork, they don't seem too upset about it. Which is good, because the last thing Marshall Mathers needs is more enemies.
Watch the full interview below and look out for the Eminem discussion at the 43:42 mark.
Chat About Beastie Boys Weigh in on Eminem's 'Kamikaze' Album Cover