T.I., Nick Cannon, 50 Cent & More React To Kanye West's White House Visit
By Peyton Blakemore
October 12, 2018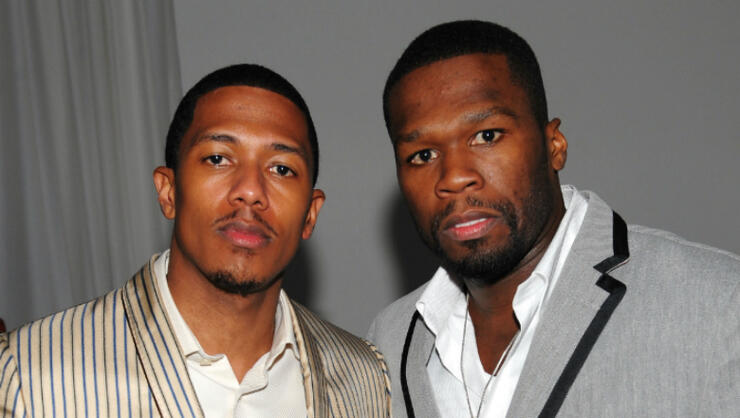 A large part of the hip-hop community is not too happy with Kanye West.
After Ye went on a ten-minute soliloquy in the Oval Office alongside President Trump on Thursday (October 11), many of hip-hop's biggest names took to social media to express their disdain for his words and actions.
As previously reported, the "I Love It" rapper went on what many have called a "dangerous rant," where he gave false figures and spewed false "facts" about the African American community. Ye, at one point, even hugged 45, telling him he looked up to him as a "hero" and felt like "Superman" when wore his "Make America Great Again" hat. While Kanye's actions sparked a visceral reaction for many, many of his peers were especially disappointed.
T.I. was one of the first rappers to publically reject Ye's behavior, writing on Instagram, "Now I've been extremely patient and made it a point to not jump to any premature conclusions about Ye'& his antics... But now this sh*t is next level,futuristic Sambo,Hopping Bob, Stephen off Django a** sh*t Ye!!!! From what I can gather... This is the most repulsive,disgraceful, Embarrassing act of desperation & auctioning off of one's soul to gain power I've ever seen."
Tip additionally called Kanye spineless and said he refuses to associate himself "with something so vile,weak,& inconsiderate to the effect this has on the greater good of ALL OUR PEOPLE!!!! I'm a true believer in 'It ain't what you do,it's how you do it.' And this sh*t is regurgitating🤮! At one time it was a pleasure to work alongside you... now, I'm ashamed to have ever been associated with you." He also asked that those who "follow" Ye stop.
50 Cent took a more satirical approach to his slamming of Ye, captioning a photo of Trump in a "SuperTrump" outfit carrying a flailing Kanye, "You make me feel like Superman, Obama said l was a idiot f**k these ni**as lm wit you Master. Let's make America great again LOL🤨get the strap."
Check out more celebrity reactions below:
Convinced that's a Kanye West Clone!! LOL 🤦🏾‍♂️They messing with my brothers mind. #MKULTRA is real! His Spirit is pure though. Let's not give up on our guy! His message of Love is real but he is allowing devils to take advantage of his vulnerability & treat him like a puppet

— Nick Cannon (@NickCannon) October 11, 2018
This is why what Kanye is doing is dangerous. He is putting us directly in the scope of vile racists like @not_reilly1 who say that black ppl who don't support Trump are slaves on a plantation. Considering the actual history of chattel slavery, this is a VERY racist tweet. https://t.co/RyMT6vU9km

— Talib Kweli Greene (@TalibKweli) October 11, 2018
Chat About T.I., Nick Cannon, 50 Cent & More React To Kanye West's White House Visit