Vince Neil Just Finished Recording Two New Mötley Crüe Songs
By Andrew Magnotta
October 24, 2018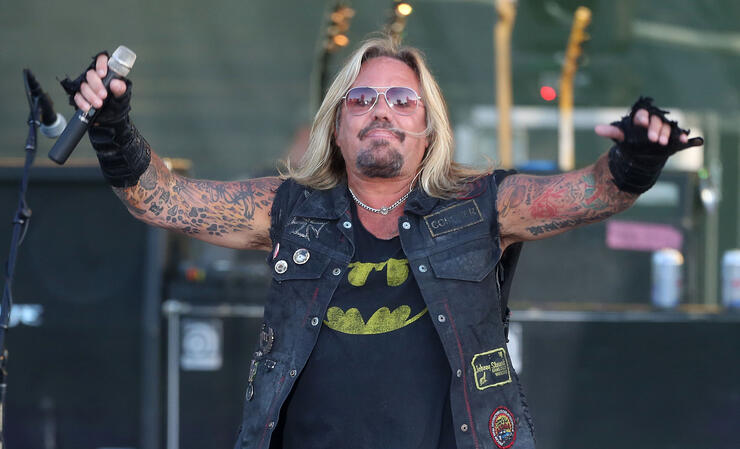 Mötley Crüe has vocals on at least two of its four new songs to go with the infamous glam band's biopic, The Dirt, which is coming to Netflix.
Front man Vince Neil revealed via Twitter this week that he completed two songs with producer Bob Rock, one of which is the title track for the film.
"Great recording with him again!" Neil said in a Tweet that included a photo of himself and Rock in the studio.
Updates around the new batch of tunes by Neil, drummer Tommy Lee and bassist Nikki Sixx have all conveyed excitement around the band's recent return to the recording studio.
Sixx, who had been the most quiet of the three (guitarist Mick Mars has yet to comment on the work), recently broke his silence, raving about how good the band was sounding.
"F*** can I just say it?" Sixx tweeted. "I'm listening to the roughs of the new Mötley Crüe and it feels real and raw. Everybody is playing like mad and the songs crush. Bob Rock brought the sounds. Plus we have a surprise that will confirm that we're outta our minds."
While the band appears to be eager to share its movie, Neil and Sixx have continually downplayed the suggestion that Mötley Crüe will tour again.
"We never broke up or said we would never make music again," Neil said, responding to fan questions on social media. "Hopes this clears it up."
The Dirt had been gestating for over a decade before Netflix took over the project last year.
While the film is in post-production, the streaming platform has yet to announce a release date.
Photo: Getty Images
Chat About Vince Neil Just Finished Recording Two New Mötley Crüe Songs