Blake Shelton Declares His Love For Gwen Stefani At People's Choice Awards
By Hayden Brooks
November 12, 2018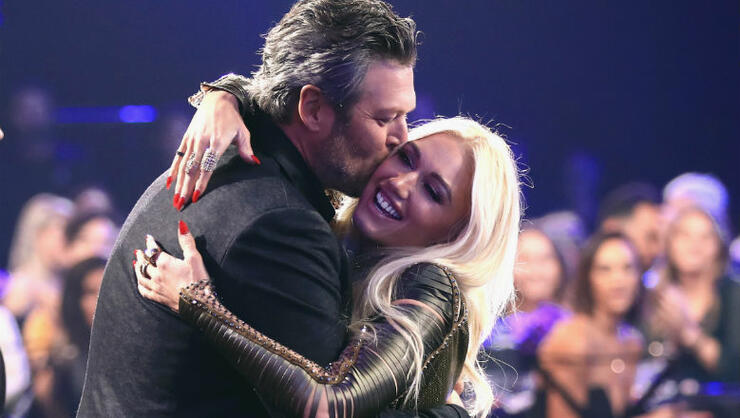 Blake Shelton doesn't have any hesitations about declaring his love to Gwen Stefani as witnessed by his speech at the 2018 E!'s People Choice Awards in Santa Monica alongside Carson Daly on Sunday night (November 11).
During the ceremony, Shelton and his Voice colleague took the stage to accept the award for Choice Competition Show, but not before the former stood up and embraced Stefani with a big kiss and hug. "I want to thank Gwen Stefani and all of our couches on The Voice," Daly told the crowd at the podium, which prompted cameras to pan to the former No Doubt frontwoman sitting close to the stage. "All-time favorite coach right there ... Gwen Stefani," the country titan said while pointing to his leading lady. "I love her. Thank you guys so much!"
Immediately after, Gwen appeared slightly embarrassed when the pair encouraged her to head over to the stage. "What am I doing up here?!" Stefani in front of the audience. "I'm so excited to be with Blake Shelton." Daly pushed for the jokes when he chimed in at the very end of their time at the podium, saying, "They're going to get a room." See the moment unfold below!
If you missed out on the 2018 E!'s People Choice Awards, scroll on below to watch the entire show, which included an opening number by Nicki Minaj and Tyga, the Kardashians' tribute to the first responders dealing with the California wildfires and so much more.
Chat About Blake Shelton Declares His Love For Gwen Stefani At People's Choice Awards