Snoop Dogg Is Getting A Star On The Hollywood Walk of Fame
By Peyton Blakemore
November 14, 2018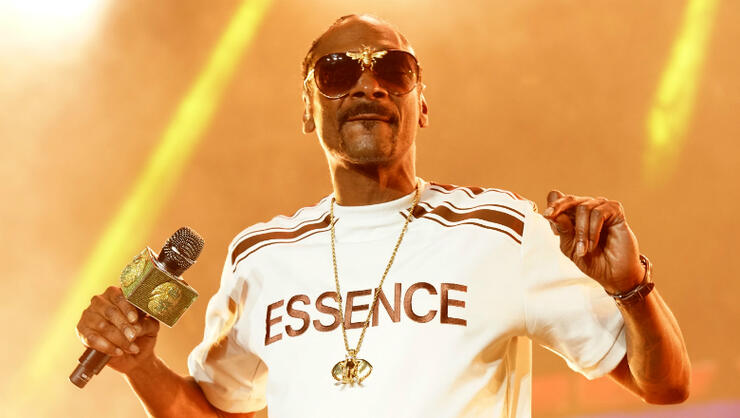 Snoop Dogg is finally getting a star on the Hollywood Walk of Fame.
After years in the game, Variety reports the 47-year-old legendary rapper, who has released 16 studio albums, will be presented with his gold plaque on Tuesday (November 19). The ceremony will take place on Hollywood Boulevard in front of Jimmy Kimmel Live!. Jimmy Kimmel will present Snoop with the honor, alongside the "Gin & Juice" rapper's longtime friend and collaborator Dr. Dre and music legend Quincy Jones.
"Snoop Dogg is one of those people who can do anything. He raps, he acts, he hosts a television show, he cooks, and helps community kids with his philanthropic work," producer of the Hollywood Walk of Fame, Ana Martinez, said in a statement. "He is a man of the ages and we welcome him to our Hollywood Walk of Fame."
Snoop didn't just get a star on the Hollywood Walk of Fame for being an OG of hip-hop. As Ana noted, he's an all-around entertainer and business man.
Last month, the legendary stoner released a cookbook that detailed the ways one satisfies the munchies. From Crook to Cook features over fifty diverse recipes that include stoner-friendly dishes, like baked mac and cheese and chicken and waffles, to fancy (cook-to-impress) dishes, like lobster thermidor and filet mignon. Snoop also made sure to include his signature gin and juice recipe in the 192-page cookbook. "You know it's blazin' up in my kitchen. I'm takin' the cookbook game higher with a dipped and whipped collection of my favorite recipes, ya dig?," Snoop said in a statement.
Snoop definitely knows his way around the kitchen as he's been a co-host on Martha and Snoop's Potluck Dinner Party since 2016 alongside Martha Stewart.
In addition to his hosting, cooking, and writing duties, Snoop is also currently starring in the live play, Redemption of a Dogg, alongside Tamar Braxton. And if that wasn't enough, days after he receives his star, Snoop is hitting the road for his "Puff Puff Pass Tour."
Photo: Getty Images
Chat About Snoop Dogg Is Getting A Star On The Hollywood Walk of Fame