Carrie Underwood's Due Date For Second Son Revealed
By Paris Close
November 23, 2018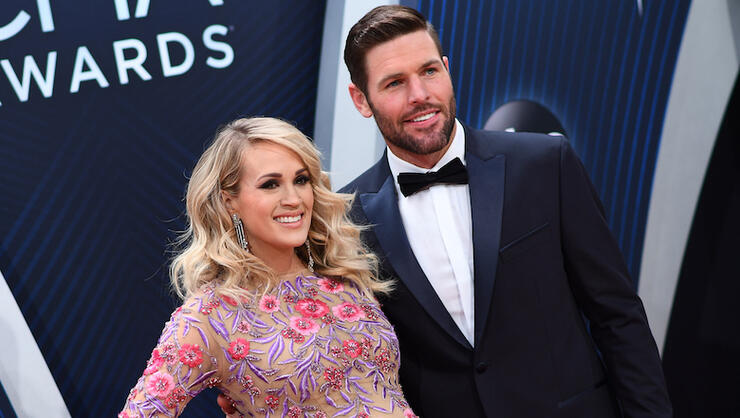 Just a little bit longer before Carrie Underwood's baby boy arrives!
In August, the country singer announced she was expecting her second child, a son, with husband Mike Fisher. Still, the couple has remained mum on announcing the due date for their newest addition, but it seems their firstborn son, Isaiah, will become a big brother in the new year.
At the 2018 Country Music Association Awards last Wednesday (November 14), Maddie & Tae member Taylor Dye exclusively told Us Weekly that the "Spinning Bottles" singer was due in January. "We've already offered to babysit," said Dye, who will open for Underwood's "Cry Pretty Tour 360" next year.
It was also during the annual country event that Underwood herself had confirmed the sex of her second baby boy while opening the CMA Awards with Brad Paisley. "It took us a while to get here … I'm gonna cry again," she told Us Weekly backstage at the ceremony. "[I'm] just so thankful … to find out Isaiah's gonna have a baby brother. It was just great news. We're excited."
After marrying in 2010, the American Idol alum welcomed her first son with Fisher in February 2015. In September, the 35-year-old confessed she endured three miscarriages while trying for another child with her husband.
"I'd kind of planned that 2017 was, you know, going to be the year that I work on new music, and I have a baby," Underwood told CBS Sunday Morning at the time. "We got pregnant early 2017, and didn't work out."
The constant misfortunes, however, had put Underwood's faith to the test: "…it was like, 'Okay, God, we know this is, just wasn't Your timing," the 35-year-old musician reckoned. "And that is all right. We will bounce back and figure our way through it.'"
Photo: Getty Images
Chat About Carrie Underwood's Due Date For Second Son Revealed