Chris Brown Comments On Rihanna's Racy Instagram Pic — The Navy Goes Off
By Paris Close
November 26, 2018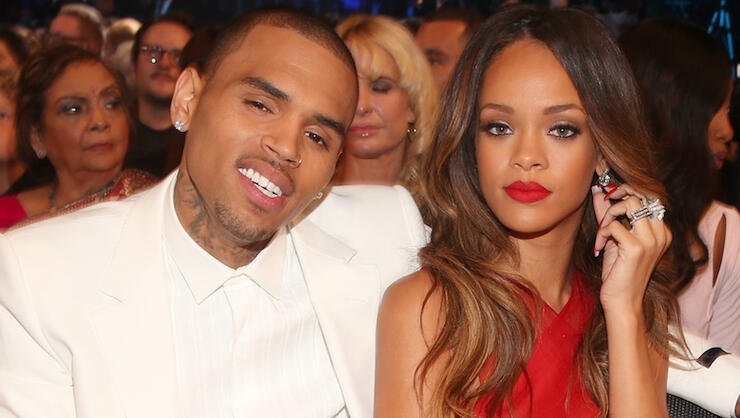 Fans caught Chris Brown lurking on Rihanna's Instagram and rightly let him have it.
The "Work" singer encouraged fans to get a little naughty this Christmas when she modeled an upcoming item from her Savage x Fenty holiday collection via Instagram on Black Friday (November 23). In the promo shot, Rihanna lays topless on a bed wearing red lingerie with the word "Naughty" written across its black band, along with black stilettos, stockings, and suspenders to top off her red-hot look.
Just as the cash out celebration about to end, RiRi took to Instagram Sunday (November 25) with another smoking pic in the same outfit, only this time flaunting her curves, catching the attention of an unwanted guest who happened to be Brown, who left his ex-girlfriend a "flushed" emoji.

She didn't reply — for obvious reasons — but her Navy sure did.
"Stay away from her you woman beater are you serious you have a lot of nerve!!!" one user wrote. Another concurred, writing, "@chrisbrownofficial everyone saying get her back must have forgot the picture of her after he beat the s**t out of her. She deserves better!"
The "Diamonds" singer infamously dated the R&B crooner 10 years ago before he was arrested in February 2009 for physically assaulting her, earning him five years of probation, 180 days of community service and one year of an anti-domestic violence program. Not to mention, Brown virtually became an outcast amongst his Hollywood peers as the incident continues to haunt him in the headlines.
Still, some defended the 29-year-old, simply asking his detractors let him be, as one remarked, "He made one mistake in life and the whole world comes shooting at him."
Photo: Getty Images
Chat About Chris Brown Comments On Rihanna's Racy Instagram Pic — The Navy Goes Off