Drake Calls Kodak's New Album One Of His 'Favorites In The Last 5 Years'
By Peyton Blakemore
December 17, 2018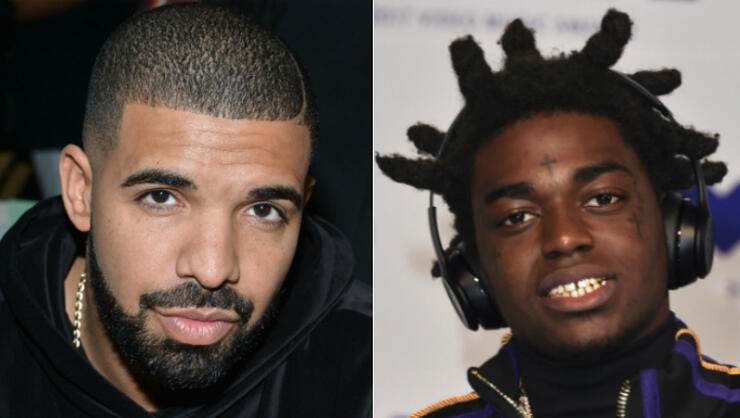 Kodak Black's new album, Dying to Live, has Drake literally in his feelings.
On Sunday (December 16), Kodak shared a screenshot of a touching text message Drake sent him, praising the "Wake Up In The Sky" rapper's recently released second studio album. "Bro your album really one of my favorites in the last 5 years," the Canadian rapper texted Kodak. "The bars you are rapping about friends and your purpose is so pure. What got you there? Like you are almost talking from this god level birds eye view of your own life. I wanna know how you broke that wall." In the caption of the screenshotted text message, Kodak also praised Drake, writing: "@champagnepapi Down To Earth Thank You 🙏🏿 🧡."
Earlier in the day, Drake publically applauded Kodak's work, sharing a screenshot the Florida rapper's song "Could of Been Different" with multiple ice-face emojis and okay hand emojis to his Instagram Story.
Dying to Live follows Kodak's debut studio album, Painting Pictures, which he released in March 2017. The Florida rapper also dropped three mixtapes — Project Baby 2, F.E.M.A (with Plies), and Heart Break Kodak — ahead of the release of Dying to Live. The 16-track project features Lil Pump, Travis Scott, and Juice WRLD.
As previously reported, Kodak put all of his energy into his comeback after he was released from prison, after serving 7 months of his initial yearlong sentence, back in August. While the "Roll in Peace" rapper could have been making tons of cash on club appearances and performances after he was released, TMZ reported at that time that Kodak was focusing solely on giving his fans new music.
Kodak — who was sentenced to one year in jail after pleading guilty to two probation violations, including driving with a suspended license and "associating with people committing crimes" — also made the most of his time behind bars. According to the gossip site, Kodak was in solitary for most of his time behind bars and spent that time writing new music. "There's times he's sharing with me what he's written down, what he's working on," Dyryk, Kodak's producer/engineer, told Complex about the rapper's time in jail. "For the times that he wanted to record over the phone, he was like, 'Man, record this real quick.' And I just record it. I know it's fresh in his mind."
He additionally earned his GED, and legally changed his name to Bill K. Kapri, in an effort to have what his lawyer Bradford Cohen called a "fresh start."
Photo: Getty Images
Chat About Drake Calls Kodak's New Album One Of His 'Favorites In The Last 5 Years'