All the Unseen Photos From Miley Cyrus And Liam Hemsworth's Wedding
By Emily Lee
December 28, 2018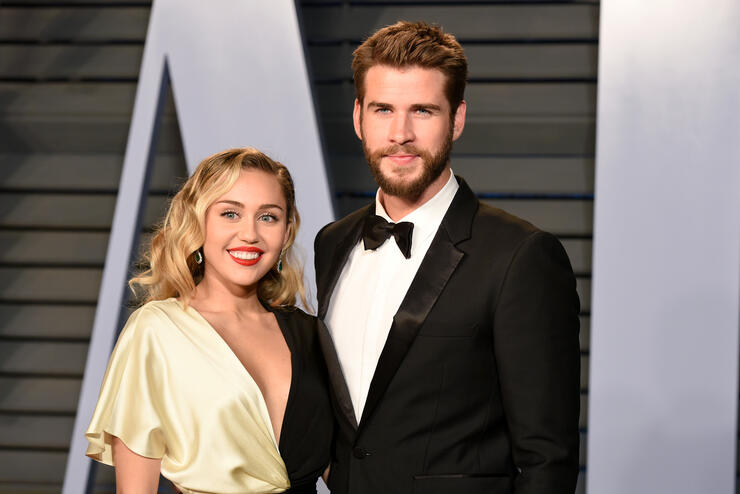 The secret is officially out: Miley Cyrus and Liam Hemsworth are married. The longtime couple quietly tied the knot in an intimate ceremony at their Franklin, Tennessee home on Sunday (Dec. 22). They were surrounded by their immediate families and a few close friends as they said: "I do." Photos from their nuptials are finally being posted online, so, we rounded them all up for you to ogle in one place. You're welcome.
Miley kicked things off by sharing a series of gorgeous photos with her groom. The newlyweds embraced in front of their floral altar, with Miley giving her followers a glimpse of her stunning Vivienne Westwood gown. "10 years later..." she captioned the sweet shot.
Miley's mom, Tish Cyrus, shared a beautiful portrait of the bride with her dad, Billy Ray Cyrus.
Billy Ray shared a series of photos, as well, including a group shot of everybody gathered around as Miley and Liam cut their wedding cake.
He also posted a photo with both Miley and Tish in front of the altar.
Billy Ray shared another photo of Miley and Liam right after they said: "I do."
Miley's future sister-in-law, Stella McBride, shared photos from the wedding with her fiancé Braison Cyrus. Braison is, of course, Miley's younger brother.
Conrad Carr, a close friend of Miley and Liam, shared a video of Liam, his dad, and brothers doing a shot together.
Congratulations to the happy couple!
Photo: Getty
Chat About All the Unseen Photos From Miley Cyrus And Liam Hemsworth's Wedding