Nancy Pelosi And Chuck Schumer Scold President Trump In Rebuttal Speech
By Bill Galluccio
January 8, 2019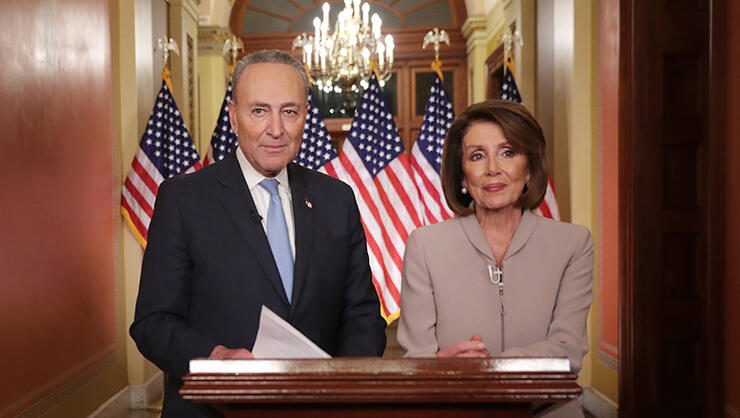 House Speaker Nancy Pelosi and Senate Minority leader Chuck Schumer accused President Donald Trump of promoting misinformation and malice and said he has chosen fear over facts. Responding to the president's first Oval Office address, Pelosi said that there are smart and effective bipartisan solutions that would curb illegal immigration. She said that Trump is holding federal workers hostage by refusing to accept their compromise solution, which does not include wall funding.
"The fact is: President Trump has chosen to hold hostage critical services for the health, safety and well-being of the American people and withhold the paychecks of 800,000 innocent workers across the nation – many of them veterans."
Schumer said Trump prompted the ongoing, partial government shutdown by throwing a tantrum over building a massive border wall. Schumer said that the wall will be ineffective and is unnecessary. He said the symbol of America should be the Statue of Liberty, not a 30-foot wall.
"We can secure our border without an expensive, ineffective wall. And we can welcome legal immigrants and refugees without compromising safety and security. The symbol of America should be the Statue of Liberty, not a thirty-foot wall."
Photo: Getty Images
Chat About Nancy Pelosi And Chuck Schumer Scold President Trump In Rebuttal Speech