A Fan Made the Perfect Plush Ned For Twenty One Pilots & We Can't Handle It
By Katrina Nattress
February 5, 2019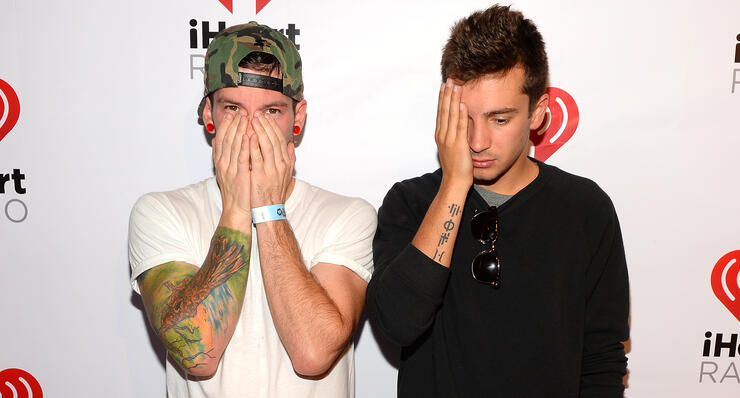 Last month, Twenty One Pilots introduced us to Ned and our lives changed forever. The chunky, fluffy VFX character starred in the duo's "Chlorine" video, and it was love at first sight. Since the visuals dropped, Clique members all over the world have been creating fan art based on the mysterious creature, but one Russian artist may have everyone beat.
@oviyvo's Instagram feed is filled with whimsical creations she thinks up and brings to life, and before TØP's St. Petersburg show, she stitched up a giant plush Ned that is seriously too cute to handle. What makes it even more adorable is the fact that she made it as a gift to Tyler Joseph and Josh Dun.
"YOU GUYS ARE CRAZY! You just break my instagram with comments, thanks for such an amazing feedback. It means a lot to me!" she wrote alongside a couple photos of her holding the snuggly creation. "I didn't have enough time to take photos, because I was in a hurry to go to the concert and finished Ned at the last minute. it was made specifically for TØP as a gift, hope they got it. Planing to make a smaller copy very soon."
"I am happy to share my art with you, hope you will follow me further," she continued. "It's very big and really hard to make, I had never done anything that size. There was not enough time, so now I would have done a lot of things differently, but this is a great experience and precious memories for me."
Girl, you don't have to change anything—HE'S PERFECT! We hope Tyler and Josh received their gift and love him as much as we do. Check out @oviyvo's post below.
Twenty One Pilots are up for an iHeartRadio Music Award this year for "Best Duo/Group of the Year." Find out who will be taking home an award this year by tuning into FOX on March 14th where the show will be broadcast live from the Microsoft Theater in Los Angeles from 8-10pm ET/PT.
Photo: Getty Images
Chat About A Fan Made the Perfect Plush Ned For Twenty One Pilots & We Can't Handle It