Ellen DeGeneres Helps Florida Georgia Line Star Learn Gender Of Baby No. 2
By Hayden Brooks
February 21, 2019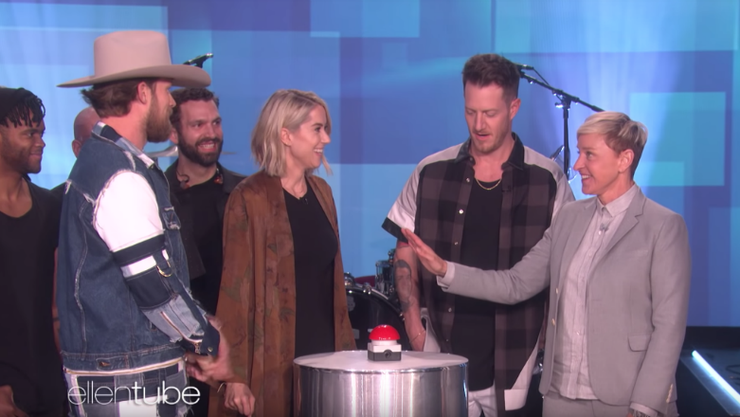 Leave it to Ellen DeGeneres to help an expecting couple discover the gender of their new baby. On Thursday's episode (February 21) of the daytime talk show, the beloved host helped Florida Georgia Line star Tyler Hubbard and his wife learn that they're expecting a baby boy.
After revealing that he and his wife, Hayley, are expecting their second child on the Grammy red carpet, he and his FGL bandmate Brian Kelley took to the talk show for some album promotion and DeGeneres took it upon herself to help out with the reveal. "So do you know what you're having yet?" the host asked Hubbard, to which he replied, "We don't. We find out Friday actually." Much like she always does, DeGeneres was armed with a surprise and led the pair off the couches to her side stage, where Hayley was hidden behind a backdrop. "Don't tell me this is about to happen on TV. I thought we were just going to cut a cake or something on Friday," Hubbard said, before the group stood in front of a red button. After a drum roll, DeGeneres and Kelley pressed the button, to which blue confetti poured into the air and a screen revealed that they're having a baby boy. The two are already parents to 1-year-old daughter, Olivia, who was born just before Christmas 2017.
In addition to the big reveal, the country titans also performed "Talk You Out Of It" off their recently released fourth studio LP, Can't Say I Ain't Country, which is currently expected to move sell 30-35K pure US copies this week. With units and streams, the album may generate 45-50K in first-week units.
Photo: YouTube/The Ellen Show
Chat About Ellen DeGeneres Helps Florida Georgia Line Star Learn Gender Of Baby No. 2