Mastodon To Release "Stairway To Heaven" Cover For Cancer Research
By Andrew Magnotta @AndrewMagnotta
March 1, 2019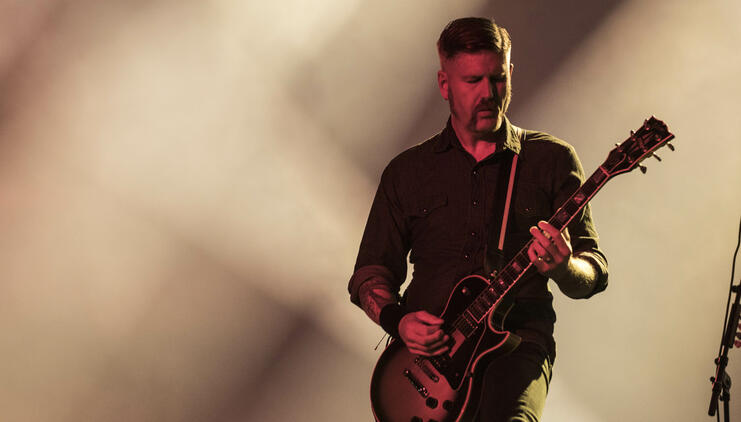 Mastodon's contribution to Record Store Day this year will be a cover of Led Zeppelin's "Stairway To Heaven" in tribute to the band's late-manager, Nick John, who died last September from pancreatic cancer.
Proceeds from sales of the single will be donated to pancreatic cancer research, says the band in a statement.
"I early September 2018, we lost one of our closest friends and our biggest fan, our manager Nick John," read the statement. "He was essentially the band's Dad. From our highest highs to our lowest lows, he was always there. Every single move me made went through him first as our trust in him was marrow deep. His favorite band besides us and Gojira, was Led Zeppelin."
The statement continued, explaining that Mastodon was asked to perform "Stairway To Heaven" at John's funeral. When the band found out the performance had been recorded, they decided to record a studio version for release on Record Store Day "as a tribute to Nick."
"We would not be the band we are today without the help of Nick John. We miss him dearly and think of him always. We love you, buddy."
The limited edition 10-inch vinyl features both Mastodon's studio version of "Stairway" on Side A, and the live version played at John's funeral on Side B. It will be available at participating record stores on Saturday, April 13.
"All of the proceeds benefit Hirshberg Foundation for Pancreatic Cancer Research," concluded the band.
The members of Mastodon and Gojira publicly expressed their heartbreak after learning of John's terminal prognosis late last summer.
Mastodon abruptly canceled its tour dates in September in order to be by John's side during his final days and to grieve following his passing.
The Atlanta-based metal band won a Grammy for a song on its latest Emperor of Sand album, which was inspired by the cancer battles of guitarist Bill Kelliher's mother and bassist Troy Sanders' wife.
Mastodon's spring/summer tour with Coheed And Cambria begins in May. Get all the tour dates here.
Photo: Getty Images
Chat About Mastodon To Release "Stairway To Heaven" Cover For Cancer Research