Did Meek Mill Just Diss Nicki Minaj On His New Song?
By Peyton Blakemore
March 5, 2019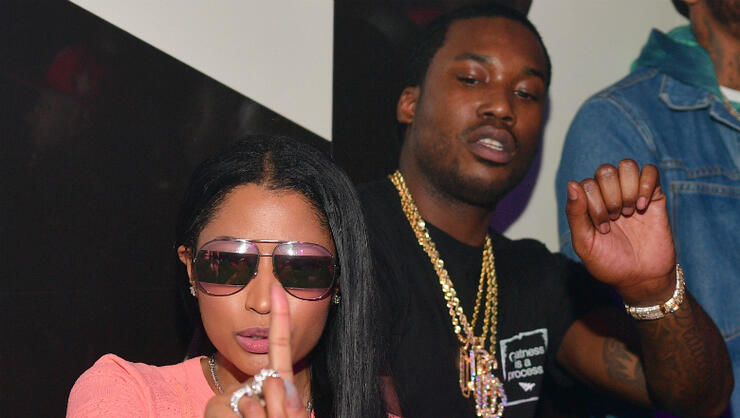 Meek Mill is denying he shaded his ex-girlfriend, Nicki Minaj, and her new man, Kenneth Petty, in a new song.
After NBA player James Harden shared snippet of him listening to the unreleased track to his Instagram Story Monday (March 4), fans immediately bombarded social media claiming Meek was shading Nicki's new relationship in his bars.
"This sh*t is beyond me. You was supposed to be my Beyonce now you this n****s fiancee? What?," Meek raps on the track. "F**k you mean you feel a connection? He listen to you, what? This n***a wear Balenciaga with boot cut jeans. What the f**k you losing your mind? Ayo, call my fucking phone back yo."
"Every time you post this n***a I wanna smoke this n***a," he continued. "We just broke up last year how you know this n***a? You was cheating on me? You was creeping on me?"
Many thought the bars were referencing Nicki since she was his last public relationship. Not to mention, Nicki has not stopped gushing about Kenneth since the two went public with their relationship in December.
While the Internet may have been convinced Meek was taking shots at Nicki, he denied it on Twitter, explaining that he's had multiple girlfriends since his two-year relationship with Nicki ended in January 2017. "Stop the bap I'm like on my 6 girl in the last 2 years let me live," he wrote.
Last month, fans accused Meek of shading Nicki during his Twitter feud with Michael Rapaport. After he cropped her out of a photo, and appeared to refer to her as "Anonymous," fans quickly called him out for it. "Meek you cancelled ahhhkayyy how dare you refer to Nicki as Anonymous," one fan wrote on The Shade Room, who shared the cropped and not cropped photos to Instagram. A second fan commented, "She Would've Done It Too... Where's The Foul?"
Meek's alleged shade came a month after Nicki literally stopped her show in Australia to call him out, interrupting her hit "Barbie Dreams." Right after she rapped the lyric "Meek still be in my DMs, I be having to duck him," she told the DJ to "hold on," pausing the music, and she rapped the line again with emphasis. Nicki then proceeded to tell the audience: "I mean, I could tell you secrets but I won't, 'cause being a bitter bi*ch is what I don't." The Philly rapper didn't waste any time responding to his ex's threat, issuing a warning of his own. "Why you be sooo mad at me and not the people that came right at ya neck! I'm cool I'm doing good lol something is wrong here," he wrote. "Leave me alone you know I get a lil too out of control with the truth!" Meek concluded his response with, "Keep it classy."
Photo: Getty Images
Chat About Did Meek Mill Just Diss Nicki Minaj On His New Song?