Jason Aldean To Receive Artist Of The Decade Award At ACM Awards
By Paris Close
March 8, 2019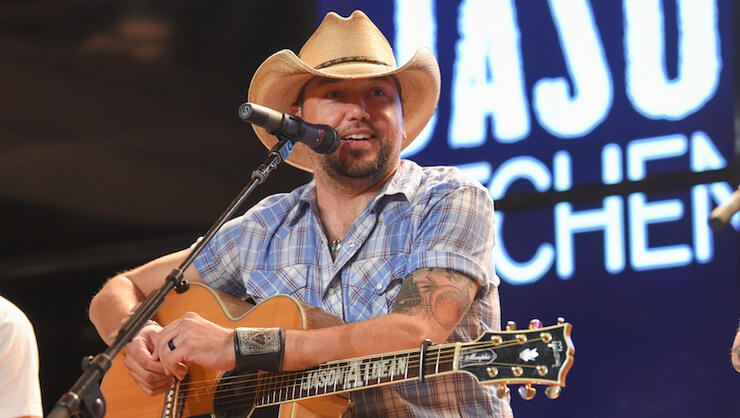 Jason Aldean will be honored with the ACM Dick Clark Artist of the Decade Award at this year's ACM Awards.
The Academy of Country Music saluted Aldean on his milestone via a press statement on Thursday (March 7). "On behalf of our Special Awards Committee, our Board of Directors and Academy staff, we extend our congratulations to Jason and his entire team on this landmark career achievement," said Pete Fisher, CEO of the Academy of Country Music. "We look forward to celebrating Jason's remarkable career at our 54th annual awards in Las Vegas."
The annual awards show, which celebrates its 54th ceremony next month, will bestow the coveted title to the "You Make It Easy" singer, who becomes the sixth recipient to receive the recognition behind country greats Marty Robbins (1969), Loretta Lynn (1979), Alabama (1988), Garth Brooks (1998), and George Strait (2008).
"This is probably one of the coolest awards I've ever been given," said Aldean in a press release. "My heroes are on this list, something I can't really even wrap my head around being part of. But, man I'm proud to be getting it – it's for everyone who stuck with us and supported us through the years."
In addition to accepting the prestigious honor, Aldean, a three-time reigning ACM Entertainer of the Year champion, is also in the running for his fourth prize in the category as well as for Music Event of the Year.
The 2019 ACM Awards, hosted by Reba McEntire, airs live on Sunday, April 7, at 8:00 p.m. EST on CBS.
Photo: Getty Images
Chat About Jason Aldean To Receive Artist Of The Decade Award At ACM Awards