Wolfgang Van Halen Takes On Trolls Over Van Halen Song Dedicated To Him
By Andrew Magnotta @AndrewMagnotta
March 19, 2019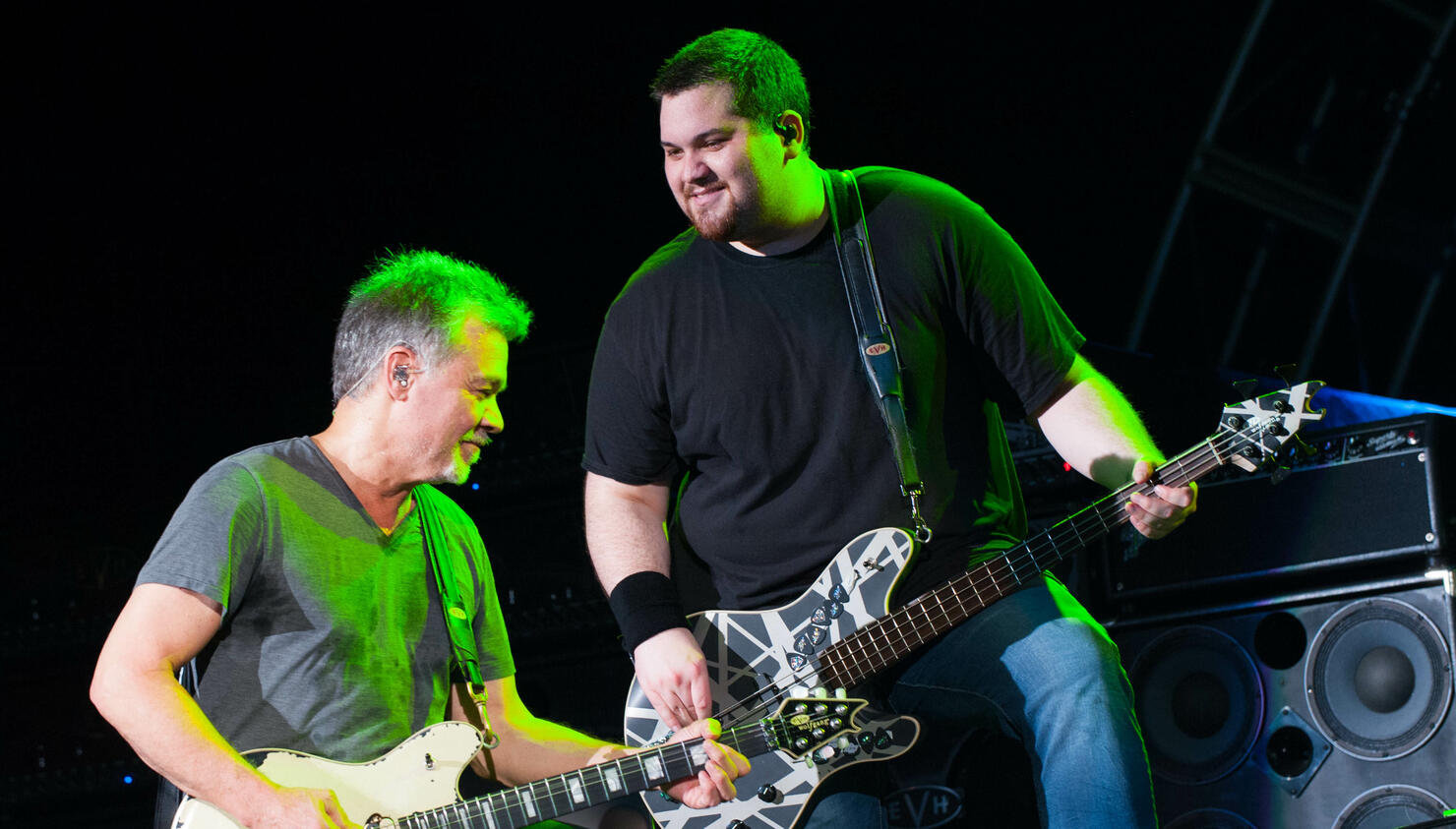 Not only is Wolfgang Van Halen a virtuoso musician who's a member of one of the biggest rock bands of all-time, he's also a natural at handling online trolls.
It can't be easy being the son of an icon, especially in the social media age, but when Van Halen wades into his mentions, he typically handles his detractors with the utmost wit and sarcasm.
It began as many of these situations do, with a genuine message from one person to another that couldn't possibly be taken out of context. This time it was Eddie Van Halen wishing his son, Wolfgang, a happy birthday this past Saturday in a message posted to Twitter.
When a fan seconded Eddie's birthday wish and mentioned the 1991 Van Halen instrumental "316" — titled in reference to Wolfie's March 16th birthday — things got very stupid, very quickly with a very ill-conceived 'well actually' from another Twitter user.
"Actually he wrote 316 in 1986 or before. You can hear him play it as part of his guitar solo live on LIVE WITHOUT A NET video release that was for the 5150 tour of '86," wrote a troll called Jason, who went on to question whether the song was "really written" for Wolfie.
Wolfie responded and chronicled his replies via his Instagram Story.
He began by paraphrasing the know-it-all, writing: "'You know that song your dad wrote for you? Well he actually didn't. Believe me, I would know.'"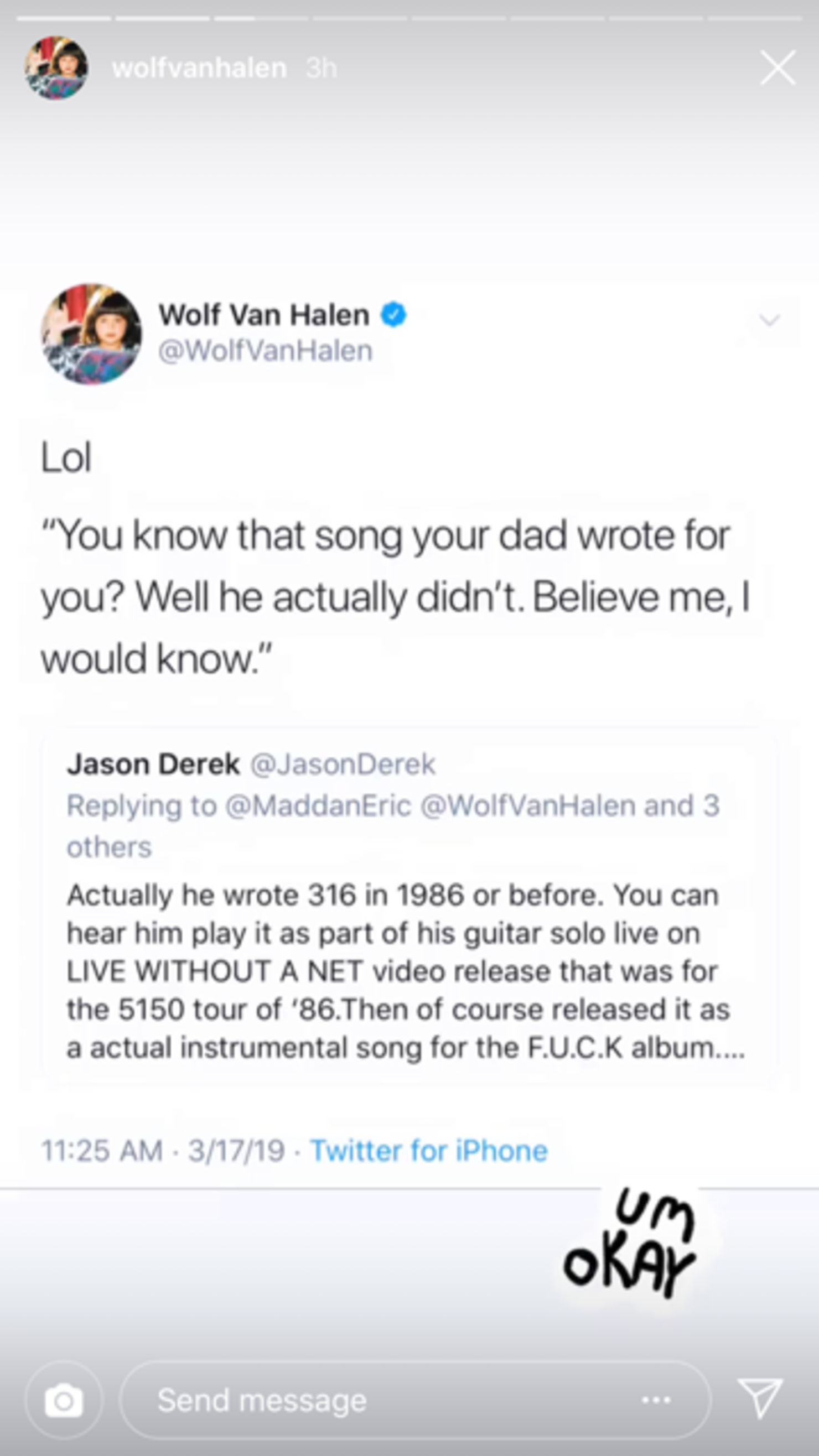 Another user piped up to defend Troll Jason on the grounds that he, too, heard the "316" idea in the '80s and also has been playing guitar for a long time. Shouldn't we all be impressed?
"Going out of your way to tell me that the song my father dedicated to me, isn't for me, just because it was an idea he had played before I was born, doesn't make it any less dedicated to me," Wolfie wrote in reply. "Y'all don't get to decide that. You people blow my mind."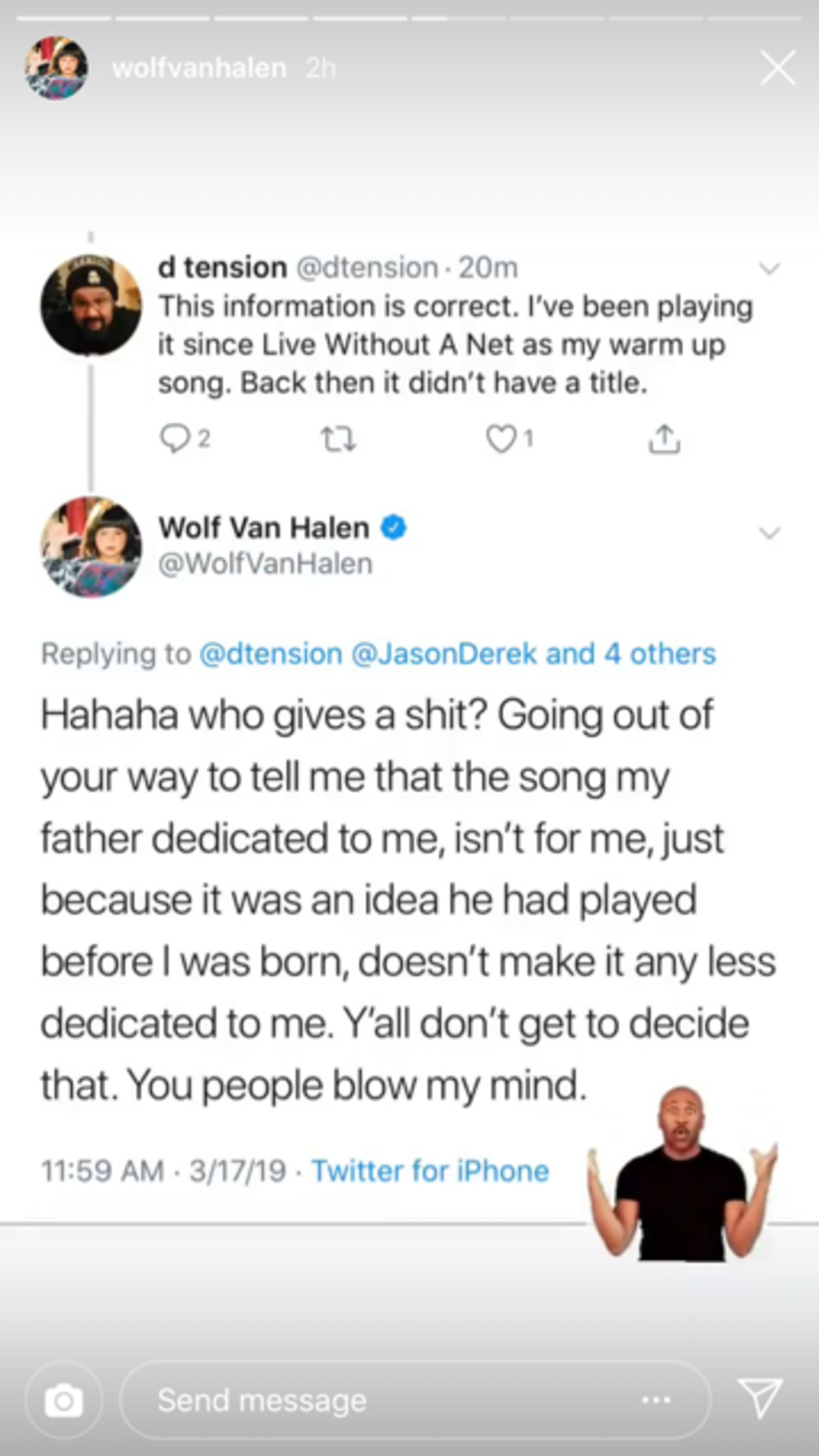 Then another much more well-grounded Jason (@jason_baldock) gifted the world a fantastic new verb.
"Van Splainin'," he wrote amongst the replies.
Wolfie rated the comment a 10/10. We fully support this rating.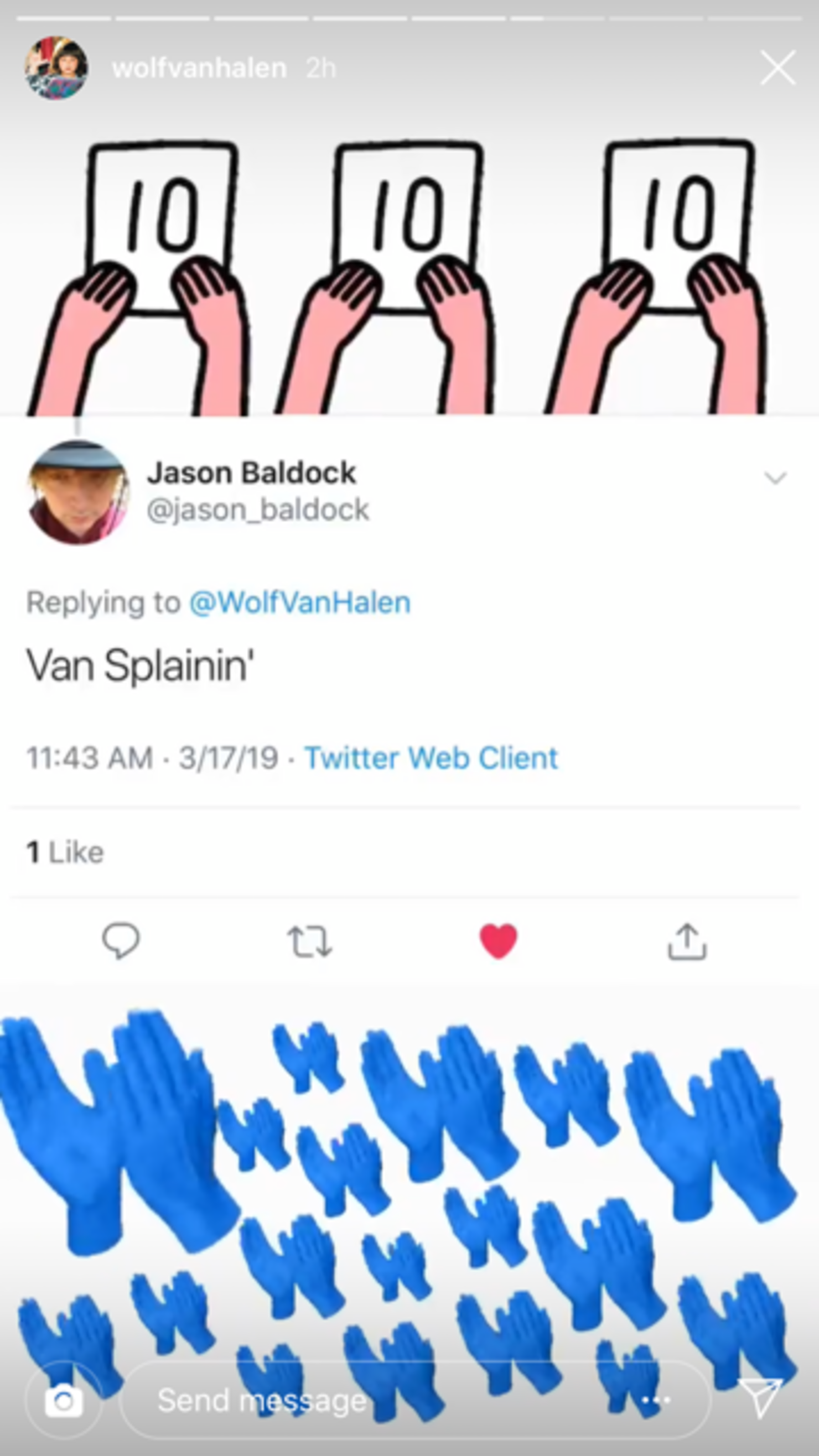 Then another clueless social media user replied to Wolfie via Instagram.
"You need to chill bro," wrote the troll. "An entire generation of people grew up worshipping your father. he was part of their childhood and teenage years. he has fans and they think they know everything about it. Deal with it. Lol"
We're pretty sure Wolfie is both "chill" and "dealing with it," but the Van Halen bassist replied, reminding the user who he was talking to.
"I'm gonna go out on a limb here, and say that he was part of my childhood too," Wolfie wrote, regarding his father. "Maybe just a little bit more."
To that point, a few years ago on Wolfie's 25th birthday his mother, Valerie Bertinelli, posted a photo of Eddie playing "316" at home with his guitar resting upon her pregnant belly in early 1991.
"Ed playing 316 on my growing tummy, before he knew he would call it 316," she wrote in the caption.