Sublime Bassist Rushed To Hospital After Getting Crushed By ATV
By Katrina Nattress
April 9, 2019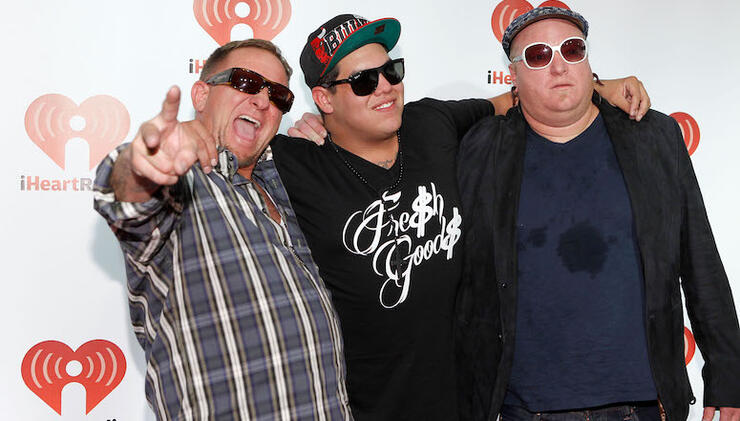 Sublime With Rome bassist and Sublime founding member Eric Wilson was rushed to the hospital on Thursday (April 4) after a freak ATV accident left him seriously injured.
The band's manager Cheez told TMZ that Wilson was working on his avocado ranch in California when his ATV rolled over and crushed him. Paramedics were called to the scene and took him to a hospital near San Diego, where he was diagnosed with a broken arm and four broken ribs. Wilson underwent surgery that lasted nearly five hours. Though he's still in the hospital, he's expected to recover and be released this week.
Over the weekend, the band took to Twitter to update fans on Wilson's status. "Eric says thanks for the well wishes! He's doing much better. F***in' avocados, man. They'll get you every time! #donttrythisathomekids" they wrote before posting a photo of the bassist in the hospital.
Check out the post below.
Sublime With Rome have a slew of tour dates coming up. We expect them to find a replacement for Wilson, as we imagine playing bass with a broken arm is essentially impossible, but they haven't announced their plans yet. Check out a list of tour dates below, and look out for their new album BLESSINGS on May 27.
Sublime With Rome 2019 Tour Dates
04/10 — Augusta, Ga. @ Barrelhouse LIVE
04/20 — Phoenix, Ariz. @ Days on the Green Festival
06/01 — Cincinnati, Ohio @ Bunbury Music Festival
06/02 — Cedar Rapids, Iowa @ McGrath Amphitheatre
06/05 — Bloomington, Ill. @ Crossinger Motors Arena
06/06 — Papillion, Neb. @ SumTur Amphitheater
06/07 — Bonner Springs, Kan. @ Providence Medical Center Amphitheater
06/10 — Morrison, Colo. @ Red Rocks Amphitheatre
06/12 — Magna, Utah @ The Great Saltair
06/13 — Reno, Nev. @ Grand Sierra Resort and Casino
06/14 — Las Vegas, Nev. @ Mandalay Bay Beach
06/15 — Tucson, Ariz. @ Anselmo Valencia Tori Amphitheatre
06/16 — Flagstaff, Ariz. @ Pepsi Amphitheater
06/18 — Paso Robles, Calif. @ Vina Robles Amphitheatre
06/19 — Saratoga, Calif. @ Mountain Winery
06/20 —Tuolumne, Calif. @ Black Oak Casino Resort
06/21 — Jacksonville, Ore. @ Britt Festival Pavilion
06/22 — Bend, Ore. @ Athletic Club of Bend
06/23 — Redmond. Wash. @ Marymoor Park
06/26 — Billings, Mont. @ ZooMontana
06/28 — Nampa, Idaho @ Idaho Center Arena
06/29 — Helena, Mont. @ Lewis & Clark County Fairgrounds
06/30 — Lake Cowichan, British Columbia @ Laketown Shakedown
Photo: Getty Images
Chat About Sublime Bassist Rushed To Hospital After Getting Crushed By ATV